President Obama's recent return to his roots in Moneygall, Ireland -- home of his immigrant great-great-great-grandfather, Fulmoth Kearney -- has been extensively covered, and as both an Irish American and the genealogist who discovered this connection, I couldn't be more delighted.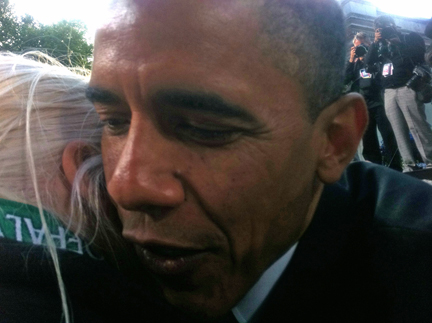 Genealogist Megan Smolenyak receives a thank you hug from President Obama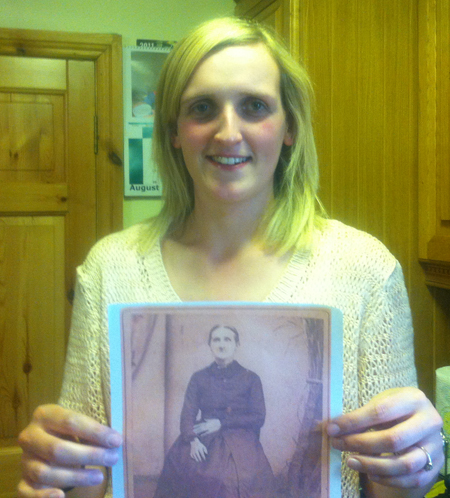 Maria Healy, one of Barack Obama's Irish cousins (and sister of Henry Healy), holds an image of the sister of emigrant Fulmoth Kearney. Note the family resemblance. (Courtesy of Megan Smolenyak)
Ireland extended the warmest of welcomes to President Obama whose ancestor departed 161 years ago. While he raised a pint in Moneygall, tens of thousands (estimates range up to 100,000) stood for hours in on-and-off rain in Dublin waiting for their turn to greet him, and were well rewarded when he delivered an inspiring speech and tried out a few phrases of Gaelic -- most notably, "Is Féidir linn" (Yes, we can).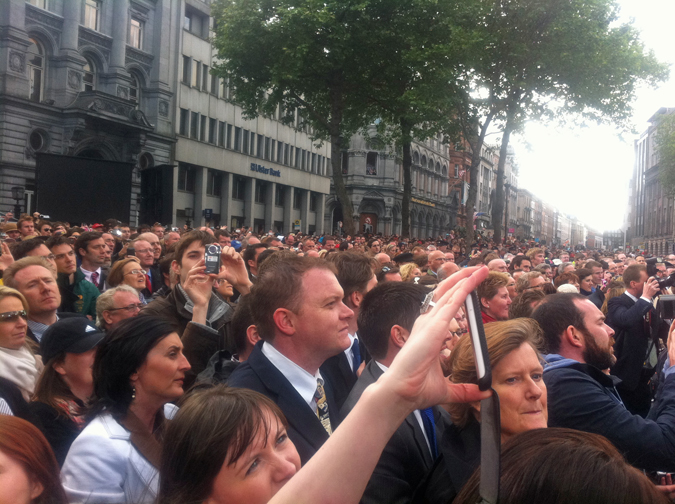 Crowds as far as the eye can see in Dublin (Courtesy of Megan Smolenyak)
In their respective remarks, both Taoiseach (Prime Minister) Enda Kenny and President Obama reminded the people of Ireland of all this small nation has endured, overcome, and contributed to the rest of the world - including America where roughly 44 million claim Irish ancestry. Is Féidir linn, it turns out, translates well. In a country that's encountered considerable economic challenges of late, it was the right message at the right time. And it's more than simply rhetoric as early signs (based on online travel-related searches) are that Irish tourism is about to enjoy a generous upswing, which will undoubtedly bring in much needed revenues.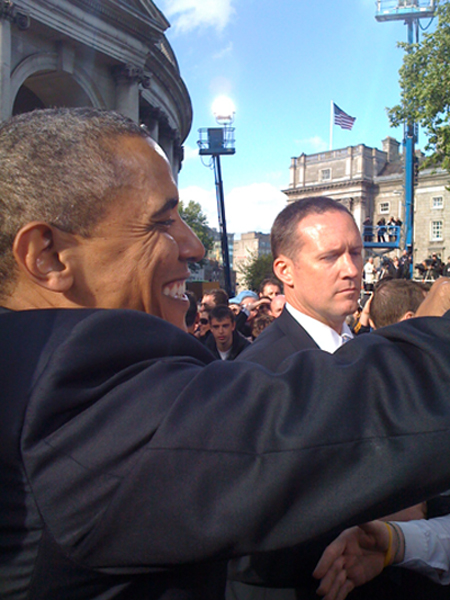 President Obama enjoying the walkabout in Dublin (Courtesy of Megan Smolenyak)
There's no questioning that this was a feel-good moment for Ireland, but the aspect that's been somewhat overlooked is that this was a two-way street - and not just for President Obama who clearly relished his time in the land of his forebears. It's remarkable to observe and even personally benefit from the reaction his presence provokes overseas. A member of the British Parliament aptly described it as "political Beatlemania," and as one of those thousands in the streets of Dublin, I witnessed it firsthand. In fact, this was the most positive experience I've had being an American abroad since my days as a youngster in England when we put a man on the moon - and given that I've traveled to more than 80 countries, that's saying something.
Popular in the Community