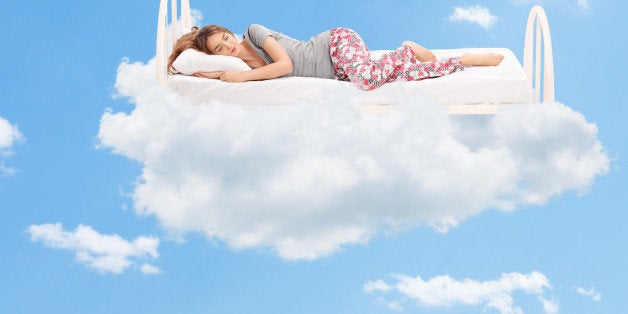 Stevenson is a best-selling author and the creator of The Model Health Show podcast. He graduated from the University of Missouri, St. Louis and studied Business, Biology and Kinesiology. He is also the founder of Advanced Integrative Health Alliance, which provides wellness services worldwide. The book speaks about the importance of sleep and how it affects your life, health and success.
Stevenson explains that people are aware that health is important, however, due to the pressure of every day living - we tend to sacrifice our health. How ironic to think that you've compromised your health in order to achieve success and later on, you will sacrifice and spend all of your finances, as well as time with your family, trying to get your health back on track.
The fact is, he claims, WE CAN HAVE IT ALL!
According to Stevenson, we just have to start focusing on our health first because that is the ultimate thing that you need in order to be a better version of you. Be a little bit more selfish in a good way. What I mean by this is that you need to take care of your body when you are experiencing pain. When you ignore those principles, you will experience pain. Pain is our body's way of saying something is wrong. We now live in a society where we go for band-aid solutions, not because we don't want to deal with pain, but because of the urgency life is throwing at us.
If you are a busy professional, how do you calm down and focus? Start listening to your body again and embark on working in instead of working out.
When it comes to performance, sleep is a huge component and Stevenson unveils excellent research to back it up. Based on a study conducted by the University of Chicago, a good amount of sleep helps you lose weight. A study of two groups was conducted to see what the effects of sleep were on weight loss. One group was placed under a strict calorie-counting diet and 8 hours of sleep. The other group were placed under the same diet but with less hours of sleep at around 6.5 hours. At the end of the study, they found out that the group of people who had an adequate amount of sleep lost 50% of their body fat!
Sleeping smarter does not only make you look good, but it can also help you think better. When you are sleep deprived, there is a 6% decline of glucose reaching your brain and a 14% reduction in your prefrontal cortex (this is the part of your brain that makes decisions - the more evolved human brain). When you lack sleep, there is a higher chance of you not being able to make the right decisions or think clearly.
Humans are always looking for patterns. We develop a sleep ritual by the time that we wake up in the morning. According to Stevenson, we are able to reset our sleep rhythm with a couple of tricks:
Getting sunlight will help you sleep better in the evening as it increases your cortisol. As the day goes by, your cortisol decreases.
Finally, here are some key tips to help you wind down and get yourself ready to sleep:
Set a screen curfew. It is best to not use your tech devices a few hours before you sleep. Exposure to tech devices at night can suppress the melatonin up to 3 hours. Make your bedroom a place on for S and S (sleep and sex). Couples who have a television in their bedroom have 50% less sex. When women are able to get good amount of sleep, the following day they are 14% likely to be engaged in sexual activity.
If it is inevitable and you need to work, use an app that can help decrease the emission of blue light from your desktop/laptop/devices
Use blue-blocking glasses