While the Oscar and Emmy awards salute creative achievement, there is a more recent honors program which salutes Hollywood's shining history and its current renaissance as the greatest place in the world to make filmed entertainment. It's called MIHH, and its news for this year is optimistic.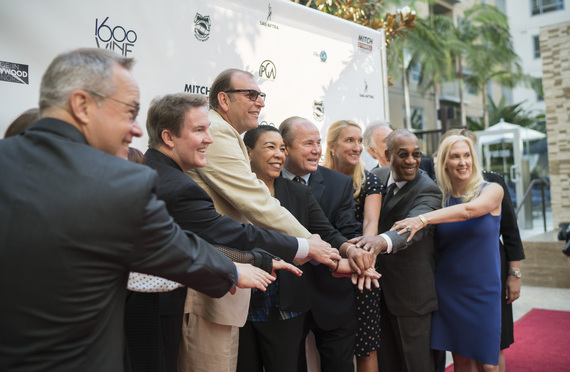 ALL TOGETHER FOR A BOOMING HOLLYWOOD...
SAG-AFTRA, FilmLA, the California Film Commission, Teamsters Local 399, Film Musicians Secondary Markets Fund, Producers Guild of America, the Los Angeles City Council and the Los Angelels Mayor's office all join in an honors program to promote the return of production of to the film capital of the world.
Illustrating a substantial increase of 20% in local television productions among the Emmy nominee class of 2016, Los Angeles City Councilman Mitch O'Farrell and six major entertainment industry stakeholders rendered the City Council's Made In Hollywood Honors certificates to 18 nominated shows which were filmed in Hollywood or elsewhere in California. O'Farrell noted that this number is a record high since the initiation of the MIHH program. The ceremony occurred at its permanent site, the Heart of Hollywood Terrace of 1600 VINE, the famed luxury apartment complex which, significantly, sits on the site of the historic Hollywood Brown Derby restaurant.
Honors were presented by event host Scandal and All the Way star Joe Morton and former LA City Councilman Tom LaBonge, one of the founders of MIHH to be, as he explained, "a means of accelerating return of entertainment production to the movie capital. of the world." Launched in 2011, Made in Hollywood Honors recognizes both Oscar and Emmy-nominated projects produced in the Golden State. This year's list of 18 Emmy-nominated TV projects represents a wide range of categories, including Limited Series, Variety Sketch Series, Comedy Series, Variety Talk Series, Children's Program, Television Movie, Animated Program and Short-Form Nonfiction or Reality Series.
Councilmember O'Farrell pointed out that "while production decision-makers have many choices today as to where their shows can be filmed, there's simply no substitute for filming in California. The entertainment industry thrives here. Its professionals live and raise their families here. We also have the infrastructure, from the caterers, prop and costume houses, to talent, crew, to our vast studio system and ideal outside film location sites. Hollywood is the place to be."
The Made in Hollywood Honors program is co-sponsored by Councilmember O'Farrell and industry partners SAG-AFTRA, FilmL.A., California Film Commission, Teamsters Local 399, Film Musicians Secondary Markets Fund and The Producers Guild of America, with corporate sponsorship by 1600 VINE - luxury apartment and townhome community and the program's official venue. Also actively participant is the Los Angeles Mayor's Office for Motion Picture and Television Production. The next MIHH presentation will occur in February to honor locally produced Oscar®-nominated films.
Following the presentations, the MIHH dignitaries and recipients participated in the ribbon cutting for 1600 VINE's The Hollywood Boardroom, an indoor/outdoor boardroom overlooking all of Hollywood from the building's 11th floor a facility that will be available for the crucial charities driven by Hollywood's stars and organizations like the major entities co-sponsoring the Made In Hollywood Honors.
The 2016 Emmy-nominated television programs honored by the MIHH are:
The People v. O.J. Simpson: American Crime Story (Fox/FX Productions)
Key and Peele (Cindylou & Monkeypaw Prods/Comedy Central)
Blackish (Wilmore Films/Principato-Young Prods/ABC Studios/ABC)
Modern Family (Levitan-Lloyd/Fox Television/ABC)
Silicon Valley (3 Arts Entertainment/Altschuler Krinsky Works/Judgemental Films/HB)
Transparent (Picrow/Amazon)
Veep (Dundee Productions/HBO)
Jimmy Kimmel Live (Jackhole Industries/ABC)
The Late Late Show with James Corden (Fulwell 73/CBS)
Real Time with Bill Maher (Bill Maher Production/HB)
Dog with a Blog (CBS Television Distribution/Disney Channel)
Girl Meets World (It's a Laugh Productions/Disney Channel)
School of Rock (Armogida Brothers Productions/Nickelodeon Network)
Television Movie

All the Way (HBO Films/HBO)
Animated Program

The Simpsons (Gracie Films/20th Century Fox Television)
Bob's Burgers (Bento Box Entertainment/ Fox Network)
Short Form Nonfiction or Reality Series

Jay Leno's Garage (Big Dog Productions/CNBC)

National Endowment for the Arts: United States of Arts (Solaris Media Group/National Endowment for the Arts)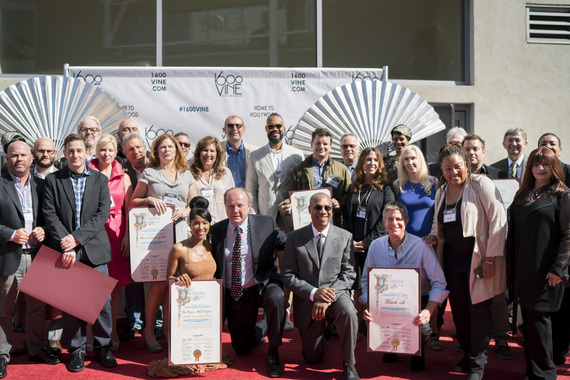 For more information, visit www.MadeInHollywoodHonors.com.
Photos courtesy of Klein-Financial Corporation
Calling all HuffPost superfans!
Sign up for membership to become a founding member and help shape HuffPost's next chapter