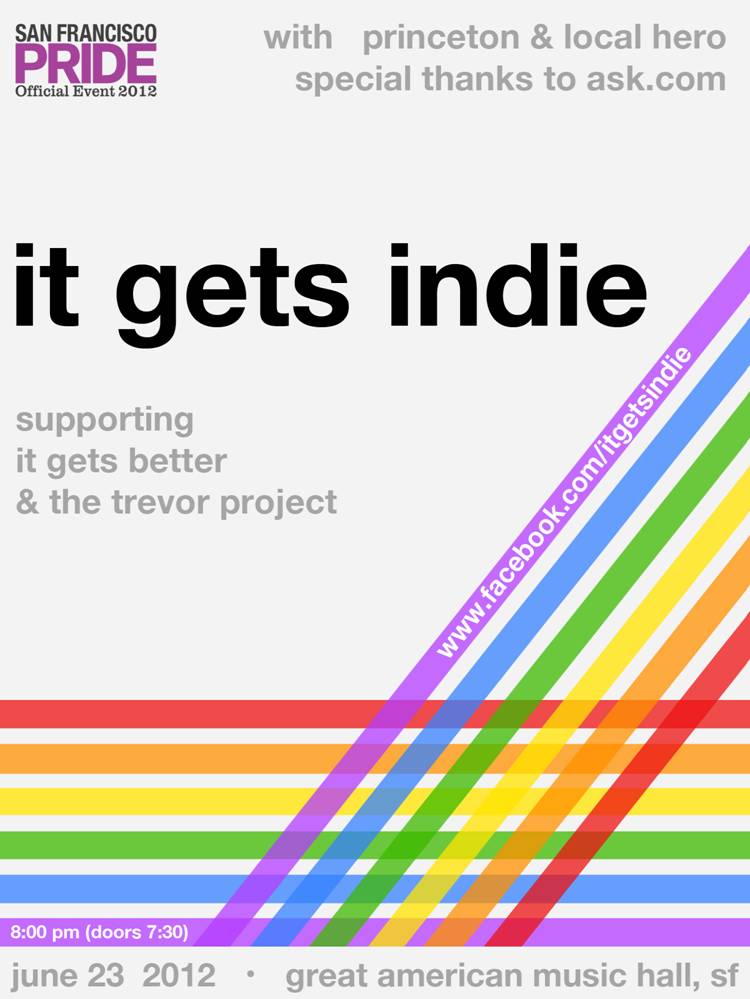 Producing a benefit concert is challenging. You need to figure out what performers to invite. You have to secure their participation. You need to identify and secure a venue. You need to snare sponsorships to defray costs and then, of course, there is the little matter of ticket sales.
The job is even more challenging when you have 9th grade homework to do.
Noah Hornik is a 14-year-old Northern California kid who loves independent music, enjoys playing his guitar, and looks forward to summer vacation with his family. He also has an older brother who's gay. So when he began seeing the rise in LGBT teen suicides last year, he had to do something. That something is It Gets Indie, a concert that takes place for the second time on June 23 and which benefits The Trevor Project and It Gets Better Campaign.
"It seemed so ridiculous to me that kids my age were taking their lives because of the way they were born," Hornik said. "Having a gay brother, it's hard to even think about him taking his life or being bullied for who he is. I don't think anyone should have to go through that experience."
The event initially took shape as an 8th grade class assignment in which students were asked to pick one of their passions and use it to create a project that would "somehow benefit the world." With the LGBT teen suicides fresh in his mind, Hornik put together the concept for an independent rock concert that would raise money for organizations that addressed the issue.
In typical Silicon Valley fashion, though, the class project wasn't enough.
So he did what any self-respecting, driven kid would do -- he raised money and made it happen. The result was an event that featured three up-and-coming bands and garnered $20,000 that was split between The Trevor Project and It Gets Better Campaign.
How better to follow-up the success than to do it again, which is precisely what Hornik opted to do -- incorporating some lessons learned from the first go-round.
For starters, he decided that less was more. Instead of three bands, this year's edition of It Gets Indie is pared down to two -- Berkeley-based Local Hero and another band from LA called Princeton. In addition, this year's event will be taking place squarely in the middle of San Francisco's Pride weekend festivities, spurring Hornik's older brother Julian to suggest they submit It Gets Indie to be an official Pride event. That application was accepted. Hornik also added a new sponsor, Ask.com, and says that in addition to the sponsors secured, there's a donor who will be matching all funds raised.
In spite of the cause being one that is top of people's minds these days, there's no question that today's relatively tight economy make even more seasoned benefit producers pause before launching into an event -- especially one that is timed during a very busy weekend with many distractions. Hornik doesn't see those challenges. In fact, the same perspective that led him to tackle the event the first time around remains today. It's not that he didn't think he would succeed. It's just that the idea he might fail didn't even occur to him.
What do Hornik's parents think of his endeavors? When asked about the actions his sons have taken and complimented on being a supportive parent, David Hornik cracked a joke about his best parenting skill being getting out of his kids' way. After a moment, though, he paused and noted the importance of this kind of engagement. "What Julian and Noah do, what we as a family believe, is that this [support of the LGBT community] is not a passive activity, it is something that is our obligation as decent human beings -- to try and make life better for those who don't have the support."
It Gets Indie takes place Saturday, June 23, 2012 at the Great American Music Hall, 859 O'Farrell Street, San Francisco, Calif.
Tickets are $25. To purchase or for more information, click here.
Popular in the Community