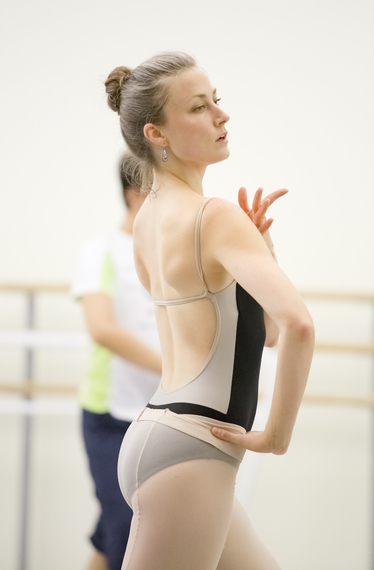 Ballet to the People meant to show up at Oregon Ballet Theatre in Portland on Saturday in time to gatecrash company class. But on the way to the studio she succumbed to the siren song of Mother Foucault's Bookshop. With its vintage office furniture and massive, mismatched, hardwood bookshelves, old and new literary fiction and hardcore philosophy books tantalizingly strewn about, it has the air of a shop that's been around a lot longer than its three-and-a-half years. Mother Foucault's is presided over by a young Lord Byron, whose name upon inquiry turned out to be Craig Florence - which struck Ballet to the People as aptly romantic for a bookseller ("Yes, I know, women have wanted to marry me just for my name... and I've already been married twice.") Florence once worked at Shakespeare and Company on Paris' Left Bank and eschews frivolities like computers and credit card machines.
Ballet to the People tore herself away and, clutching two volumes of poetry (by Slovenian Tone Škrjanec and Portlandian Douglas Spangle), dashed across the street just in time for révérence.
OBT is in the throes of rehearsal for a 25th anniversary program that honors its 20th century past, and also looks ahead to its future as a cultural beacon in a city that boxes way above its weight class in the arts.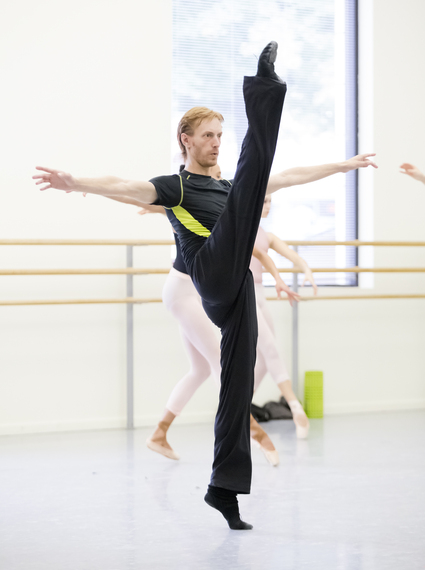 The legendary Bart Cook was on hand Saturday to whip Agon into shape - that 1957 masterpiece that, after Apollo and The Four Temperaments, cemented the classic Balanchine style: cerebral, steely, stripped down. Conspicuous for those extraordinary extensions with splayed hips, off-balance transitions and turns executed at whiplash speed, often on top of a bent knee - in bold defiance of classical "rules." And yet classical form pops up everywhere in Agon, particularly in the carriage of the arms, in the crisp and dazzling arabesques piquées, in the courtly manners and the bows that cap each brief episode.
A ballet tailormade for what post-Beat poet Spangle called "white concrete days," its première caused a sensation, not least because of Balanchine's decision to cast a black man and a white woman, Arthur Mitchell and Diana Adams, in the central pas de deux, at a particularly explosive time in the civil rights era. (Some maintain that this was a purely aesthetic decision, with Balanchine seeking to highlight the visual skin color contrast, as he also did by costuming the dancers in simple black and white practice clothes.)
OBT last performed this ballet in 1999, but today a new generation of dancers makes it their own. It requires great discipline and clean execution, without sacrificing individual expressiveness and exuberance. Cook exhorted the dancers to get deeper into the collapsed positions, to drape the torsos more fully over bent legs, and to "have fun" in the more playful, jazz-inflected moments. He murmured "beautiful" as Martina Chavez maneuvered into a deep arabesque penchée on pointe while Brian Simcoe threw himself to the ground on his back, continuing to support her with one hand. There were thrills aplenty, as when Jordan Kindell and Adam Hartley tossed Candace Bouchard high into the air. But perhaps the greatest pleasure came from watching the ensemble chew up space in low explosive jumps that often twist and change direction unexpectedly in the air - especially the cadre of men (Hartley, Kindell, Simcoe, and Chauncey Parsons) who open and close the ballet, enigmatically, with their backs to the audience - and watching their fierce intelligence at work as they unraveled the complex Stravinsky score, one that tends to tie you up in knots if you attempt to count it.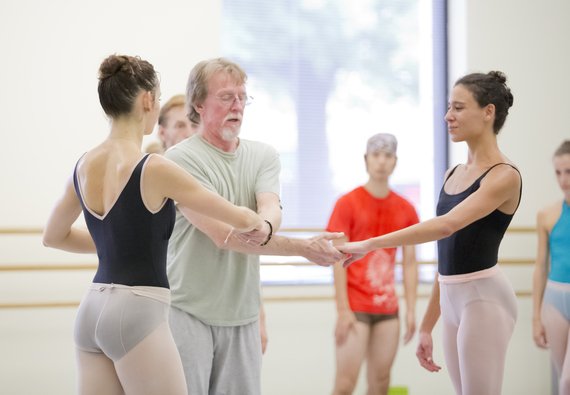 Apart from the stunning, elegant Chavez, doe-eyed Eva Burton was a revelation in rehearsal - flipping between stark hyperextensions and softly regal classical positions with astonishing ease - as was Candace Bouchard, who pairs the serenity of a Botticelli with the athleticism of a modern American Olympian.
"Love x 3" rounds off the retrospective: a series of pas de deux excerpted from three works with strikingly different pedigrees and temperaments. With deconstructed denim coattails billowing, daredevils Xuan Cheng and Michael Linsmeier romp through Trey McIntyre's Robust American Love, set to "He Doesn't Know Why" by Seattle indie band Fleet Foxes ("See your rugged hands and a silver knife/ Twenty dollars in your hand makes you hold so tight.")
Chauncey Parsons is consumed by the fiery Alison Roper in Christopher Stowell's Carmen. (Roper, who officially retired from the stage last season, returns for this program.) Parsons portrays Carmen's jailer, Don José, but even after he binds her wrists, she taunts him and seduces him into freeing her. Hints of flamenco flavor their foreplay, Roper's pointes and heels stabbing the floor.
Ansa Deguchi is a reckless young teenager in James Canfield's Romeo and Juliet, trying to prevent the sensitive Brian Simcoe from leaving her bedroom at the crack of dawn. The petite Deguchi radiates clean lines, and communicates with her beautiful arches and delicately expressive fingers and hands. When Simcoe finally tears himself away, her face crumples in childlike anguish.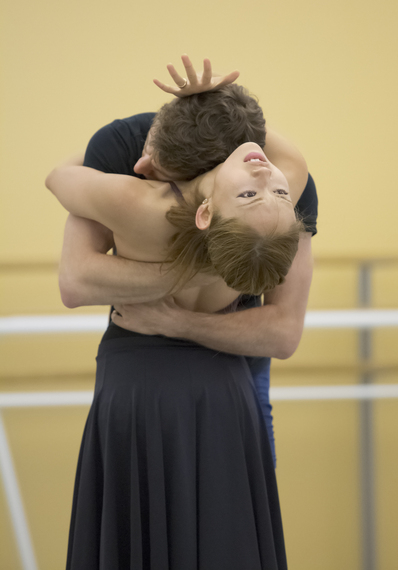 Portland's inimitable Pink Martini, with the silky-voiced China Forbes, is to provide live accompaniment to Never Stop Falling (In Love), a world première by Nicolo Fonte. The party atmosphere in the rehearsal studio kicked into high gear when Pink Martini's irrepressible Thomas Lauderdale, dapper in grey suit and bow tie, bounded in and settled in behind the piano. The company is not simply dancing to previously released arrangements of Pink Martini hits; Fonte and Lauderdale have shaped some old and some unreleased songs into a purpose-built score.
"These new arrangements feel good," Lauderdale acknowledged, "They're a little slower than when we originally recorded them - they BREATHE."
Never Stop Falling is a big ensemble number, full of luxurious, slinky, flirty movement. Among the many beguiling moments are sequences in which the women sink to the ground, sometimes out of a spin, and the men appear out of nowhere to catch them before they hit the ground.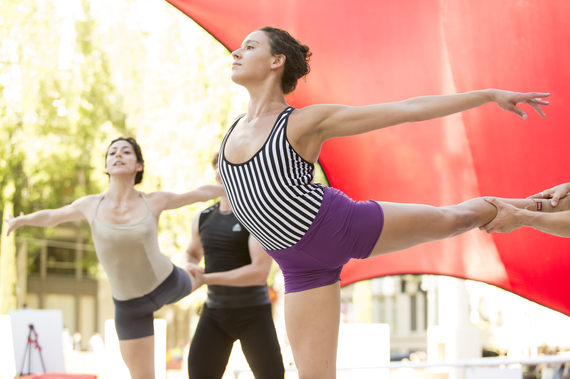 Punctuating the swooning, sassy Pink Martini sound is Lauderdale's wistful interpretation of a Chopin Berceuse, to which Fonte has limned a heart-stopping pas de deux for the Parsons brothers, Chauncey and Colby. (Of the Chopin, Lauderdale noted ruefully, "I just came from a piano lesson, and my piano teacher busted my ass!")
The work brings out individual dancer personalities: the fearless Xuan Cheng, sultry Martina Chavez, and coltish Sarah Griffin. And among the men, the romantic Jordin Kindell, the haunting Chauncey Parsons, and the noble, mysterious Brett Bauer.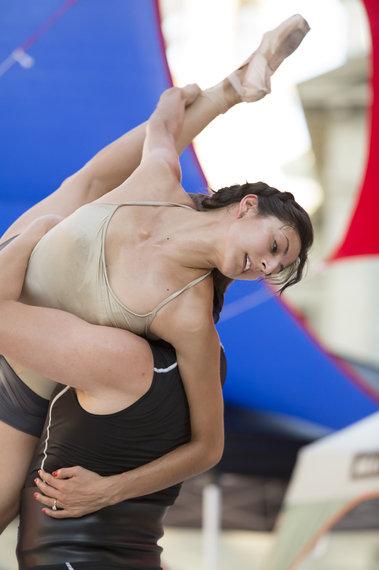 Early rehearsals of Never Stop Falling took place in front of appreciative crowds at Pioneer Courthouse Square in downtown Portland, where the company camped out for four days in August in its annual summer ritual, christened "OBT Exposed," that typically draws about 10,000 visitors.
Will Fonte's new work - onstage, with costumes by Portland designer and Project Runway winner Michelle Lesniak - prove the perfect spectacle to usher in another quarter century of superlative dancing and imaginative programming?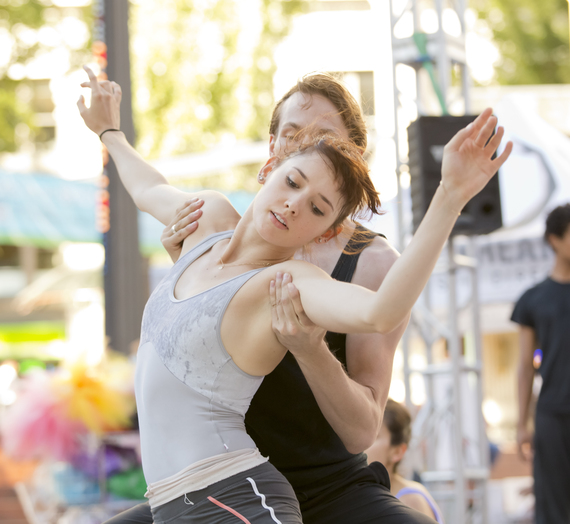 Photos by Blaine Truitt Covert:
1. Candace Bouchard in rehearsal for George Balanchine's Agon
2. Chauncey Parsons in rehearsal for George Balanchine's Agon
3. Bart Cook, répétiteur for the George Balanchine Trust, rehearsing Eva Burton and Sarah Griffin in George Balanchine's Agon
4. Ansa Deguchi and Brian Simcoe in rehearsal for the Bedroom Pas de Deux from James Canfield's Romeo & Juliet
5. Sarah Griffin and Martina Chavez rehearsing Nicolo Fonte's world premiere with Pink Martini, Never Stop Falling (In Love) at OBT Exposed in Pioneer Courthouse Square in August.
6. Martina Chavez and Brett Bauer rehearsing Nicolo Fonte's world premiere with Pink Martini, Never Stop Falling (In Love) at OBT Exposed in Pioneer Courthouse Square in August.
7. Eva Burton and Colby Parsons rehearsing Nicolo Fonte's world premiere with Pink Martini, Never Stop Falling (In Love) at OBT Exposed in Pioneer Courthouse Square in August.
Popular in the Community