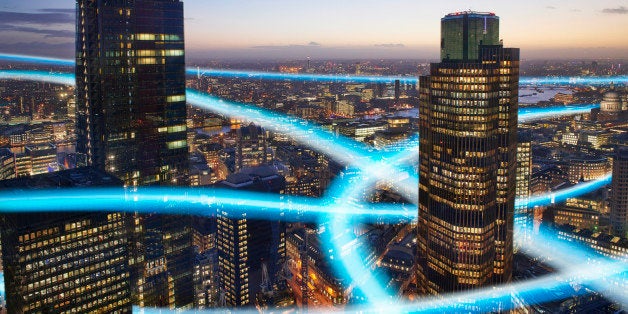 When Forbes magazine publishes a piece that highlights survey data indicating that economic inequality and stagnant middle-class incomes are top concerns for America's business elite, and when plans to strengthen the American middle class and reduce income inequality have become major talking points for both Democratic and GOP presidential hopefuls, then it's fairly evident that we have reached critical mass in terms of tackling such issues head on; not to mention the interrelated issues of stagnant wages, the vanishing middle class, and escalating urban strife.
In its piece, Forbes cites the survey work of several Harvard professors who conducted a poll of more than 2,700 Harvard Business School alumni on the U.S. economy and the current competitiveness of American firms. According to Forbes:
...American and global business elite are starting to believe that income inequality is a serious threat to the country and to their businesses. [The researchers] find that, "respondents remain pessimistic on balance about the likelihood that firms will lift American living standards by paying higher wages and benefits in the near term. Shared prosperity is not around the corner."
Similarly, all the major presidential candidates have all been vocal in their concerns over this issue, with Hillary Clinton virtually centering her campaign as a fight to strengthen the middle class.
So, with business elites and political leaders from both parties decisively believing that the issue of income inequality and the erosion of the American middle class pose considerable threats to the long-term viability of our economic vitality, then the time is surely right to engage in the pursuit of workable solutions to those problems.
And there is a wide range of agreement suggesting that investments in the repair and modernization of America's infrastructure should be at the top of that list of solutions.
Why the need to invest in infrastructure? Every American family and business needs infrastructure to thrive - from the roads we travel on, to the electrical grid that delivers affordable and reliable power, to the pipes that deliver clean drinking water, to the schools our children attend, and to the inland waterways, shipping ports, railways and airports that move goods and people from coast to coast.
Infrastructure investment is critical to America's economic development and our quality of life. Failure to invest means a failure to sustain and develop our social and economic well-being.
Infrastructure is also a leading indicator of America's attractiveness to foreign investors, as well as being a measuring stick on our ability to compete with other nations. Put simply, business and industry require modern and functioning infrastructure systems; therefore, business growth can be limited by poor infrastructure development.
It is also important to note that insufficient infrastructure also leads to significant loss of quality of life, as well as illness and death, as evidenced by the tragic circumstances surrounding the water supply situation in Flint, Michigan. This raises the importance of infrastructure investment from simply being an economic imperative, to one with moral and public health implications.
In its most recent 2013 report card on American infrastructure, the American Society of Civil Engineers has given a grade of D+ for the overall state of America's infrastructure.
Clearly, and for a host of socio-economic reasons, the need to invest in our nation's infrastructure has never been greater. Nor has it been more critical to the American labor market.
The U.S. Congress recently approved a much-needed comprehensive transportation infrastructure bill after more than a decade of short-term extensions. While this was welcome news, more such investments are needed.
Infrastructure investment drives long-term and sustainable economic growth and provides a foundation upon which to expand job and career training opportunities that result in economic opportunity and a narrowing of income inequality across the entire workforce - elements that are too often overlooked within the traditional narrative on infrastructure and jobs.
According to a 2014 study released by the National Association of Manufacturers, significant investments in American infrastructure spending will "create a progressively more productive economy, which, due to cumulative effects through time, will benefit from a $3 return on investment for every $1 invested in infrastructure by 2030; and provide Americans an increase in after taxes take-home pay--a $1,300 net gain per household by 2020 and $4,400 per household by 2030 (measured in 2009 dollars)."
Infrastructure jobs - especially jobs in the skilled construction craft trades - represent long-term, well-paid career opportunities for many of the two-thirds of U.S. workers who lack four-year college degrees. Jobs in the union construction sector not only boast strong middle class wages and benefits, as well as relatively low barriers to entry, but when public infrastructure investments are tethered to apprenticeship-readiness and formal apprenticeship programs, they can be leveraged into a proven and viable career training pathway that can elevate people out of poverty and into the middle class, especially for historically neglected communities, such as communities of color, women and military veterans. In many cases, graduating from a formal skilled craft apprenticeship can lift not one, but two, and sometimes even three, generations of a single family onto the ladder to the middle class.
There has been a lot of energy and resources being expended recently upon efforts in metropolitan areas to raise local minimum wages for low-level service and food industry workers. As admirable as those efforts are, we should also look to focus our energies and resources upon finding innovative funding solutions that would enable the investment of substantial sums in infrastructure spending that, in turn, could create the opportunities for people in neglected communities to move beyond poverty and public assistance, as well as minimum wage jobs, and instead find themselves on a path leading to a career in the skilled trades.
That's why North America's Building Trades Unions are continuing to experiment with new models of apprenticeship training and education in order to meet the requirements and needs of business and industry as well as the needs and concerns of local communities where these job-creating measures are made.
Today, our unions, our contractor and industry partners, as well as national, state and local community organizations and other key stakeholders, are jointly operating roughly 100 apprenticeship-readiness programs (ARPs) in every region of the United States. These programs are specifically designed to provide the experience, education and skills required not just to apply to a formal apprenticeship training program, but to succeed in such a program.
Collectively, the union construction industry and our corporate partners in many major industries, including the oil and gas, electric power generation, chemical, and nuclear industries, are implementing workforce development strategies that revolve around ARPs and formal apprenticeship training and education. These are crucial steps to develop the skilled craft workforce of the future, while simultaneously boosting incomes and improving economic mobility in every region across America.
Our apprenticeship training and educational model has worked well for over 100 years. Our roughly 1,600 training centers across the U.S. are privately funded and operated, via contributions that total over $1 billion per year which come from our rank and file members and our contractor partners, and as such have attracted the support and admiration from the corporate world, elected officials, and community leaders from every state and from all political persuasions.
It is our intention to work with federal, state and local policymakers, as well as other key stakeholders involved in the issue of re-building and re-pairing our infrastructure, to structure and formulate strategies that mesh such investments with formal apprenticeship opportunities as a means of not only of fixing our roads, bridges and other systems, but to also help address the some of the economic issues that serve as the root of social unrest we see today in some of America's largest metropolitan areas.
To be sure, many of these urban centers are today experiencing severe socio-economic turbulence, and they would undoubtedly benefit in large measure from infrastructure investments tied to increased career training opportunities.
A vigorous investment in infrastructure expansion, repair and improvements, would go a long way in addressing all of the disturbing socio-economic challenges affecting many Americans in many different regions; provided, that is, such investments are coupled with formal and certified career training opportunities that provide disadvantaged individuals with skill sets that last a lifetime and ensure a foothold on the ladder to a safe and secure life in the middle class.
Leveraging and binding infrastructure investments with apprenticeship-readiness and formal apprenticeship training and education is a proven career development strategy with clear paths to reducing racial and income disparities that will help put Americans from all walks of life onto the path to personal economic prosperity.
As the late U.S. Senator Paul Wellstone was fond of saying, "We all do better when we all do better."
That is not a red-state or blue-state sentiment. That is a fundamentally American sentiment.
Calling all HuffPost superfans!
Sign up for membership to become a founding member and help shape HuffPost's next chapter