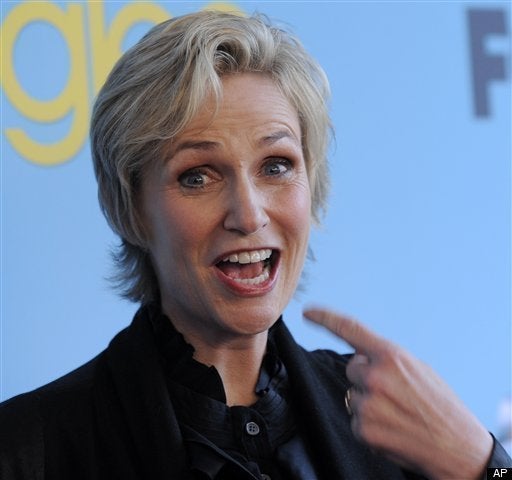 While her Emmy-winning Sue Sylvester is as curmudgeonly and selfish as they come, and the bane of ambitious high schoolers everywhere, the real-life Jane Lynch is doing her part to honor the outstanding work of young people nationwide.
For the second straight year, Lynch hosted the "Do Something Awards," which aired Thursday night on VH1. A star-studded affair that recognized and rewarded the selfless giving of both teenagers and celebrity do-gooders, it's a project close to the "Glee" star's heart. She spoke with The Huffington Post before the show's taping about her admiration for the winners, her own personal charity efforts, celebs she admires -- oh, and a bit about Sue Sylvester's upcoming season, too.
HuffPost: This is your second year doing the show. What made you want to come back?
Jane Lynch: Well I loved the first time, I thought it was a lot of fun. I was really inspired by thees kids and I had never done the hosting job before, so I had a lot of fun doing the singing and dancing and highlighting the accomplishments of some young people, who are really good young people. it was great for them to have the limelight for a little while.
HP: Were there any stories in particular last year that inspired you?
JL: I remember a kid last year, he went to college and he came back to the small town he lived in Ohio and he made it completely green. He had such a drive about him and such a certainty that people just let him and he made a huge difference, saving tons of money, not taxing resources, he made a huge impact.
HP: Is there any particular charity or cause that you take part in, that's close to your heart?
JL: I stay local with that kind of work. In california we're basically bankrupt in our public schools; we dont have arts, music or drama, so I help raise money for my own's child school so that we can have our art teacher and music teacher. I'm also part of a larger org that we do it for parents who don't have that kind of money.
It's proven that part of your brain, when you wake that up, you're just a much more rounded person, you become a part of a team and you're making something beautiful, you're making something out of nothing -- there's a lot to be said for that. It was a big part of my life, to go to choir.
HP: So, you're encouraging the things your character on "Glee" hates.
JL: I'm so glad that "Glee" exists for that reason, it has inspired so many to join.
HP: Are there any celebrities that you particularly admire for their charity work?
JL: I love what George Clooney does, he gets right out there, he's helping a lot of people, he has many charitable arms, he puts his money where his mouth is and I'm impressed with that. The woman who did "The Vagina Monologues," [Eve Ensler], she really inspires me, too, she goes into the Congo where the girls are raped and killed as part of an instrument of war, and the girls that survive, she has refugee camps for them where they can get surgically put back together, because it's a vicious practice. She gets right in there, in the worst aspects.
HP: You did an "It Gets Better" video, which have become very popular.
JL: I think its a wonderful thing to do. I love dan savage, it was a really smart idea. There are a lot of kids in many parts of the country where their orientations are not accepted... It tells them to, your people, find your place and get out of your little town.
HP: What can you tell us about this coming season of "Glee"? We hear Sue Sylvester is running for office. What will her platform be?
JL: I think its gonna be kind of Michele Bachmann-esque, except without the "I hate homosexuals" thing. I think it's gonna be kind, of lets kill arts in the school, soul crushing. But, I'm sure she'll find something in her heart to change things.
Related
Popular in the Community