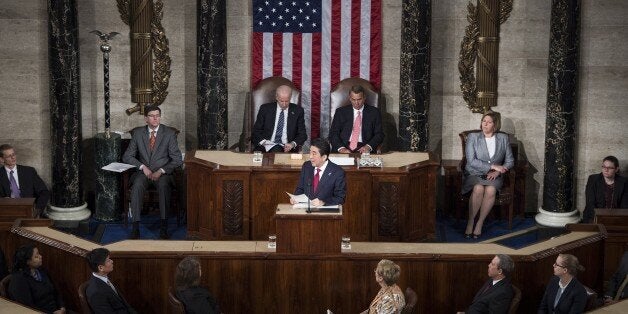 (Adds reactions from China, South Korea in paragraphs 3, 12-13)
By Matt Spetalnick and Chizu Nomiyama
WASHINGTON, April 29 (Reuters) - Prime Minister Shinzo Abe expressed "deep repentance" over Japan's role in World War Two in a speech to the U.S. Congress on Wednesday, even as he declared Tokyo's emergence as a global security player in the face of China's rising power.
Using the high-profile platform to strike a note of measured contrition, Abe insisted that Japan must not avert its eyes from the suffering of Asian people from its wartime behavior but stopped short of issuing his own apology, instead upholding statements by his predecessors.
Abe's comments on Japan's war record drew criticism from some U.S. lawmakers who hoped he would go further and did little to placate critics in South Korea and China, where he is accused of trying to whitewash history.
But the conservative premier chose to focus his landmark speech more on the future of the U.S.-Japan military alliance and press skeptical lawmakers to back a Pacific trade pact.
"We now hold high a new banner that is a 'proactive contribution to peace based on the principle of international cooperation'," Abe said a day after he and President Barack Obama cemented new guidelines for Japan's military to support U.S. forces beyond its waters. He has proposed reforms to Japan's pacifist post-war constitution to make this possible.
Receiving a warm welcome reflecting Japan's status as America's staunchest Asian ally, Abe, the first Japanese prime minister to address a joint meeting of Congress, sent a stern message to China, which is locked in maritime disputes with Tokyo and other Asian neighbors.
Though Abe did not mention China by name, he spoke of the "state of Asian waters," saying countries must not "use force or coercion to drive their claims."
Abe's speech was symbolic of the reconciliation between former World War Two enemies who are now the closest of allies. He spoke in slow, deliberate English and was interrupted frequently by applause and standing ovations.
Abe gave his address from the spot where President Franklin Roosevelt asked for a declaration of war against Imperial Japan after the 1941 bombing of Pearl Harbor in Hawaii. The speech also coincided with Japan's national holiday marking the birthday of its wartime emperor, Hirohito.
Abe, who has sought to cast Japan's aggressive World War Two-era conduct with a less apologetic tone, was under close scrutiny for how he chose to handle history in his speech.
The issue remains a sensitive one for Asian neighbors, especially China and U.S. ally South Korea, nearly 70 years after Japan's defeat.
"China continuously urges the Japanese government and leaders to take a responsible attitude toward history," Chinese foreign ministry spokesman Noh Kwang-il said on Thursday.
South Korean Foreign Ministry spokesman Noh Kwang-il said it was "very regrettable" that there were no "true apologies" in Abe's speech.

CRITICS WANTED NEW APOLOGY
Some American critics had urged Abe to make a strong expression of contrition about World War Two aggression to erase concerns that he is trying to dilute past official statements. But his domestic allies feel fresh apologies are unneeded.
Abe did in fact offer a new rhetorical twist when he spoke of his visit to Washington's World War Two memorial, saying: "With deep repentance in my heart, I stood there in silent prayers."
But he stuck mostly to his past language, expressing "deep remorse" for Japan's wartime conduct and saying he upheld previous Japanese apologies, including a 1995 landmark statement by then-premier Tomiichi Murayama.
Abe made no mention of "comfort women," the Japanese euphemism for thousands of Korean and other Asian women forced into prostitution at Japanese military brothels in World War Two. But in a possible oblique reference, he said "armed conflicts have always made women suffer the most."
An 86-year-old "comfort woman" survivor, Yong Soo Lee, attended in the visitors' gallery at the invitation of Congressman Mike Honda, a California Democrat.
Honda called it "shocking and shameful" that Abe failed to offer an apology during his speech. Congressman Adam Schiff, another California Democrat, said the Japanese premier "missed an important opportunity" to be more direct in addressing Japan's wartime "atrocities."
But Republican Senator Cory Gardner said he was satisfied that Abe "shared with his nation and our nation remorse."
While praising much of Abe's address, White House spokesman Patrick Ventrell said only that "we take note of his speech today and his previous statements that he upholds the views about the war expressed by past prime ministers."
Obama's aides, mindful of the regional tensions stoked by Abe's ambivalent assessment of history, had insisted Washington wanted him to deal with history in a forthright way.
Abe created a poignant moment when he when pointed out retired Lawrence Snowden, who led a U.S. company in the battle of Iwo Jima, and Yoshitaka Shindo, whose grandfather commanded the Japanese garrison there. The two men stood and shook hands.
Abe also faced the challenge of selling lawmakers on the Trans-Pacific Partnership (TPP) as U.S. and Japanese negotiators struggle to finalize terms of a bilateral deal essential to a 12-nation pact. "The goal is near," he told lawmakers.
Many of Obama's fellow Democrats oppose his trade agenda.
Abe, whose cabinet has backed reinterpretation of Japan's constitution to allow it to aid the United States and other allies under attack, said reforms will be enacted this summer.
Japan's military is considering joining the United States in maritime air patrols in the South China Sea in response to China's assertiveness there, Japanese and U.S. sources told Reuters. (Additional reporting by David Brunnstrom, Nathan Layne, Patricia Zengerle, Seungyun Oh and Michael Martina; Editing by Leslie Adler, Jeffrey Benkoe, Toni Reinhold, Meredith Mazzilli and Nick Macfie)

Popular in the Community