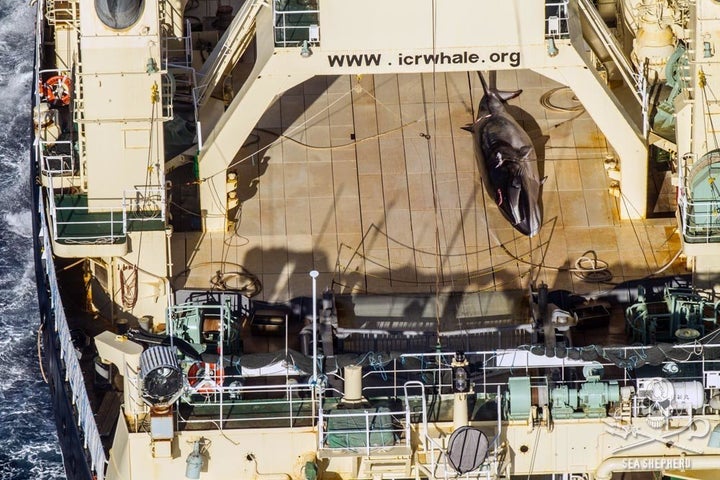 A Japanese whaling vessel has been photographed with what appears to be a dead minke whale onboard, a violation of a 2014 international court ruling that banned hunting of the animals.
The activist group Sea Shepherd published photos Sunday that show the Nisshin Maru whaling ship allegedly hunting in the Australian Whale Sanctuary. A dead cetacean can be seen prominently on the vessel's deck, and the group said crew quickly "scrambled to hide the slaughtered whale with a tarp" when they were spotted by a helicopter.
"The whale killers from the Nisshin Maru were caught red-handed slaughtering whales in the Australian Whale sanctuary," Adam Meyerson, the captain of Sea Shepherd's Ocean Warrior patrol ship, said in a statement. "The Steve Irwin has shut down their illegal operations and caught them trying to hide the evidence."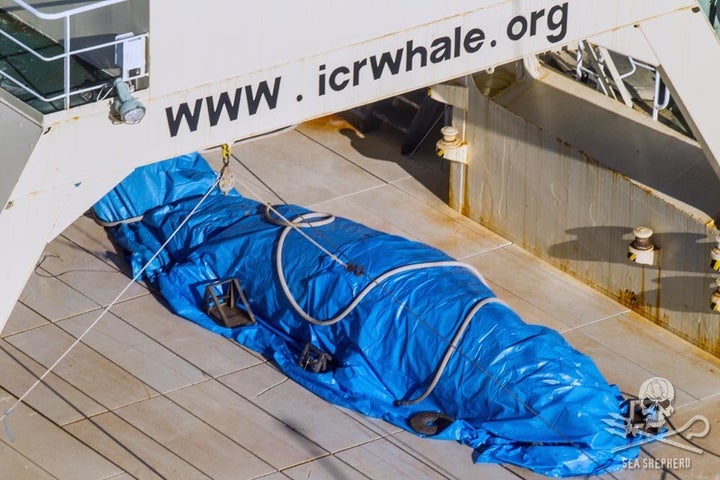 Japan has a long and defiant history around whaling, which it claims is conducted for research. But the United Nations' international court of justice ordered a temporary halt to the practice in 2014, saying the country was hunting animals off Antarctica "not for purposes of scientific research." More than 10,000 whales have been killed in the region since 1988.
"The Australian government is deeply disappointed that Japan has decided to return to the Southern Ocean this summer to undertake so-called 'scientific' whaling," environment minister Josh Frydenberg said. "It is not necessary to kill whales in order to study them.
"We will continue our efforts in the International Whaling Commission to strongly oppose commercial whaling and so-called 'scientific' whaling, uphold the moratorium on commercial whaling, and to promote whale conservation."
Sea Shepherd said the images released Sunday are the first to show Japan flouting the 2014 ruling.
"The fact that the Japanese crew went to cover up their harpoons and the dead minke whale on deck just shows that they know what they're doing is wrong," Wyanda Lublink, captain of the group's MY Steve Irwin, said in a statement. "They know they are in contempt of the ruling of the International Court of Justice and the Australian Federal Court."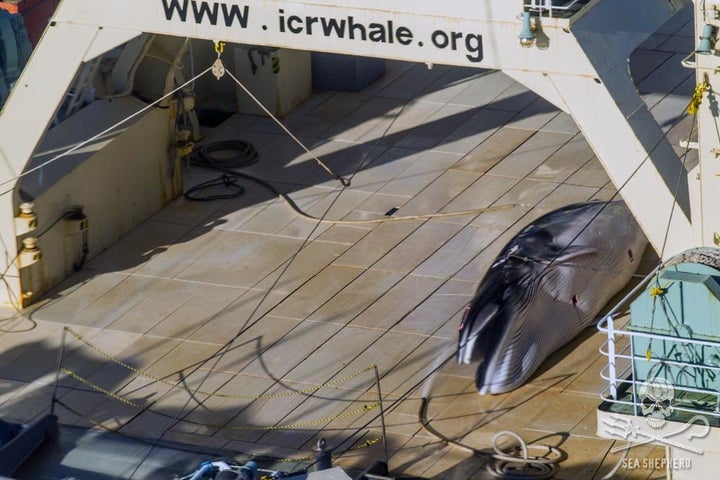 Related
Popular in the Community