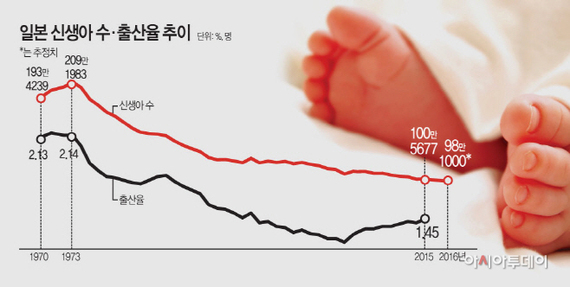 [Number of births & Birth Rate in Japan (Unit: %, person) (Red line: number of births/ black line: birth rate)]
By AsiaToday reporter Kim Ye-jin - Recently, Japan's public broadcaster NHK attributed the lack of love life among Japanese youth to idol girl group AKB48's handshake session, triggering controversy.
The recent episode of NHK's "Close-up Modern+" analyzed the reasons why young Japanese are so reluctant to get into relationships, and mentioned AKB48's handshake sessions, maid cafes, and manga as main culprits.
A "handshake session" is an event that gives fans the opportunity to meet and shake hands with their star, often an idol group. Obviously, it's a bit much to relate a handshake session with love life. Online media RocketNews24 reported that netizens left critical comments like, "It was such a bad guess that left me shocked," "The reason is not AKB, but long hours of work! I don't have time to love," and more.
The media reported, "The broadcast did not provide detailed explanation about the matter. However, AKB48 is definitely popular, and there are many young people who put more emphasis on their support over their love life. But, it's questionable whether an handshake session of an idol group is the cause of young people avoiding romantic attachments."
A declining interest in dating, marriage, and childbirth among young people has been a long-time problem for Japan. Buzzwords like "herbivore men" (shy guys who are don't make a move), and "fasting guys" (guys without willingness to date) have been around for a long time, and Japan's low birthrate and shrinking population have long been one of the serious social issues in Japan.
According to the "Population Dynamics 2016" released by Japan's Health, Labor and Welfare Ministry, the annual number of babies born in Japan slipped below 1 million in 2016 for the first time since records began, with the estimated figure at 981,000.
Japan's National Institution for Youth Education released a report on 4,000 men and women in their 20s and 30s across Japan in last November, and found that 20.3 percent of respondents do not want to get married, compared with 16.9 percent who said they hope to marry soon. It also found that 18.2 percent want to have a child soon if they marry, while 24.8 percent do not have such hope.
Of unmarried respondents with any partner, 63.8 percent said they do not want to get married because of economic difficulties, followed by 50.4 percent who feel they like being alone and 48.3 percent who feel they are too busy with work.
However, NHK's broadcast which caused 'female idol' controversy above has gained attention as it focused on the new marriage trend called "kosai zero nichikon": roughly translated as "marrying without dating".
Professor Masahiro Yamada, a sociologist at Chuo University in Tokyo, pointed out many young Japanese feel pressure over financial commitments that come with dating, and that the priority is shifting to marrying whoever's convenient. This also proves that young people with economic barriers are avoiding dating and getting married.
The Japanese government is also aware of this. It released a white paper on the country's low fertility rate in last May, and found that 37.3 percent are worried about the financial burdens of married life. The survey conducted to 700 men and women aged 20 to 49 years.
The Japanese government has been making efforts to promote marriage and boost the country's low fertility rate under its goal of raising the total fertility rate to 1.8 from 1.45 in 2015. Last year, the government set up an expert panel which will draw up a proposal to companies and private organizations this year. The proposal includes detailed measures to encourage young people to marry and start families.
Besides, the Japanese government plans to increase its subsidies for "konkatsu" spouse-hunting events hosted by companies and other private organizations to ¥ 1,100 million in 2017 from ¥ 500 million last year. It is trying to raise the marriage rate of men and women aged between 23 and 49 who want to marry to 80% by 2020.
The government will continue to support the married couple. Since April 2015, Japan has been allowing tax exemption for cash transfers up to 10 million yen to children and grandchildren for marriages, births and child rearing.
Japan will also review support for long distance couples, and those undergoing fertility treatment. The government has decided to create a new system, such as holiday system, based on the survey results of companies to help married couples who want to undergo fertility treatment while going to work starting this year. This is because many women are forced to leave or take a break because it is difficult to work and undergo infertility treatment at the same time.
In addition, the government is considering to provide tax credits to long distance couples for moving costs if they decide to get married as well as travel costs for meeting each other. The government is reviewing these measures to include in the tax reform 2017 in order to prevent long distance couples from giving up their marriage because of long distance.
Some companies are beginning to pay attention to low birth rates by providing childcare subsidies. Back in October, Hitachi started a childcare support system which provides its workers' child care expenses, up to 100,000 yen a year. Honda plans to introduce a system that will offer 20,000 yen per month for each child under the age of 18 of its employees starting in April this year.
The maximum period of child care leave available to workers would be extended to two years. This year, the Ministry of Health, Labor and Welfare has decided to submit to the National Assembly the related amendment that allows working parents to take leave until their child reaches two years old.
However, aggressive support of konkatsu activities has a downside. In last December, the Japanese government decided to abandon its "konkatsu mentoring program within companies" plan which was considered as a plan to encourage marriages. The plan was a system where a married worker advises an unmarried worker about marriage preparation. However, many criticized it because it can put much pressure to workers to get married in a workplace where you are disadvantaged if you don't follow the advice of your boss.
The Nihon Keizai Shimbun (a.k.a. Nikkei) pointed out in the editorial, "Too many obstacles are being placed in the path to marriage." The Nikkei revealed that radical reforms are impossible while maintaining the current tax and social security system, therefore reforms such as making social security more efficient, and putting some burden on financially stable elderly people are necessary.
Calling all HuffPost superfans!
Sign up for membership to become a founding member and help shape HuffPost's next chapter