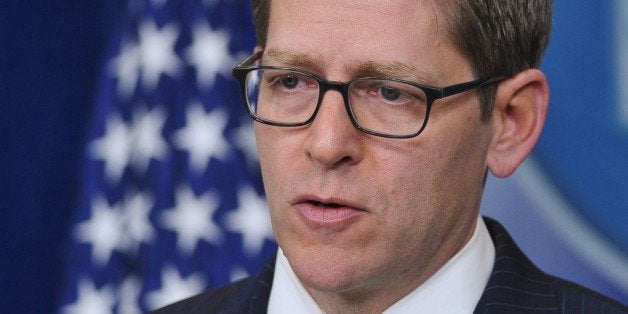 White House press secretary Jay Carney denied a report Monday suggesting he's seeking to become the next U.S. ambassador to Russia.
The Daily Beast's Josh Rogin reported that Russia will sanction several U.S. senators and top Obama administration officials. But Carney isn't one of them, according to Rogin, who wrote that the press secretary is "rumored to be lobbying to replace former Ambassador Mike McFaul as the next U.S. Ambassador to Moscow."
"That is false," Carney told HuffPost over email.
Speculation that Carney -- who covered the fall of the Soviet Union for Time magazine -- was interested in the Russia job has been making the rounds in recent days.
Noah Pollak, the executive director for Emergency Committee for Israel and a contributor to conservative outlets like Commentary and the Weekly Standard, tweeted Friday that Carney is "lobbying hard for ambassador to Russia job."
That same day, The Daily Caller reported that Carney had told people he'll leave the White House soon.
It wouldn't be surprising if Carney did step down soon as press secretary: He's already spent more time behind the White House briefing room podium than any of his predecessors over the past two decades.
If Carney were to give up his daily sparring with reporters, a couple of likely contenders for his job are State Department spokeswoman Jen Psaki and deputy press secretary Josh Earnest.
Popular in the Community