NORTH CONWAY, N.H. -- For the first time in the 2016 campaign, former Florida Gov. Jeb Bush (R) set his sights directly on New Jersey Gov. Chris Christie (R), criticizing Christie's economic record in an interview with The Huffington Post on Tuesday.
Asked to explain to New Hampshire primary voters how he's different from the New Jersey governor, Bush noted that Christie is "a great guy" and a friend before he panned New Jersey's economy.
"I would say it's the record of accomplishment -- my record in Florida compared to his," Bush said. "When people look at it, I'm a reform-minded conservative that got to do big things. He didn't. He hasn't. We were AAA bond rated. He's had credit downgrades. We led the nation in job growth. New Jersey hasn't done as well."
Two days before Bush made his remarks, Christie had challenged his GOP rivals to "bring it on," citing economic successes in his state after years of lagging job growth and multiple bond rating downgrades. 
"With a Democratic controlled legislature fighting him every step of the way, not only has Governor Christie been a leader in securing landmark reforms to the pension, tenure and bail systems, but New Jersey just reported the strongest private sector job growth the state has seen in 15 years with the unemployment dropping nearly in half since Christie came into office to 5.3%," Christie spokeswoman Samantha Smith said in a statement. "We'll defend that record any day of the week."
With their similar bases of support, Bush and Christie appear to be on a collision course before New Hampshire's first-in-the-nation primary. Both candidates are relying on especially strong showings in the state to propel them back into contention nationally.
Christie is locked in a five-way battle for second place with Sen. Marco Rubio (R-Fla.), Sen. Ted Cruz (R-Texas), Ohio Gov. John Kasich (R) and Bush -- who all trail front-runner Donald Trump by a wide margin. Yet Christie's poll numbers here have been trending upward recently, and he recently locked up several endorsements from major local Republican players, as well as the New Hampshire Union-Leader, the state's largest newspaper.
Meanwhile, Bush announced over the weekend that he'd received the support of influential New Hampshire GOP activist Beverly Bruce.
As the former Florida governor touts his own executive experience, he appears to be entering a new stage in his campaign, when efforts to contrast his own record with Christie's will become more overt. 
"In a difficult legislature, of course," Bush said of the Democratic legislative majority in New Jersey. "But I can point to a record of accomplishment that's unmatched by anyone on that stage."
Bush spoke with HuffPost after completing some last-minute Christmas shopping at Zeb's General Store -- a whimsical tourist shop that's a favorite presidential candidate haunt in this northern hamlet.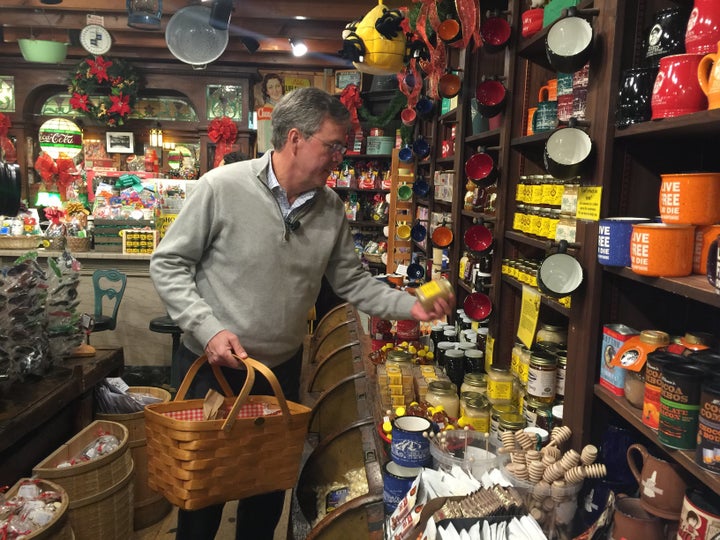 Among the candidate's purchases was a bottle of "Slap Your Mama" brand hot sauce, which he bought as a gift for his 90-year-old mother.
"This, without the pearls, looks like Barbara Bush," he said of the matronly character who appears on the hot sauce brand's label. "This will be funny in the Bush family in Houston, Texas."
Asked if the former first lady would appreciate the joke as much as the rest of the family, Bush admitted that he was "taking a risk" but expected she would like the cheeky Christmas present. 
"If she doesn't, I won't be there to see," he added.
Video produced by Ben Teitelbaum.
This article was updated after publication with a comment from the Christie campaign.
REAL LIFE. REAL NEWS. REAL VOICES.
Help us tell more of the stories that matter from voices that too often remain unheard.