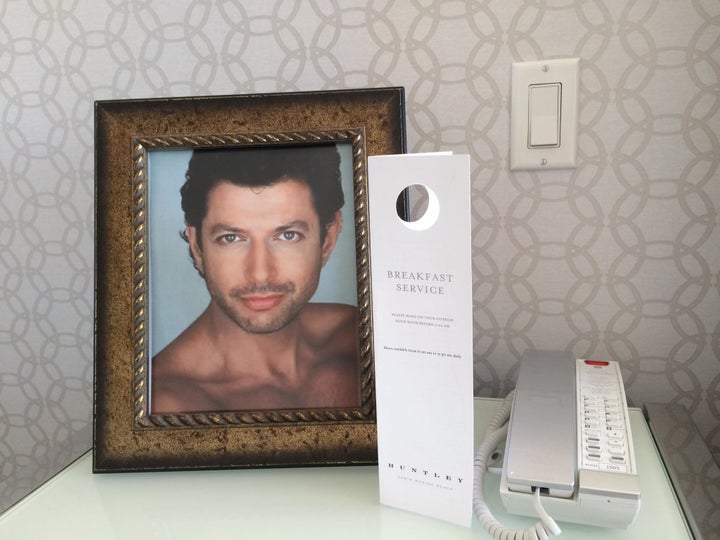 When Seth Freedland reserved a room at the Huntley Hotel in Santa Monica, California, he made one teeny-weeny little request: Fill the room with Jeff Goldblum photos.
Why Goldblum and not another "Jurassic Park" star like, say, Wayne Knight?
"Jeff Goldblum is my girlfriend's celebrity crush," Freedland told The Huffington Post by email. "Specifically, she's a big fan of 'Independence Day'-era 'heroic Goldblum.' I'm more a 'Big Chill' Goldblum man myself, but you really can't go wrong."
Freedland, a speechwriter at Nike, was half-joking when he made the bizarre request for a "few framed photos of Jeff Goldblum in the room" and didn't know the hotel would take it seriously. But when he and girlfriend Amy Marsh checked into the room on Saturday, they saw it blooming with Goldblum pics:
There were photos of the actor in the bathroom: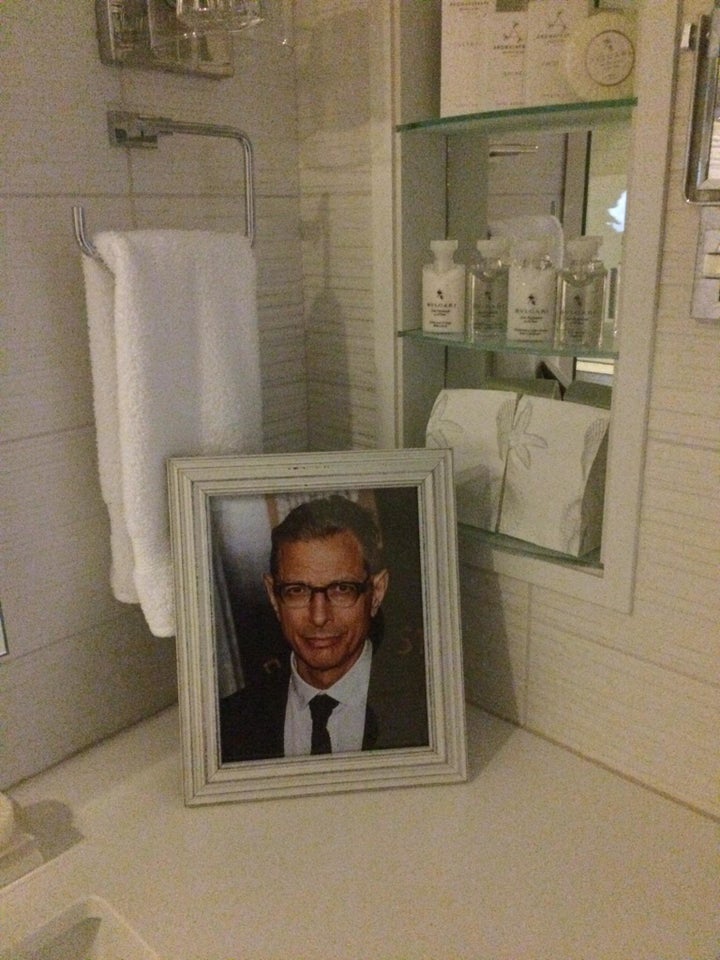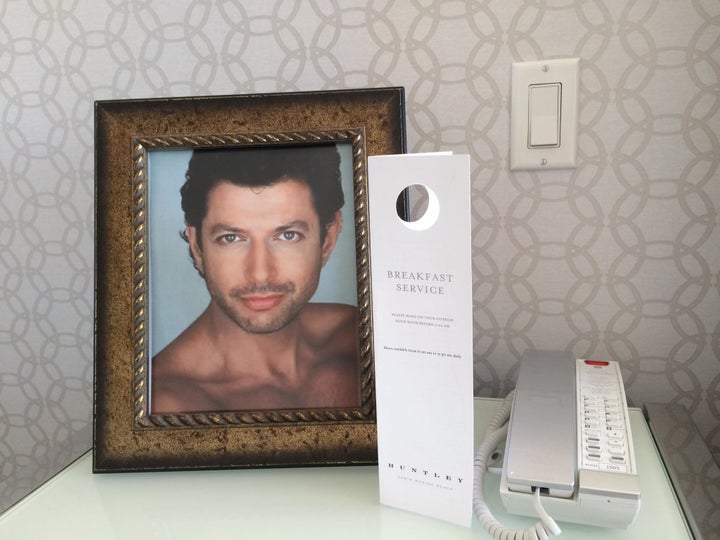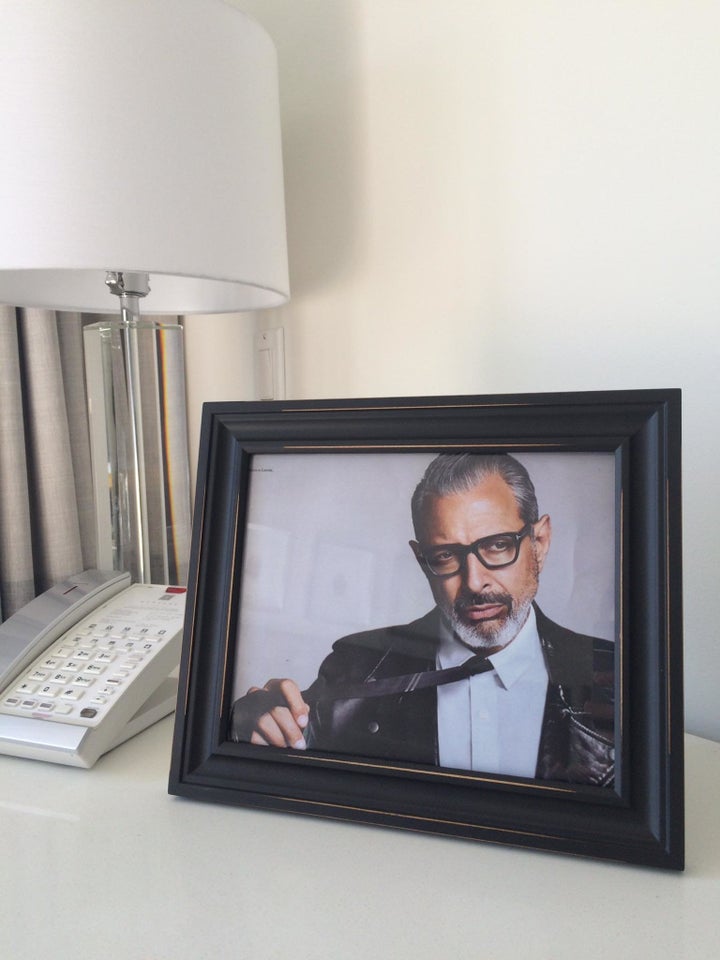 And, yes, Marsh was delighted.
"I think it's fair to describe her as shocked," Freedland told HuffPost.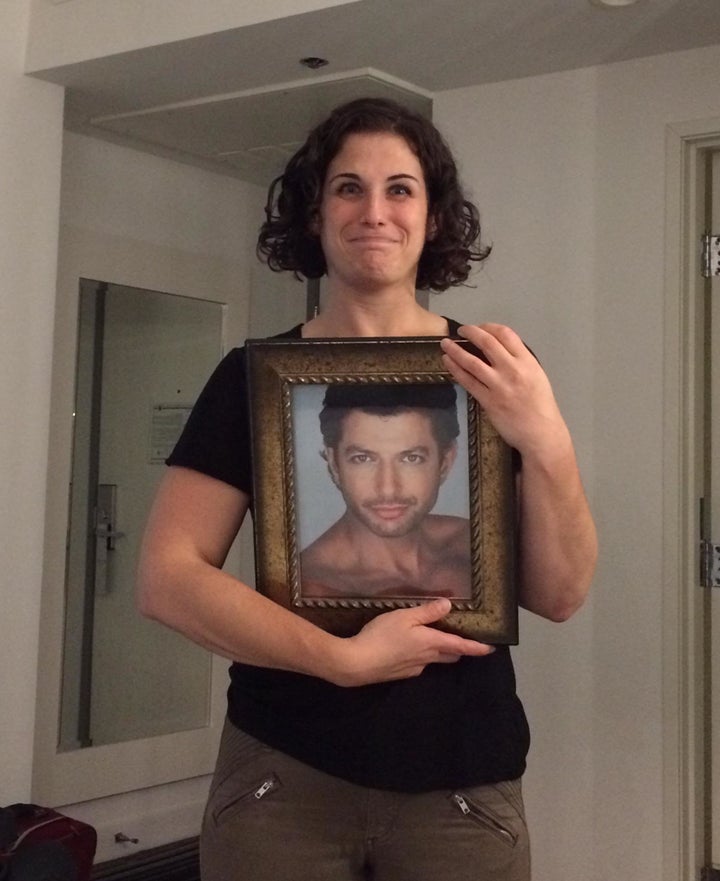 So was Freedland ― though he had an idea of what was going to happen when he was at the hotel desk.
"There was a moment of nervousness on my end when we checked in," he said. "The front desk clerk understandably didn't know this was a surprise and had me sign the little receipt for it and said, 'for the frames.'"
"Amy gave me a quizzical look and I mumbled something about hotels these days and their weird fees," Freedland said. 
I'm more a 'Big Chill' Goldblum man myself, but you really can't go wrong.

Seth Freedland
David Cohen, the front desk manager at the Huntley Hotel, admits he doesn't normally get requests for Jeff Goldblum photos.
"We thought it was cheeky, but we get specific requests all the time, such as someone who wants green apples instead of red, or wants the furniture covered," Cohen said. 
"We said to ourselves, 'We can meet this!'"
The downside of such excellent customer service is that the Huntley Hotel is now probably running low on photos of Jeff Goldblum. 
"We absolutely took the photos!" Freedland admitted. "I've never been more glad that TSA X-ray machines can't read photographs."
Of course, turnabout is fair play. Cohen and Freedland promise that if Goldblum makes a reservation at the hotel, he can have all the photos of Freedland he wants.
Storyful.com contributed to this story.
Calling all HuffPost superfans!
Sign up for membership to become a founding member and help shape HuffPost's next chapter
BEFORE YOU GO
PHOTO GALLERY
Top 10 Luxury Hotels Around The World