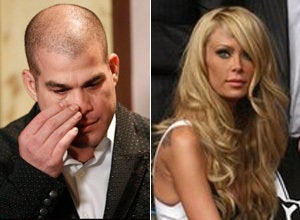 Monday Jenna Jameson's boyfriend Tito Ortiz was arrested on suspicion of domestic violence and Tito says it stems from Jameson's addiction to prescription painkillers.
The former porn star says Tito lashed out at her and threw her into a tub, and she tore shoulder ligaments. Tito's lawyer says he found a pill on her person and that she's been battling an addiction. He blames the pills for her injury
"Jenna has been fighting a battle with OxyContin addiction for the past year. For Tito and her family this has been an uphill battle. Unfortunately this morning she had a relapse," Matthews [the lawyer] alleged at a hastily organized news conference, according to Fox News. "Tito was trying to help her, she has threatened suicide before. Tito has done everything in his power to protect her privacy and the privacy of their children."

The attorney also maintains that his client did not physically harm Jameson.

"When you're dealing with people on OxyContin they don't always have the best sense of balance," Matthews said."
Its sad tito had to resort to attacking my character. I am being strong for my children, and I hope he feels a bit better now

I am officially crushed.... I have so much I could say, but I refuse to ruin tito......I will never be the same, I lost the love of my life

that is a complete lie [responding to a tweet that she was an oxy addict]

Surprised so many of you believe titos allegations....imgoingtofocus onhappiness. Goodbye xxxxxx
For now, the couple can't see each other for a month because of a restraining order.

Calling all HuffPost superfans!
Sign up for membership to become a founding member and help shape HuffPost's next chapter