A young queer woman's journey to authenticity begins with a madcap Thanksgiving feast in " Lez Bomb," Jenna Laurenzo's smart and sentimental debut feature.
The movie, due out Friday, is an homage to comedies like "Home for the Holidays" and "The Family Stone," but with an inclusive, forward-thinking twist. It follows Lauren (played by Laurenzo), a 20-something Brooklynite happily in the throes of a newish relationship with her girlfriend Hailey (Caitlin Mehner). On the night before Thanksgiving, Lauren plans a visit to her suburban New Jersey hometown to introduce Hailey to her family and come out as a lesbian at the same time.
Catch a "Lez Bomb" sneak peak in the clip above, exclusively on HuffPost.
Her big reveal, however, is thwarted by her culinary-challenged parents, a pot-smoking uncle and a randy brother who won't stop hitting on her girlfriend. Then there's the unexpected arrival of her straight male roommate (Brandon Micheal Hall), whom family members have mistakenly pegged as her boyfriend.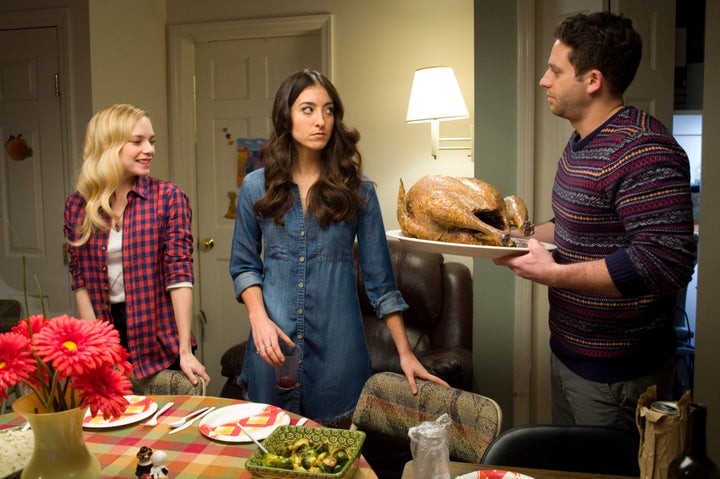 Laurenzo drew heavily from her own coming out experience when she began writing the "Lez Bomb" script eight years ago. She told HuffPost her goal was to create a feature-length follow-up to her viral 2015 short, "Girl Night Stand," which featured a woman questioning her sexuality after hooking up with another woman for the first time.
She also wanted "Lez Bomb" to break away from other queer-centric films as a feel-good, all-ages comedy that would feel like a holiday classic. "I wanted to lean into the nostalgia of the family films that I grew up loving," she said. "I was hoping I could make a film that I could comfortably play in my family room on Thanksgiving with my grandparents, where we'd all be laughing together."
Before long, Laurenzo had assembled a starry cast that included Bruce Dern, Steve Guttenberg and Cloris Leachman. Bobby Farrelly, whose credits include "There's Something About Mary," signed on to executive produce the film, most of which was shot at Laurenzo's childhood home and a motel that's been operated by her family since the 1950s.
Much like "National Lampoon's Christmas Vacation" and "A Christmas Story," "Lez Bomb" often resorts to over-the-top hijinks for laughs. Though there are some clever innuendos and wild misunderstandings between characters, some scenes ― including a house fire and a roast turkey hurled across a parking lot after being scrubbed in dishwashing liquid (yes, really) ― feel preposterous.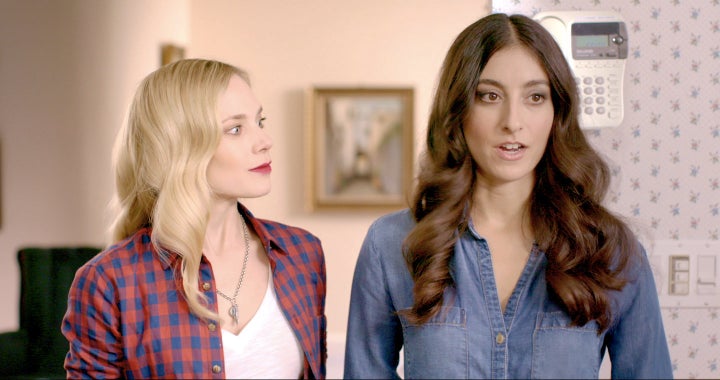 Farcical tendencies aside, Laurenzo captures the chaos and claustrophobic anxiety of heading home for the holidays as a grown adult effectively. She also wisely keeps viewers invested in Lauren and Hailey's relationship; as Lauren's loved ones reveal their flaws (albeit in humorous ways), her concerns about introducing her girlfriend into such a whirlwind of relatable dysfunction feel legitimate.
Though "Lez Bomb" occasionally drifts into absurdity, the movie is a pleasant and entertaining introduction to Laurenzo as a cinematic storyteller for the post-"Love, Simon" era. At a time when most family-friendly holiday fare continues to relegate queer characters to the sidelines, her decision to put a same-sex relationship front and center is applaudable. By the time this comedy of errors concludes, the audience is firmly rooting for its leading ladies.
""Lez Bomb" is a pleasant and entertaining introduction to writer, director and star Jenna Laurenzo as a cinematic storyteller for the post-"Love, Simon" era."
Given how warmly "Lez Bomb" has been received, Laurenzo said she hopes her film's overriding message of self-acceptance strikes a chord among viewers who don't identify as LGBTQ, too.
"At one festival, I noticed this man who would cover his eyes every time me and [Mehner] kissed. But then, he'd laugh out loud at the film," she said. "He's a perfect example of someone I want to see this movie. Hopefully, it will broaden their empathy, compassion and understanding."
"Lez Bomb" opens at select cinemas in New York and Los Angeles and will be available on streaming services Nov. 9.