 Jenni Rivera, 43, the Mexican-American singer and reality star, gave her final performance Saturday night in the city of Monterrey, Mexico before boarding a plane headed to Toluca early Sunday morning. Minutes later the aircraft had reportedly disappeared. Within hours, Mexican officials confirmed the chartered jet carrying Rivera and members of her professional team had crashed, leaving no survivors.
Rivera's tragic death echoes a life filled with adversity -- hardship that in turn seemed to fuel the singer's journey to stardom. Esteemed by fans as "La Diva de la Banda," the singer overcame depression, physical and psychological abuse, and family controversy to become a strong-willed woman within a male-dominated genre. Dolores Janney Rivera Saavedra, as she was baptized by her parents Rosa Saavedra and Pedro Rivera, was the third of six children: Pedro, Gustavo, Lupillo, Juan and Rosy. When Rivera's parents decided to cross the border illegally from Mexico into the United States, Rosa Saavedra discovered she was pregnant, the singer said in an interview in 2001. She thought about abortion, but her religious faith pushed her to continue the pregnancy and risk the long trek across the desert. Months later, on July 2, 1969, Jenni Rivera was born in Los Angeles. Part of a hard-working, not at all wealthy family, Rivera and her brothers began working while still teenagers. At the age of 14, she met her first husband, Trino Marin. By 15, Rivera was pregnant with Marin's child. Rivera's parents reacted by kicking her out of the house, she said in a 2002 interview. Rivera later described the eight-year marriage as a sort of hell. Abused physically and psychologically, Rivera had three children with Trino Marin -- Janney, better known as "Chiquis," Jacqueline and Trino Angelo. The future singer studied secretly to finish high school and move on to college, where she studied business administration, and struggled with depression. Initiation Into Music After two suicide attempts, Rivera got up the courage to divorce her husband. She finished her studies and headed into the real estate business. Returning to her parents house, Rivera helped her father with the contracts for a record label he'd opened called "Cintas Acuario." That's when she began a career out of her love for music. Her father, a musician himself who would eventually become an important player in California's music industry, had encouraged his children to sing. Her family had already chosen her brother Lupillo to sing narcocorridos -- a controversial genre that extols the exploits of drug traffickers along the border. Jenni Rivera started with just a few songs that she recorded as a birthday gift to her father. Soon, she took up singing in bars around Los Angeles to make extra money. In 1995, she met the man who would become her second husband, Juan López, in one of those bars and went to live with him. But just weeks after moving in, her new husband was arrested on allegations of smuggling undocumented immigrants across the border for payment. After finishing a six-month sentence, López and Rivera resumed their relationship. Rivera gave birth to her fourth child, Johnny Angelo in 2001. The marriage wasn't what Rivera had hoped for, however. The two divorced because of López's infidelity, according to Rivera. But Rivera had recorded some corridos of her own and an homage to Selena Quintanilla-Perez, known simply as Selena, a Tejano music star killed by an obsessed fan club leader in the mid 1990s. She also made contact with Sony Music. In 2000 her career took off with the record label Fonovisa. Inside the industry, she wasn't much more than the "sister of Lupillo Rivera," who was at the top of his career. But "Que me entierren con la banda," Jenni Rivera's first record with her new label, finally caught people's attention. Tragedy And Success, Side By Side Just as Rivera's musical career was taking shape, a family secret plunged her into a deep depression. Her younger sister Rosy revealed she and two of Jenni's daughters had been sexually abused for several years by Trino Marin, Rivera's first husband and her daughter's father.
"This is the worst thing I've had to live in my life," Rivera said in a 2006 interview on Univisión's "Escándalo TV."
Completely destroyed and full of rage, Rivera filed a police complaint against her ex in 1996 after discovering the abuse. It was not an easy road to justice. Marino wasn't arrested until 2006. After a year-long trial, he was convicted on six of the nine charges against him in the Superior Court of Los Angeles, among them: pedophilia, child abuse and evasion of justice. In the intervening years, Jenni had already become "La Diva de la Banda," recording five hit albums: "Se las voy a dar a otro," "Homenaje a las grandes," "Simplemente... La mejor," "Parrandera, rebelde y atrevida" and "Mi vida loca." She also had received by then several Premios lo Nuestro nominations, months on the top of the Billboard charts and four Latin Grammy nominations. But scandals remained a constant in her life. In 2007 her second husband, Juan Lopez, was arrested and sentenced to 10 years in prison for selling drugs. In 2009, Lopez died in prison of pneumonia. In 2008, Rivera was accused of beating a fan with a microphone at one of her concerts, and in 2011 she threw a beer can at the head of another fan who had hit her with a another beer can. The same year her brother, Juan Rivera, was also caught in problems with authorities when he beat one of her fans for trying to go on stage, causing both Juan and Jenni to be detained by the Police.
But Rivera also had faith in her future.
"I had interviewed her a few months ago, and she told me: 'You know Lee, people don't know me but they will.' And this is a very sad tragedy because she had so many plans," Latina Magazine Deputy Editor Lee Hernandez told HuffPost Live, pointing to Rivera's planned ABC reality show and her aspiration to become "the Mexican-American Oprah."
Before You Go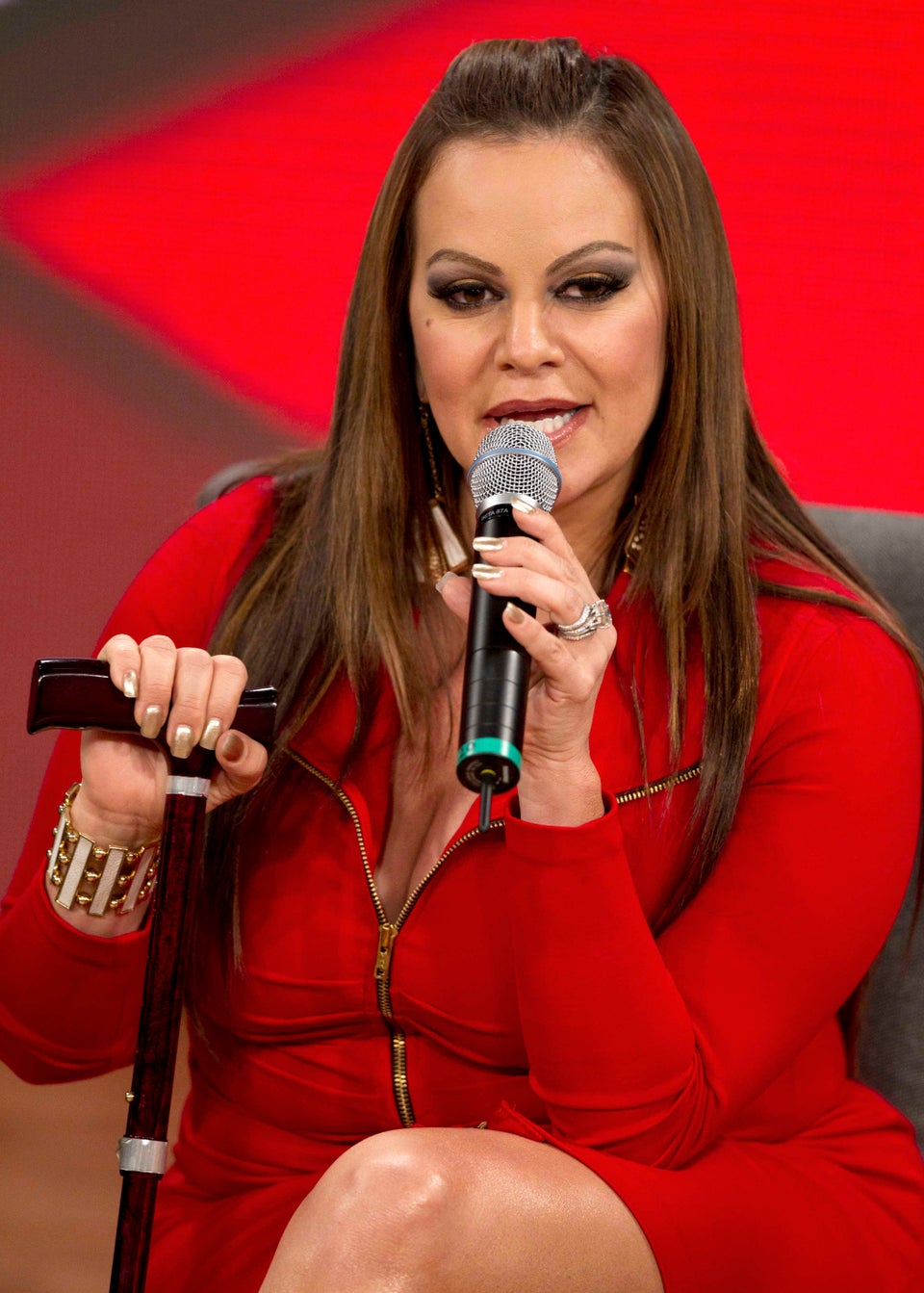 Jenni Rivera
Popular in the Community