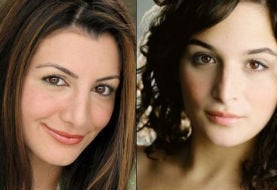 According to Sean McCarthy over at the Comic's Comic, Jenny Slate and Nasim Pedrad are set to join the cast of "Saturday Night Live" for its upcoming season. McCarthy, who was the first to break the news of Michaela Watkins and Abby Elliott joining the cast last year, cites "knowledgeable sources" but NBC has declined to comment, telling us "we can't confirm the hires. If they were to be discussed it would be in the next week or two." This isn't much of an answer considering the staff began work this week for its 35th season, which starts September 26.
Jenny Slate is an actress and comedian best known as half of the duo "Gabe and Jenny." Here are two videos of her work, the first an original video she did for us last year during the election and the second an episode of "7th Floor West" from "Late Night with Jimmy Fallon."
Nasim Pedrad has appeared on "ER" and the "Gilmore Girls" and is a member of the Groundlings. She had a one woman show "Me, Myself & Iran" which has been removed from YouTube.

Popular in the Community