Late-night talk show host Jimmy Kimmel continued his crusade against a Senate bill meant to repeal the Affordable Care Act on Thursday night with a pointed attack against President Donald Trump.
For the past three nights, Kimmel has used his opening monologue to target legislation co-sponsored by Sens. Bill Cassidy (R-La.) and Lindsay Graham (R-S.C.). The new measure, which GOP leaders are trying to force through the Senate by the end of the month, would compel states to cut programs that would in turn leave millions of people without insurance coverage. The bill would leave states with substantially less money to spend on health care and would also allow them to waive rules that guarantee coverage to those with preexisting conditions.
In Kimmel's Thursday opener, he accused Trump of trying to repeal the ACA simply "because it's got Obama's name on it."
"He likes his name on things," he said. "At this point he would sign anything that meant getting rid of Obamacare. He'd sign copies of the Quran at the Barnes and Noble in Fallujah if it meant he could get rid of Obamacare."
He also prodded the president's understanding of the measure after Trump sent out several tweets defending Cassidy and claiming the legislation protected those with preexisting conditions, even though experts have said it would directly put such people at risk.
"I guarantee he doesn't know anything about this Graham-Cassidy bill," Kimmel said. "He doesn't know the difference between Medicare and Medicaid. He barely knows the difference between Melania and Ivanka."
Cassidy, Graham and their supporters have lambasted Kimmel for stepping outside his area of expertise and politicizing his infant son's health after he accused the Louisiana senator of lying to him when Cassidy pledged that people would be able to get health insurance regardless of income. In May, Kimmel told viewers his son Billy was born with a congenital heart defect and had undergone open-heart surgery. Of that experience, the host said Wednesday, he "learned there are kids with no insurance in the same situation." 
"Some people tell me I should give [Cassidy] the benefit of the doubt, and, you know what, I do give him the benefit of the doubt," Kimmel said Thursday. "I doubt all the benefits he claims are part of the new health care bill."
The host continued to note that he didn't believe he was an expert on the topic, but pointed to a raft of medical groups ― representing a majority of the health care system ― who oppose the new Obamacare repeal bill. The list of those lined up against it is extensive and includes the American Medical Association, the American Academy of Pediatrics and the American Heart Association.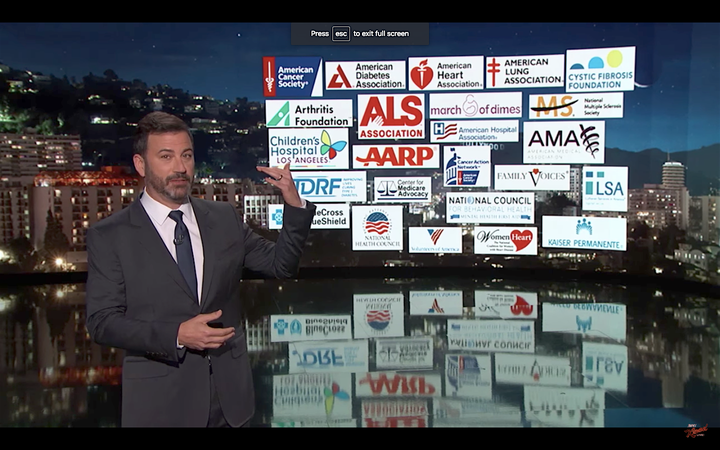 "His supporters say, 'Well, he's a doctor and you're not. What do you know?'" Kimmel said. "To them I say all of these very reputable organizations ... the list goes on and on, all of these groups populated by doctors say this bill is bad. We haven't seen this many people come forward to speak against a bill since Cosby."
Watch the full clip above.
Calling all HuffPost superfans!
Sign up for membership to become a founding member and help shape HuffPost's next chapter