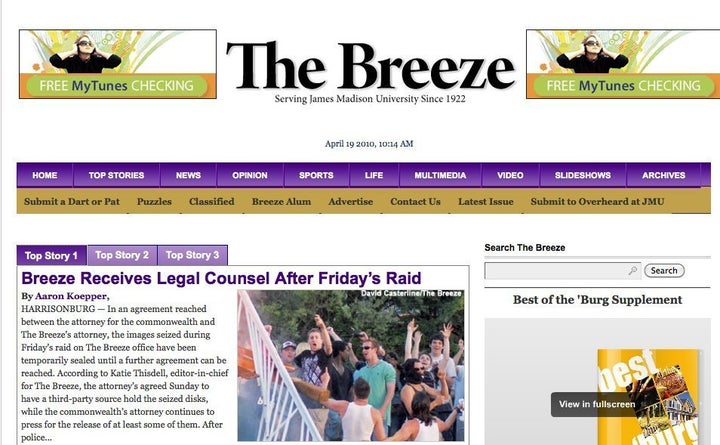 Following a widespread campus riot last weekend, James Madison University's newspaper, The Breeze, became the subject of intense police scrutiny.
Why? The newspaper is the only news outlet that has photographic evidence of the melee.
Police pressured the twice-weekly paper for copies of the photographs for several days, saying they needed pictures to identify those responsible for the riot; the Breeze refused. The paper's editor, Katie Thisdell, told the Roanoke Times that she didn't think it was the paper's responsibility to aid the police in their investigation.
But Friday morning, the police took action, obtaining a search warrant to seize the photographs from the Breeze's office. According to Thisdell, she tried to resist handing over the photos, but police "appeared prepared to take all of the newspaper's equipment." The police took more than 900 photos from newsroom computers.
According to the center's executive director, Frank LoMonte, the newsroom raid was wholly unlawful.
[LoMonte] said in a statement that the search was likely a violation of the Privacy Protection Act, a "federal anti-newsroom search law" that generally makes it illegal for government officials to search news organizations without a subpoena.

"To intimidate student journalists with a massive show of force and with no time to consult legal counsel is grossly improper," he said.
What do you think? Was the paper right to defend its photos? Or should it have helped police?
Support HuffPost
The Stakes Have Never Been Higher
Related
Popular in the Community