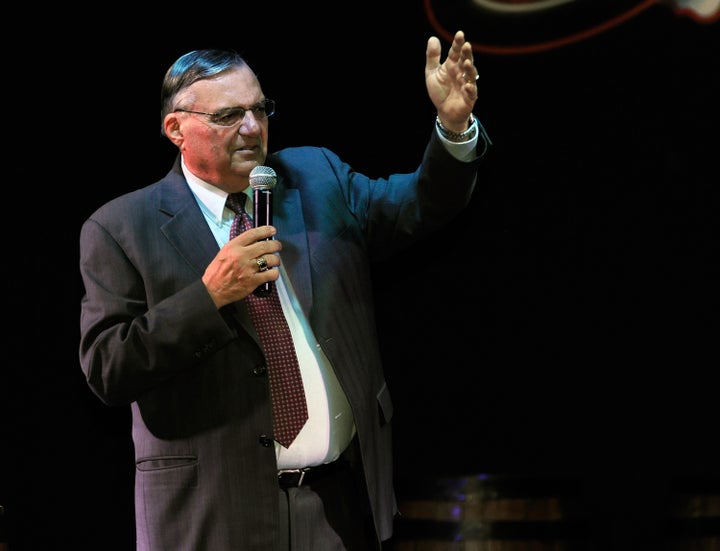 JACQUES BILLEAUD AND BOB CHRISTIE, The Associated Press
PHOENIX — The federal government's decision to stop an Arizona sheriff from checking inmates' immigration status will allow criminals to be released into the community, Maricopa County's top prosecutor said Friday as he asked the president to order Homeland Security officials to restore access to federal systems revoked a day earlier.
The Obama administration action came after the Department of Justice determined that Maricopa County Sheriff Joe Arpaio's office participated in a "systematic disregard" for the Constitutional rights of Latinos while targeting undocumented immigrants.
The fallout from the report was swift. Homeland Security officials announced the department is severing ties with Arpaio, stripping his jail officers of their federal power to check whether inmates in county jails are in the county without documentation. Department officials also are restricting Arpaio's office from using a program that uses fingerprints collected in local jails to identify undocumented immigrants.
"They don't need to do this. This effort at leverage is placing Arizona citizens at risk," Maricopa County Attorney Bill Montgomery said. "Preventing us from being able to get the necessary information to provide a court with the non-bondable status for serious offenses jeopardizes the community's safety, and limiting our ability to get information in order to comply with international treaty obligations for consular access calls into question future prosecutions."
The Justice Department comments' Thursday that Arpaio's office carried out a blatant pattern of discrimination against Latinos and held a disregard for the Constitution brought the most bruising criticism yet to the lawman's boundary-pushing foray into Arizona's immigration enforcement over the last six years.
Montgomery on Friday questioned the timing of the Justice Department's findings, because a civil rights case that raises similar issues is currently before a federal judge in Phoenix.
But he acknowledged the findings raised significant issues, although he "is not going to accept the findings at face value.
"Nor am I going to reject them," he said.
Montgomery said the federal government's actions will prevent his office from enforcing an Arizona law denying bail to undocumented immigrants charged with serious felonies.
Arpaio, defiant and caught by surprise by the report's release on Thursday, called the allegations a politically motivated attack by President Barack Obama's administration that will make Arizona unsafe by keeping undocumented immigrants on the street.
The Obama administration "might as well erect their own pink neon sign at the Arizona-New Mexico border saying welcome illegals to your United States, my home is your home," he said.
The government found that Arpaio's office committed a wide range of civil rights violations against Latinos, including unjust immigration patrols and jail policies that deprive prisoners of basic Constitutional rights. "We found discriminatory policing that was deeply rooted in the culture of the department, a culture that breeds a systematic disregard for basic constitutional protections," said Thomas Perez, who heads the Justice Department's civil rights division.
The report will be used by the Justice Department to seek major changes at Arpaio's office, such as new policies against discrimination and improvements of staff and officers. Arpaio faces a Jan. 4 deadline for saying whether he wants to work out an agreement to make the changes. If not, the federal government will sue him, possibly putting in jeopardy millions of dollars in federal funding for Maricopa County.
Arpaio has long denied the racial profiling allegations, saying people are stopped if deputies have probable cause to believe they have committed crimes and that deputies later find many of them are undocumented immigrants. He also said the decision by Homeland Security to sever ties will result in undocumented immigrants being released from jail and large numbers.
Montgomery said he will ask the Justice Department to provide him with more specific information so he can do his own review of cases now in his office.
Associated Press Writer Alicia A. Caldwell contributed to this report from Washington, D.C.
Calling all HuffPost superfans!
Sign up for membership to become a founding member and help shape HuffPost's next chapter