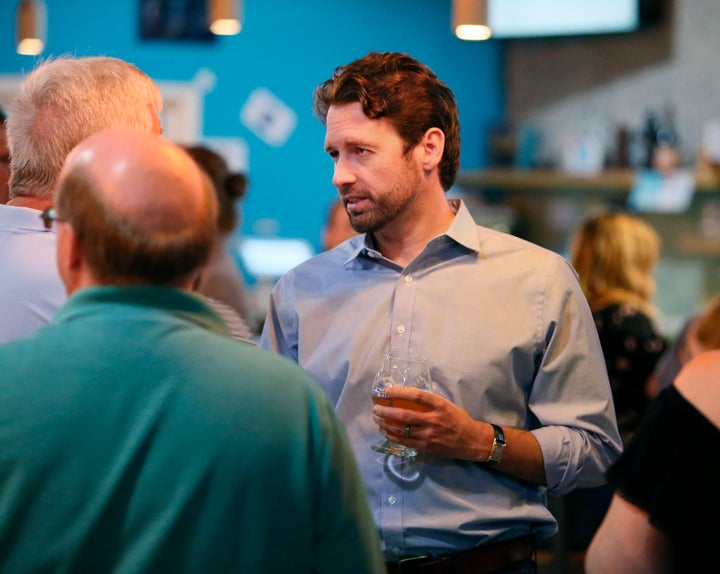 Joe Cunningham, a Democratic attorney in South Carolina, on Wednesday morning won the election to represent the state's 1st District in the House of Representatives, taking the seat out of GOP hands for the first time since 1981 after a battle among conservatives for the Republican nomination.
He defeated state lawmaker Katie Arrington, who'd bet that voters would reward her for her close association with President Donald Trump, in a race that became much tighter than expected in its final hours, appearing to swing to each of the candidates in turn, before ultimately being decided by a margin hovering at 1 percentage point.
Arrington had seized the GOP endorsement from Rep. Mark Sanford (R-S.C.) in a May primary by highlighting his role as one of the few occasional Republicans in Washington to criticize the president. It was a striking blow for Sanford, a longtime Republican favorite who'd been prominent on the national stage as a governor whose second term ended in a dramatic extramarital affair, and as a congressman and vocal member of the fiscally conservative House Freedom Caucus.
Arrington hewed close to Trump and presented herself as a straight-talker like him, often framing her race against Cunningham as part of a national fight to help the president. Her own race was, she said, a battle between good and evil.
But despite the president's popularity in the traditionally Republican state ― the latest poll found that his approval rating there exceeded the national average, though it's still only 44 percent ― Arrington appeared to be in trouble in the run-up to Election Day. Last week, the House GOP's campaign team sent her $87,000 to spend on television advertising despite earlier statements saying they did not believe she would need the help.
Cunningham, an attorney, pitched himself to voters as a moderate Democrat, and the national party considered him one of its best bets for flipping a seat in Congress. The district had also appeared to be less enamored with Trump than the state overall, likely because of an influx of newcomers and concern about the anti-regulation GOP permitting offshore drilling that would spoil its well-known coastline.
Calling all HuffPost superfans!
Sign up for membership to become a founding member and help shape HuffPost's next chapter