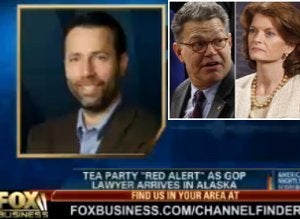 Tea Party-backed candidate Joe Miller, who currently holds a razor-thin 1,668 vote lead over Sen. Lisa Murkowski in Alaska's Republican Senate primary, expressed concern on Thursday night that the incumbent lawmaker could attempt "to pull an Al Franken" to score her a win in the state's contentious election fight.
"You know, she's gotten a lot of power from her incumbency, not just her dad's appointment but also the funding of her race," explained the conservative hopeful in an appearance on Fox Business Network. "But, you know, frankly we're looking right now to make sure that the election that the votes are accounted for fairly without any type of game play that concerns us any time that somebody lawyers up and, you know, tries to pull an Al Franken if you will."
(Franken, a Democrat, narrowly won Minnesota's 2008 race for U.S. Senate after a statewide manual recount was ordered. He defeated then-GOP incumbent Sen. Norm Coleman by just 312 votes.)
The remarks from Miller come in the wake of news that a lawyer for the National Republican Senatorial Committee is already en route to Alaska to help Murkowski's campaign as a final batch of absentee ballots are set to be tallied. The conservative candidate suggested he senses "some game play going on" with the NRSC "meddling" in the race.
According to the Anchorage Daily News, 20,000 absentee and questioned votes cast in Alaska's Tuesday primary remain to be counted. The tabulation of the voting forms will determine an official outcome of the extremely competitively race.
"We are very concerned that, you know, there may be some attempt here to skew the results," said Miller to FBN host David Asman. "Lawyering up with a team of folks from the National Republican Senatorial Committee, it makes you scratch your head and ask what's really going on here."
Joe Wierzbicki, a top dog at the Tea Party Express, a group firmly behind Miller's campaign, echoed the concern in an interview with the Daily Caller the same day. "If the NRSC were to have an ulterior motive in these efforts I think that would be a mistake, as Republican leaders in Washington have to know by now that they need to earn the confidence and trust of tea party supporters," cautioned the conservative voice.
Miller drew a clear contrast between himself and the GOP establishment during his prime time interview last night.
"I've stood up to the establishment before," said the Senate hopeful when asked how he could assure voters he'd maintain his self-proclaimed conservative integrity. He later added, "I absolutely no problem with the [party's] platform. I advocated. I pushed for it. But the leadership of the party has fled so far from that platform -- it's not even funny. This is an accountability issue."
REAL LIFE. REAL NEWS. REAL VOICES.
Help us tell more of the stories that matter from voices that too often remain unheard.