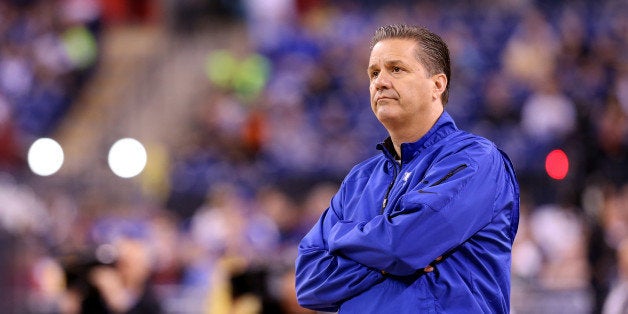 Kentucky men's basketball coach John Calipari has been widely praised -- as well as vilified -- for his "one and done" approach to college basketball: Bring in the best high school players for a year, prepare them for the NBA and then let them go get paid.
"Last year we started the season with a goal. You may think that goal was to win the national title, win all the games," Calipari said at the Alltech REBELation conference, where he was awarded Alltech's 2015 Humanitarian Award. "It was to get eight players drafted."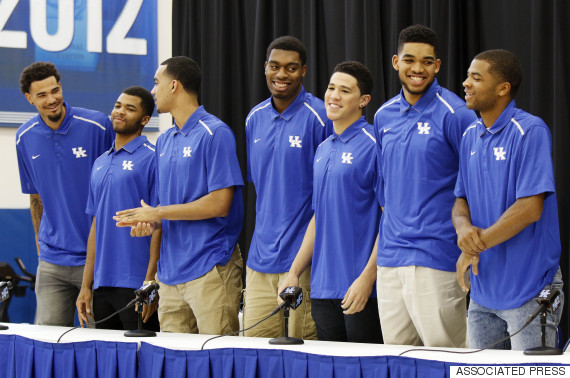 From left, Kentucky NCAA college basketball players Willie Cauley-Stein, Andrew Harrison, Trey Lyles, Dakari Johnson, Devon Booker, Karl-Anthony Towns and Aaron Harrison stand during a news conference where they announced their intent to place their names in the NBA draft. (Source: AP)
Calipari boasted that since taking the helm in 2009, 26 of his players have been drafted into the NBA. His academic stats? He said he's graduated "14 guys in six years" and the team has had a 3.0 GPA average for five years.
"You're going to have a love of learning before you leave us," Calipari said. "But you also have a chance to be drafted, number one, the lottery."
Calipari said while the team fell short of winning every game this season, it was still a historic year and the staff aimed to "make it about [the players] and not us."
"Now, in our state, they want my mission to be win national titles! Win national titles! But my mission is bigger than that," Calipari said. "It's to be the vehicle that helps others reach their dreams, be the stone that creates the ripple in their lives that goes on and on and on."

Popular in the Community