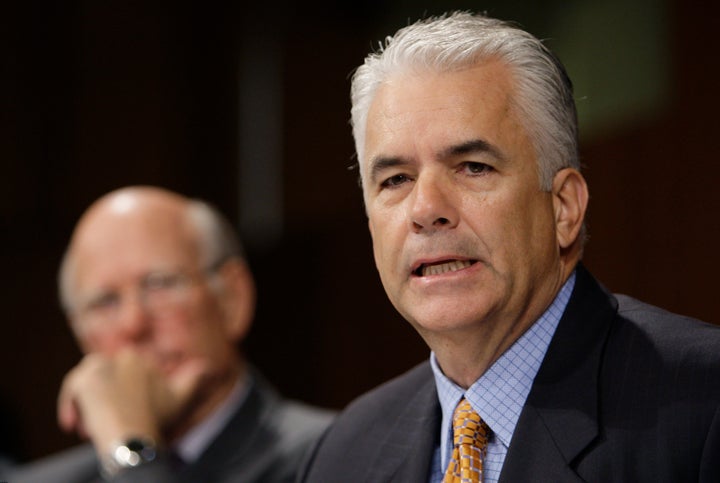 WASHINGTON -- Embattled Sen. John Ensign (R-Nev.) confirmed Thursday night that he will resign his seat amid an ethics probe.
"It is with tremendous sadness that I officially hand over the Senate seat that I have held for eleven years," Ensign said in a statement. "The turbulence of these last few years is greatly surpassed by the incredible privilege that I feel to have been entrusted to serve the people of Nevada. I can honestly say that being a United States senator has been the honor of my life."
Ensign was under investigation by the Senate Ethics Committee and the FBI in the wake of an admitted sexual relationship with campaign aide Cindy Hampton and accusations that he tried to steer lobbying business to her husband, Doug, a former Ensign top staffer.
His resignation means the committee will not issue a report detailing his behavior.
"As is its right, the Senate Ethics Committee is continuing its investigation of issues into which it has been inquiring for the past year and a half," Ensign said. "Indeed, the committee even decided recently to devote more resources to its investigation by hiring an outside counsel even though the issues have been viewed and reviewed by so many others."
In a statement issued Thursday night, Ethics Commitee Chair Barbara Boxer (D-Calif.) and Vice Chairman Johnny Isakson (R-Ga.) wrote, "The Senate Ethics Committee has worked diligently for 22 months on this matter and will complete its work in a timely fashion. Senator Ensign has made the appropriate decision."
Ensign's departure could clear the way for Nevada Gov. Brian Sandoval (R) to appoint Rep. Dean Heller to the seat, giving the GOP an incumbent in 2012.
It also would allow Nevada Republican leaders to name their own candidate for a special election to replace Heller in a seat that covers most of the state north of Las Vegas. Such a move could marginalize Sharron Angle, the problematic Tea Party candidate who lost to Senate Majority Leader Harry Reid (D-Nev.) last year.
Angle, however, has a devoted following and the ability to raise money, leaving her a potential complication for party officials.
A Democratic campaign operative was disheartened by Ensign's resignation, given that it will likely make the Democratic chances of picking off the Senate seat tougher.
But Democratic Senatorial Campaign Committee spokesman Matt Canter took a more upbeat stance, plugging Rep. Shelley Berkley (D) to succeed Ensign.
"There will be a very clear choice for Nevadans between an uncompromising extremist like Dean Heller, who wants to end Medicare and cut loans for small businesses to give more tax breaks for the very rich, and Shelley Berkley, a true fighter for Nevada's economy and middle class," Canter said. "Nevada will remain a top target for Senate Democrats."
Ensign announced last month that he would not seek reelection, admitting that he had strayed.
"As I have learned through my mistake, there are consequences to sin," he said.
When Ensign announced he would forgo a reelection bid, he said the investigation into his affairs was not a factor.
This story has been updated to include excerpts from Ensign's statement and the statement from Boxer and Isakson.