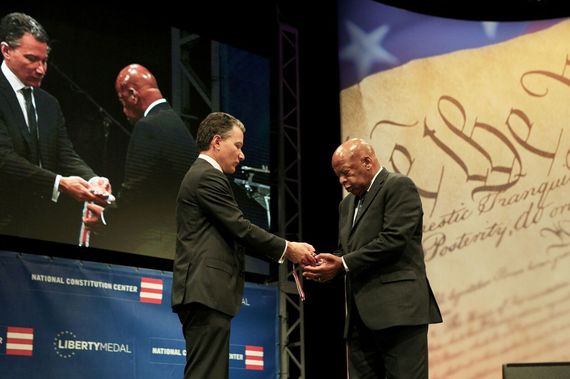 In a rare bipartisan moment in these increasingly rancorous times, many of Philadelphia's political elite from both parties gathered on Monday at the National Constitution Center in Philadelphia to award Congressman John Lewis, a civil rights icon, the Liberty Medal. Representative Lewis is the only surviving "Big Six" leader of the Civil Rights Movement, a group of prominent civil rights leaders which included Martin Luther King, Jr., James Farmer, A. Philip Randolph, Roy Wilkins, and Whitney Young. He was just 23 years old when he spoke at the 1963 March on Washington. Lewis led the 1965 march across the Edmund Pettus Bridge in Selma, Alabama, which later became known as "Bloody Sunday". The Liberty Medal, which comes with $100,000 check, is often called the precursor to the Nobel Peace Prize since 6 of its previous recipients have gone on to win the Nobel.
ABC News correspondent Byron Pitts, who served as Master of Ceremonies, got the ball rolling with the first tribute to Lewis. He said, "That's a great place to be - ABC News -- but when I began in life, there was no reason to believe I'd ever get there. I was born in 1960. At that time, Jim Crow still had its foot on the necks of kids like me, throughout the South. We lived in Baltimore, and while Maryland wasn't Mississippi, it was a segregated city, and separate was not equal. And I know I never would have achieved what I have in life if not for the sacrifices of Representative John Lewis, and those who fought side-by- side with him in the Civil Rights movement."
University of Pennsylvania president Amy Gutmann reminded the audience that the 76 year old Congressman is still fighting for them. "We gather together today because we love liberty, but none of us has done more for it than John Lewis," said Gutmann. "John Lewis has marched for it, leading a determined people up and over the Edmund Pettus Bridge in Selma. John Lewis has kneeled in prayer for it, at a segregated swimming pool in Cairo, Illinois, inspiring a generation of student activists. John Lewis has sat down for it and sat in for it, at lunch counters in Nashville, and yes, on the floor of the House of Representatives." Lewis recently led a peaceful sit-in on the floor of the House of Representatives to protest the lack of action over gun control after the Pulse Nightclub shooting.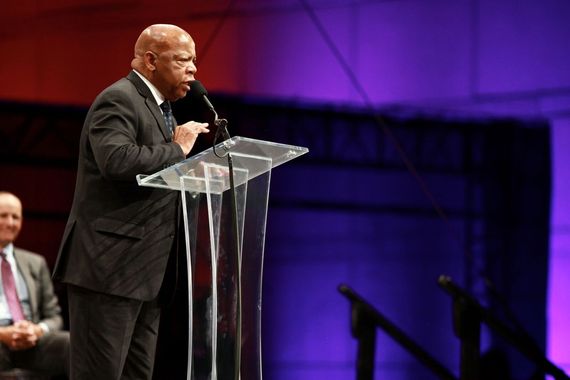 At a time when protests have become more violent, Lewis, in his acceptance speech, made the case for non-violent civil disobedience. He said, "There are so many people who I wish had lived to see this day, to see the powerful role that non-violent civil disobedience has played in humanizing and changing America and many other parts of our little planet. We were just ordinary people but we had an extraordinary vision, to live in a society that respected the dignity and the worth of every human being.... We truly believed that by refusing to comply with what was wrong; we could get our nation to do what was right. And 50 years later, I can say we did that."
The congressman counseled the younger generation, including #blacklivesmatter activists, to have patience later in his speech. "We made a lot of progress. We've come a great distance," said Lewis in his trademark booming voice. "If you had told me half a century ago when we were marching across the Edmund Pettus Bridge from Selma to Montgomery, that in the 21st century there would be an African American president of the United States, a national museum celebrating our work on the National Mall, that I and so many other Latino, Asian, Native and African Americans would be members of Congress , I would have said, "you're crazy, you're out of your mind, you don't know what you're talking about."
The indefatigable warrior for civil rights, of course, exhorted the crowd to continue the fight that he started. "We've come a great distance, but "we the people" still have a great distance to go before we fulfill the promise of a true democracy," said Lewis. "We can do this. We will get there. So if you see something that is not right, not fair, not just--stand up, speak up, and speak out. Find something you are passionate about, and do all you can to make that dream a reality."
In a truly extraordinary moment, the man who has every reason to be full of resentment after his skull was fractured by the police as the country watched on national television, admonished the crowd not to hate. He said, "Never get lost in a sea of despair. And never get bitter or hostile because hate is too heavy a burden to bear. Be hopeful, be optimistic. And continue to press on until we build a nation and a world community at peace with itself."
In a curious bit of timing, Speaker Paul Ryan is currently drafting language to punish Congressman Lewis and others for the protest on the House floor. Asked about his response to the punishment, Lewis displayed the quiet, dignified elegance that showed why he is so deserving of the Liberty Medal. He evinced no anger but quietly said, "Let Ryan punish me. I have been punished before."
A taped broadcast of the Liberty Medal ceremony will air on Channel 6 ABC in Philadelphia on Sunday, October 2 at 5:30 pm and then again on Sunday October 23 at 1:30 pm. Check your local listings for other television markets.
REAL LIFE. REAL NEWS. REAL VOICES.
Help us tell more of the stories that matter from voices that too often remain unheard.