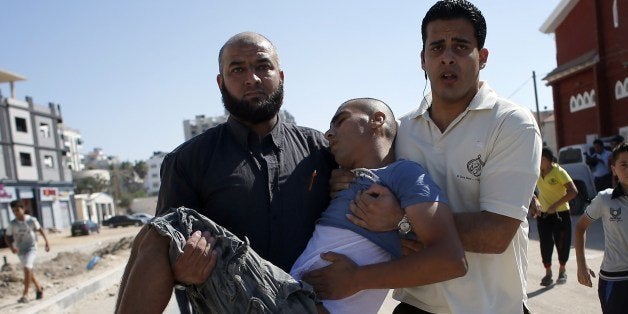 Journalists in Gaza found themselves giving first aid to a number of Palestinian children hit by an Israeli strike on Wednesday.
A pretty grisly attack in front of my hotel at a hut near the harbor. We ran out to find two young men and a small boy in the rubble. #Gaza

— Nick Casey (@caseysjournal) July 16, 2014
NBC's Ayman Mohyeldin was with the mother of one of the boys when she found out he had died:
Peter Beaumont, the Jerusalem bureau chief for the Guardian, wrote an eyewitness account of the shelling:
The first of the artillery shells came in a little after 4pm on Wednesday as I was writing on the hotel's terrace.

There is a deafening explosion as it hits a structure on the pier, a place we have seen hit before, where fishermen usually store their nets. Behind the smoke, I see four figures running, silhouettes whose legs are pumping raggedly. They clear the smoke. From their size it is clear they are a man and three young boys.

Where the harbour wall ends and the beach starts, there are a few brightly coloured tents and chairs for beach users in more peaceful times. The four figures jump on to the beach and begin running towards us and the safety of the hotel.

Only afterwards do we discover there are four others who are dead, all children, lying on the wall. I am shown a picture of one of the dead boys, his skin scorched and bruised. Their names are released later: Ahed Bakr, aged 10; Zakaria, 10; and two other boys from the Bakr family, both named Mohammad, aged 11 and nine.
Read the full account here.

Related
Popular in the Community