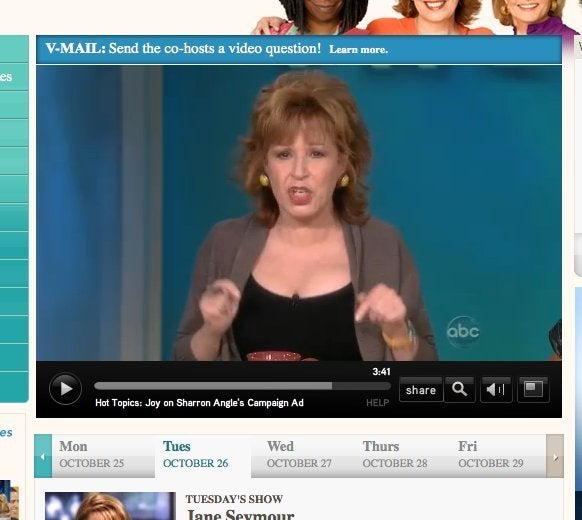 Joy Behar repeatedly called Nevada Senate candidate Sharron Angle a "bitch" on "The View" Tuesday, and said that she is "going to hell."
Behar's comments came during a discussion of an ad that Angle released earlier this month. The ad, which focused on immigration and contrasted smiling white children with scowling Latinos, was called "the most overtly racist" ad of the entire campaign by Rachel Maddow on Sunday's "Meet the Press." The "View" co-hosts were no less outraged by it, with Elisabeth Hasselbeck criticizing Angle for using children to stoke fear.
But it was Behar who really let loose on Angle.
"I'd like to see her do this ad in the South Bronx," she said. "Come here, bitch! Come to New York and do it!"
Sherri Shepherd cut in, saying that she was "praying" for Angle.
"I'm not praying for her," Behar shot back. "She's going to hell! She's going to hell, this bitch!"
A round of crosstalk followed until Barbara Walters cut in.
"If she says this one more time, I'm going to
" Walters joked.
Watch the Angle ad:
Related
Popular in the Community