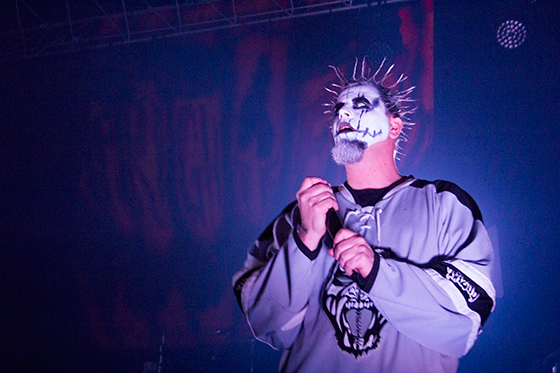 The word "Juggalo" has long had such a bad stigma behind it to describe the fans of music groups like the Insane Clown Posse and Twiztid, but that's an unfair stance based merely from ignorance. It's just a prejudice from the outside looking in because maybe you don't like the way the fans look with their face paint and masks or don't like the way the music sounds; it's definitely a counterculture from that of the mainstream and other parts of the underground music scene.
When it comes to the Juggalo world, every show is an event in itself, and I took this year's FrightFest at the Majestic Theatre in Detroit headlined by Twiztid to observe and break down why this fan base is so irreplaceable and the bad connotations connected with it is completely offbase.
There's a common theme about the relationship that Twiztid members Jamie Madrox and Monoxide Child have with their fan base that continually comes up in every aspect of the band's aesthetic, the idea that they are all family. And family can be linked by blood or it can be your crew of friends, and like any family, there are people that can be a bit more difficult to coexist with, but in any true setting, you try to make it work and come together as a unit.
The thing that is very unique to this fan base of Twiztid is that they know the influence they have with their fan base but its not your regular rock star on a pedestal dynamic, its more of a two way street of responsibility. While Jamie Madrox and Monoxide will do their best to make the best music they can for their fans and make the shows the best they can, they also challenge their own fans to be productive parts of society. "Ever since me and him actually got some sort of standing or whatever you want to call it where people actually gave a fuck what we had to say," explains Jamie Madrox. "We've been preaching we want to see more lawyers, doctors, teachers, meaning educated. Be smart. Make US proud. If we are to be your proverbial parents sort of speak, make us proud."
There's always a sense that there is a place for anyone in the Juggalo world, you just can't come into it with a chip on your shoulder proving the naysayers right. Doesn't matter the fan base, people come together for a common goal and a common interest that something in some silly piece of music connect with them and they want to experience it with others that feel the same way. "There's a difference between being supportive and defending," explains Monoxide. "We're supportive, but we'll never defend your mistakes, blatant mistakes. Everybody makes mistakes. We're tired of hearing it too. We're tired of people saying that our fans are pieces of shit, that they're lowlifes, and its NOT true. It's so much not true. It's just like any other family, there's assholes in every bunch."
Twiztid knew quickly that a lot of their fans come from less than desirable circumstances in life, but they feel like that's not an excuse to be horrible people and they want to help them in whatever way to rise above it all and they want to change the way people see the Juggalo audience. "We're trying to change the perception through the kids," says Monoxide. "We're not trying to change the perception through the people that are watching. We have to get the kids to understand that if you are dealt a shitty card, that's just how it is, but to go out and just go out of your way to be a piece of shit, that's not what its about, and they're realizing that. They are going get jobs and they're going to school and they're figuring it out."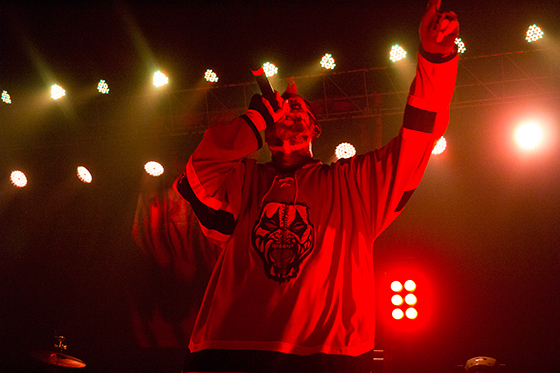 The relationship Twiztid has with this Juggalo fan base is unlike many others, but there's a sense of pride that they want to have for their fans. They want to be able to look out to that crowd each night and not even question if any negativity exists. Being a Juggalo isn't just about listening to some music, that's what gets everyone there, it's more about being around like minded people in a world where many of use find it hard to fit in and just deal with what life has handed us and come out an improved person for it. "We're just trying to make sure everybody understands that there's a better outcome for you if you just take pride in yourself," describes Jamie Madrox. "Love yourself. Respect yourself. Love who you are, because that's the whole thing. We accept you, however you are. We will not defend you're stupidity. We want the best for you. Like parents, we want the best for you, so if we want the best for you and you are doing something that's not the best for you."
Even when you look into the music itself, you can see the dedication bands like Twiztid have towards their audience. There are countless songs with lyrics or themes extending their love, appreciation, and support to anyone interested in being a part of the Juggalo world. One verse that jumps out that really quickly explains it all is from Jamie Madrox on Twiztid's "We Don't Die" from their album Freek Show back in 2000:
"We unreal / Just like a seven-dollar bill / Voice my opinion regardless on how you feel / Freak shit / It ain't about being rich / It's about Juggalos and runnin' with lunatics / As long as y'all rock this we won't quit / We do it all for y'all, I mean that shit / Everyone of y'all means everything to me / We bleed for y'all, that's why we call it the family"
Outside of the Majestic Theatre for FrightFest, I started chatting with some of the Juggalos waiting to go inside for the Twiztid meet and greet beforehand. There was this group of friends that really embodied what it's all about. It was these four guys from Findlay, Ohio, that's about 40 miles south of Toledo. One of the guys was a 25-year-old named Kendall and he was the only one of the four that had purchased the meet and greet package. His friends told me that his wife bought it for him and they just tagged along for the show. Before he went in for the meet and greet, I was able to talk to him about being a part of this Juggalo community and he described it as "like hanging out with all your best friends. It's as simple as I can put it".
We continued to talk about the negative stigma that Juggalos have and when asked what he would say to anyone that doesn't understand this particular fan base, Kendall said the following: "Well first, you would have to really go somewhere and be around the people before judging it because just judging it without having an open mind, you're not going to understand and realize we are just normal people. We all live normal lives. We all come from the same broke homes, people just tend to get along together, we all have the same experiences."
One of Kendall's friends Adam, now 32 years old, was the person that got him into Twiztid's music. I spoke with Adam also about the bad rap that Juggalos get from people and he explained: "It's a family. It's more than just a whole bunch of hoodlums getting together like people think. It's a family of friends getting together to help each other not to hurt each other. Look man, just chill. We're all here for the same reason. There are some posers and all that come to shows, but we just got to take them under our wing. In all actuality, we were like that too at one point in time. We didn't understand. We just wanted to fit in and this is where we can relate and fit in. "
The two other friends of Kendall's that came with him, Twiztid's FrightFest here in Detroit wasn't just their first Twiztid show, it was their first concert ever. They've been fans for a long time, but just never been to an actual concert before. And as successful as a band like Twiztid has been with record and merchandise sales over the years, they still have loyal fans out there that are still trying to find their way into the thick of things, but the great thing here is that given the opportunity, their own friends were able to bring them along for this shared experience.
Soon after, Kendall came back outside from the meet and greet with a glow on his face. He finally got to meet his idols and his friends that didn't even get to go to meet Twiztid were happy for his experience. He got a poster and hat sign. I believe the hat he got signed was for another friend of theirs that was locked up. The sense of friendship, community, and awareness just with these four friends from the Northern part of Ohio is such a microcosm of what exactly Juggalos truly represent.
In the Juggalo world, if you extend your arm for help, you will always have more hands than you can ever imagine there to pull you up. Anyone that tries to push you back down is either a poser or not hip to the fact that there is no need to destroy one another and it's a place that should be free to build, but best believe the Juggalos will always fight for their family and that is the beauty of it all.
Twiztid will be hosting the 2nd Annual Twiztmas Party at The Crofoot in Pontiac, MI on December 5, 2015 at 7:00pm and all ages are welcome. The party will include a silent auction featuring ultra-rare merchandise, complimentary food, and in addition to Twiztid, performances by Blaze Ya Dead Homie, Krizz Kaliko, and others. Tickets are free with the donation of four canned foods, or for just $1 with service frees through www.ticketweb.com. Canned goods can be dropped off at The Crofoot starting now until tickets sell out. Canned good donations will go to Gleaners Community Food Bank of Southeastern Michigan, and the silent auction funds will go to the Humane Society and St. Jude's Children's Hospital. For more information, visit twiztid.com.
Calling all HuffPost superfans!
Sign up for membership to become a founding member and help shape HuffPost's next chapter