Strap on your Stetsons because FX's Emmy-winning hit Justified is returning on Jan. 17 for a third season. It's been far too long since we've checked in with sarcastic law man Raylan Givens and watching the first four episodes I realized how good it felt to be back in the saddle again with the show.
Last season focused on the unfurling dreams of the Bennett clan lead by the dangerously good Margo Martindale as matriarch Mags. Throughout the season, Martindale's performance as Mags became such a standout that losing her by season's end was as much a tragedy for the show as in the show. Fittingly the ghost of Mags lives on in the third season, still haunting the lives of our favorite Harlan County residents.
Season three starts off on a great foot and hints at some further twisty complications down the road. For starters, Raylan has a whole lot more on his plate now that the downfall of the Bennett family has left a power vacuum in Harlan.
Stepping into the picture is a new addition from Detroit named Quarles, played with both scary intensity and boardroom cool by Neal McDonough. He's got a few tricks up his sleeve (some literal) and some less than savory connections to former small time crook Wynn Duffy. Plus there's the mysterious Limehouse (Mykelti Williamson) who has a history with Raylan's criminal daddy Arlo (Raymond J. Barry).
The other power player is none other than Raylan's sometime friend, often nemesis Boyd Crowder played by the always fantastic Walton Goggins. Boyd began to set up his operation and get back into the crime game last year and he continues his efforts this season.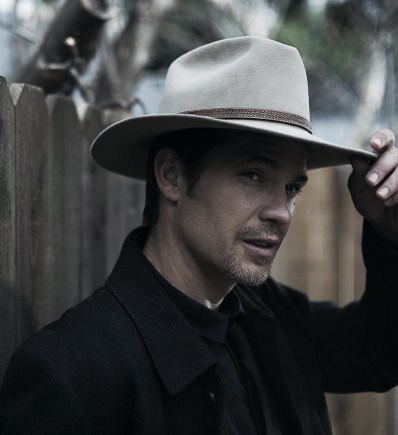 What's so great about the show is that the world of Justified is such a fully-realized one. From the Marshals office in Lexington to the backwoods of Harlan County, the show has such an indelible sense of place. Unlike many shows on the dial, there's no mistaking the landscape of Justified for anywhere else. And just like a real small town, characters never truly disappear from the world of the show unless they do so in a body bag. Seeing minor characters pop up in different configurations and roles is part of the charm of the show, lending reality to the small town feel. Season three sees the return of several major and minor players from seasons past like Dickie (Jeremy Davis) and wise-beyond-her-years Loretta (Kaitlyn Dever).
What I've always loved the most about the show is its sly sense of humor, even in life or death situations. Most characters on Justified are some shade of gray and they all share a welcome sense of humor that grounds even the most outrageous acts. Star Timothy Olyphant has credited this to the writers and to the world created by the work of novelist Elmore Leonard, on which the show is based. But Olyphant himself is a big part of what makes Justified so intensely compelling. His U.S. Marshal Raylan Givens is flawed and tough while still retaining a very human sense of humor and compassion. The show itself rarely gives into the urge for melodrama, sprinkling even the most intense moments with bits of levity. It's an adept show that can get a viewer to both cringe and laugh when its hero runs over a criminal (twice!) with his car.
It's that ability to balance drama and humor that makes the relationship between crime fighter Raylan and criminal Boyd so fascinating. Underneath all the suspicion and hostility is a very real sense of camaraderie and affection. The two men might not always like each other, or indeed be on the same side, but their scenes always carry an undercurrent of respect. The beginning of season three sees quite a bit of the complex dynamic between the two, including some explosive fisticuffs in the premiere.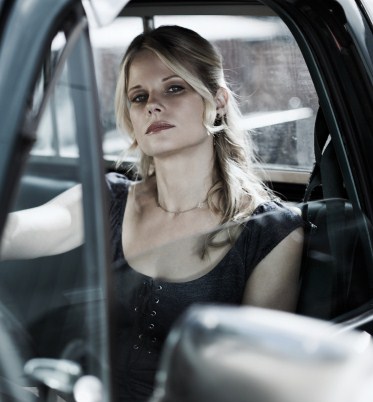 Season three also seems to be delivering on the promise of a more active Ava. Last seen shot by Dickie in the finale, Ava has certainly toughened up. She was already beginning to dip her toes into Boyd's life of crime last season and this Bonnie and Clyde dynamic continues. Ava has always been a series standout since her intense husband-murdering monologue in the show's pilot. Not many actresses could pull something like that off, but Joelle Carter has always struck the right balance between flirtatious and tough. It's great to see Ava continue to develop and gain more agency.
The third season promises some nice stories for Raylan's fellow marshals as well. Tim (Jacob Pitts) has a good time laughing at Raylan's injured desk-bound state in the premiere. We see Chief Deputy Art Mullen (Nick Searcy) get out from behind the desk when tragedy befalls a fellow marshal. Underused but fantastic Rachel (Erica Tazel) also gets some nice moments, especially in the fourth episode where we learn more backstory on her character. Her interactions with Raylan have always been infinitely fun to watch. With an African American community introduced in the first few episodes, its possible Rachel will play a bigger part this season. One of the great things about Justified is its unflinching look at race in the backwoods and how bigotry still runs rampant in these communities.
Justified is a rare treat, a show with subtle humor, humanity and flawed heroes and antiheroes that feel like real people. Coming off a phenomenal second season, it would have been easy for the show to drop the ball. Don't fret though; the third season is shaping up to be another gun-slinging, hillbilly-whispering good time.
Justified starts its third season on Jan. 17th at 10 p.m. EST on FX Networks.
What are you most looking forward to in Justified's third season? Sound off in the comments!
Photos courtesy of FX Networks.
Popular in the Community