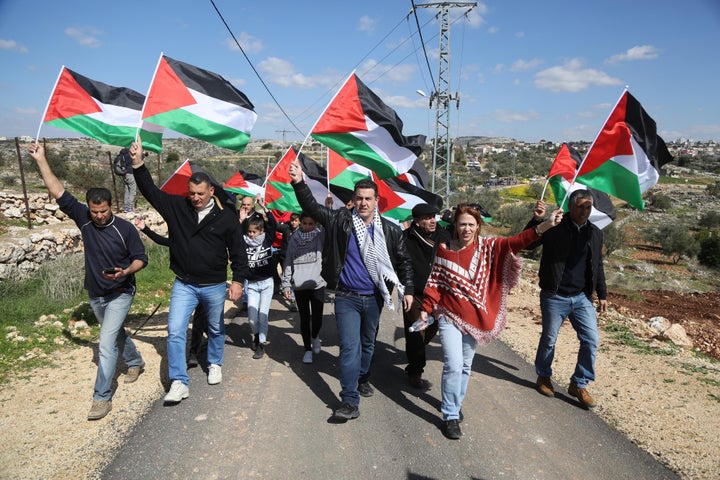 WASHINGTON ― A Mennonite curriculum coach in Kansas sued the state Wednesday for barring her from working as a state-contracted teacher trainer after she refused to certify she does not boycott Israel.
Esther Koontz made it to the final stages of the hiring process and had signed up to lead several trainings when the Kansas State Department of Education told her she could not get paid if she didn't sign the anti-boycott document. The American Civil Liberties Union, which is representing Koontz, claims the state requirement that contractors not participate in boycotts of Israel violates her right to free speech and equal protection,
The lawsuit is the first major legal challenge to legislation aimed at halting the boycott, divestment and sanctions (BDS) movement against Israel. In the past three years, more than a dozen states have passed laws that restrict contracts with people or entities that boycott goods and services from Israel or the occupied Palestinian territories. On the national level, a bill before Congress would make it a felony for Americans to boycott Israel, punishable by a fine of up to $1 million and up to 20 years in prison, The Intercept reported in July.
As these laws pop up across the country, BDS has become an increasingly divisive issue. Supporters say it is a nonviolent way to oppose Israel's decades-long occupation of the Palestinian territories; critics say it is an anti-Semitic attempt to delegitimize Israel. The ACLU, which has long spoken out against anti-BDS legislation, argues that the measure passed in Kansas punishes individuals "based on their protected political beliefs and associations."
Koontz is a member of the Mennonite Church USA, a Christian denomination that passed a resolution in July, "Seeking Peace in Israel and Palestine," that calls on members to avoid "the purchase of products associated with acts of violence or policies of military occupation, including items produced in settlements."
When the church passed that resolution, Koontz had already listened to a series of presentations on Israel's treatment of Palestinians from another church member who had recently visited the region. Koontz wanted to to support "the Palestinians' struggle for equality," according to the ACLU complaint. So she decided to boycott goods and services offered by Israeli companies and international companies operating in Israeli settlements in the West Bank.
Around the same time the Mennonite Church passed its resolution, Kansas enacted HB 2409, a law that prohibits the state from entering into a contract with a person or a company unless they submit written certification that they are not currently engaged in a boycott of Israel or Israeli-controlled territories.
"It's brazenly unconstitutional," said Lara Friedman, president of the Foundation for Middle East Peace, who closely monitors anti-BDS laws on the state and national level.
Months before the Kansas bill went into effect, the veteran math teacher was selected to be a teacher trainer in the Kansas State Department of Education's Math and Science Partnerships program, a job she planned to take on in addition to her regular duties as a curriculum coach in Wichita. She had completed the required coursework to become qualified as a trainer and signed up to perform three trainings, the complaint said.
But on July 10, days after HB 2409 went into effect, she was told she needed to fill out another form before she could get paid by the Kansas Department of Education. The form was titled: "Certification Individual or Company Not Currently Engaged in a Boycott of Israel."
Koontz responded the following month. "As a matter of conscience I am not able to sign this Boycott of Israel waiver. Will I still be able to train for KSDE this year and get paid?" she asked program consultant Melissa Fast.
"Unfortunately, the state will not allow me to pay you if it is not signed. I am sorry." Fast wrote back.
Koontz has continued working as a curriculum coach at a public school in Wichita, but she cannot work as a teacher trainer, a job she had hoped would allow her to share her expertise, advance her career and earn additional income, said Brian Hauss, one of her lawyers at the ACLU.
The case was filed in the U.S. District Court for the District of Kansas, and Randall D. Watson, the state's education commissioner, is listed as the defendant. Watson's office referred all questions to the Office of the Kansas Attorney General, which said only that "it is reviewing the lawsuit."
The ACLU has asked the court to declare that requiring Kansas state contractors to affirm they do not participate in the Israel BDS movement violates the First and 14th Amendments. The group has also asked the court to block the state from enforcing the measure until the case is over and to award Koontz "her costs and reasonable attorneys' fees.
Popular in the Community