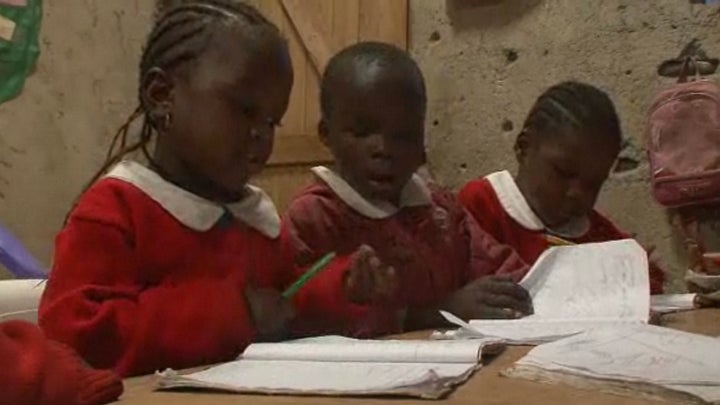 In the slums of Kenya, much like the slums of any developing country, girls are devalued, undereducated and often sexually exploited.
Kennedy Odede knows this because he grew up among them and often saw the mistreatment firsthand. From what he saw, the girls who survived and became successful were the ones who had access to an education -- and where there were successful women, there was a successful community, he told NBC Nightly News.
In his early 20s, Odede became a grassroots activist in his community, donating his meager income to help others and promote women's rights. He wanted to help girls get access to school, but he wasn't sure how to make it happen.
That changed once he met Jessica Posner, a college student looking to make a difference. After sharing resources, they co-founded Shining Hope for Communities, a nonprofit focused on helping women make change within developing communities.
Through their organization, the pair were able to build the Kibera School for Girls in 2009. Since then, over 60 young girls have been able to get access to an education at a time when they are most vulnerable to the dangers of the slums. At the school, the girls are given free access to heath care, food, and an education.
"They have passed through horrors. I am welcoming them back to a world they never lived in, to a world where they are important."
WATCH:
Together with Posner, Odede has blogged for HuffPost, recounting his experience growing up in Kibera, Kenya. He explains how his nonprofit's comprehensive approach to relief is the best solution to solve his country's societal ills:
"Our impact has mitigated local deficits in education, sanitation, health, food security, and technological job skills. Together, we bring diverse perspectives to combat the cycle of poverty. We demonstrate every day that everyone deserves to live a life of dignity and hope."
After receiving a full scholarship, Odede now attends Wesleyan University in Conn., leaving the day-to-day operations at the Kibera School for Girls with Posner, who is currently living in Kenya. Posner has also recently won the Echoing Green Fellowship and was named "America's top world-changer 25 and under" by VH1 last year.
REAL LIFE. REAL NEWS. REAL VOICES.
Help us tell more of the stories that matter from voices that too often remain unheard.