As students at law schools across the country graduate this spring, 40 sixth-grade students at the Laurence School argue their first case before a jury of their peers.
"The County of Neverland vs. Peter Pan." The legendary runaway, Peter Pan, will be tried for the attempted murder of Captain James Hook. This is only one case in a legal system filled with fairy tales and all the courtroom drama you'd find on TV's top legal shows. It's called Kids Court, now in its 25th year at Laurence, an independent K-6th grade elementary school in Valley Glen, California.
The one of a kind program was developed by the Head of School and Attorney, Lauren Wolke. Laurence School was one of the first schools in the country to implement a mock trial program and it remains one of the few in existence for elementary school students. Kids Court is Wolke's labor of love. She teaches the elective class every Friday. Wolke explains, "It's a wonderful opportunity for the kids to hone their critical thinking and public speaking skills."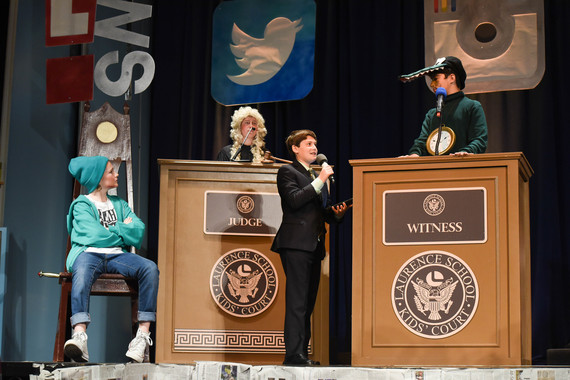 In every trial, students transform into prosecutors, defense attorneys, the accused, witnesses and jury. To top it all off, a real life judge presides over the trial. The prosecution and defense will have rehearsed their arguments. Specific testimony will be influenced by the live participation of fellow students, who are courtroom observers and encouraged to ask questions. Everyone has a role to play.
The commitment to academic excellence at Laurence School is reinforced in the months of studying the law and the judicial system. Wolke enjoys seeing 6th grade students stretch their brains and continue their growth as "creative and critical thinkers as well as strong public speakers." Los Angeles Superior Court Judge James Kaddo, who saw the kids in action when he allowed them to practice in his Van Nuys courtroom on a slow day, saw Kids Court working like a well-oiled machine. He said he was very impressed on the accuracy of the trial.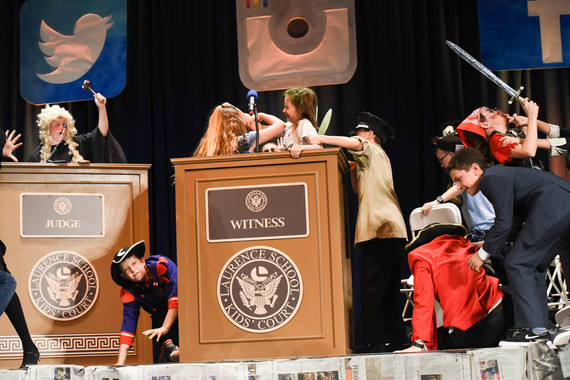 Laurence's mission statement (in part) is clear: "Our focus is on 'The Total Child,' a multidisciplinary approach which encourages intellectual, creative, ethical, social, and emotional growth and awareness." These disciplines are evident in the Kids Court program as students put into practice "leadership in the global community and the importance of embracing social responsibility at a young age," according to Wolke.
This is an elective and because of that, kids who are interested in the law are tapping into what motivates them, encouraging them to move toward their dreams. For some of the students it may be an introduction into what will eventually become a career.
As an 11 year old, Bradley Dicker played the role of prosecutor and has vowed to be a district attorney to fight injustice. For another student, Marissa Levi, a career as an attorney is now a reality. It all started when she was 10- a defense attorney in the trials: "The People vs. Frankenstein" and "The People vs. The Three Little Pigs." She explained that Kids Court introduced her to public speaking and big issues in life in a way she could understand at ages 10 and 11. After she graduated from Laurence she went on to be captain of the Harvard Westlake Mock Trial team, in Southern California, winning two national championships. She then joined UCLA's national championship team, once again as team leader. Levi then went onto law school. Clearly, Kids Court at Laurence is impactful.
At Laurence, participation in Kids' Court has become a rite of passage and a much-anticipated privilege for each year's sixth grade graduating class.
Calling all HuffPost superfans!
Sign up for membership to become a founding member and help shape HuffPost's next chapter