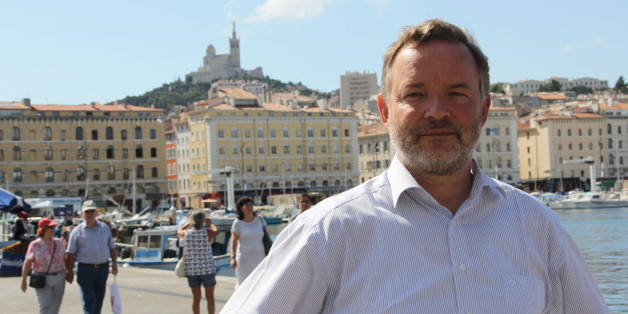 Read on
HuffPost France
There is something paradoxical about meeting a boat captain on dry land. That said, the sea wasn't that far away. We met Klaus Vogel for the first time in Marseille, at the Old Port. He looked nothing like Captain Haddock. He had no hat, no pipe, and he didn't curse. He also showed no sign of the pessimism that Tintin's friend is known for. He did have gray stubble, however.

This French-speaking German national did not make the trip from Berlin simply for the pleasure of breathing in the ocean air. On Saturday, the SOS Méditerranée France, an organization he co-founded with Frenchwoman Sophie Beau, held its first public event at the MuCEM officiel in Marseille. The organization seeks to launch rescue operations for migrants and refugees in the Mediterranean. On the same day, they launched a crowdfunding campaign to fund SOS Méditerranée's first rescue campaign.
At a time when thousands of people are losing their lives attempting to reach European shores, Vogel and Beau want to buy a boat with the crowdfunded donations so they can rescue those making the dangerous journey.

As a child, Vogel sailed with his grandfather in Hamburg's famous port. When he turned 18, he decided to take a year off to work. He wanted to be challenged. He considered working on a construction site, but the idea of returning to the port where he spent his childhood made him change his mind.
He was hired on an Indonesia-bound cargo ship. "At the time, the Suez Canal was closed, so we traveled along the coast of Africa to get to the Pacific Ocean," he recalled. "It was incredible. The smells, the crew and the friendships that we built, the simplicity … I loved it all. But I still hadn't decided to become a sailor."
After weeks at sea, he returned to dry land to start studying for a degree in medicine. However, after two years, Vogel decided to drop out. He was passing all his exams, but he just realized that medicine wasn't really all that interesting to him. He returned to the sea until he was 26.
When he became a father, he changed course once again. "I was finally ready for intellectual work," Vogel said. He earned a doctorate degree in history. He was on solid ground for 17 years until, driven by job instability, he decided to go back to the water. He continued to rise through the ranks, and in 2005, he was finally named captain.

In November 2014, Vogel found out about Mare Nostrum, a search-and-rescue operation that Italy had single-handedly launched to stop the deaths of people traveling to Europe.
"In my whole career, I had never seen such a mass rescue operation, helping hundreds of refugees," he said.
He was particularly touched because he had previously encountered people making desperate escapes at sea firsthand. "There was, for example, an incident when a migrant from Senegal hid in my boat. After two days, he presented himself to the crew. I was the only French speaker on board. He told me his story and the reasons for his journey," Vogel said. "This experience helped me understand that these people were undertaking this journey because they were forced to. It's a situation that anybody may find himself in. Even Europeans have, themselves, lived through this when they had to leave Europe for the United States, for example. We must not forget that."
So, it finally clicked. He had to act. "It was clear that these people were in danger and desperately in need, so we had to help them," he said. The idea to send out a boat to rescue those making the perilous sea-crossing was born. With the support of his family and friends, Vogel gathered information about the refugee and migrant situation. He discovered, for example, the catastrophic condition of migrants in Libya, who lived in camps that he described as being comparable to concentration camps. And, coming from a German, the reference is far from insignificant.
"Yes, it's a strong comparison to make, but it's the reality. Certain immigrants are put in camps where they are stripped of their possessions and horribly mistreated. The Jesuit Refugee Service Malta published the report 'Beyond Imagination' in early 2014, which detailed the situation in Libya. Nothing has changed since it was published. In fact, things have gotten even worse. When you read it, you think you're reading about concentration camps, and people have to realize that," he emphasized.

In March, the sailor moved with his wife to the Italian island of Lampedusa, where a boat sank in October 2013, killing more than 350 people traveling from Africa. "For me, this island is a symbol. I told myself that I had to go there to see what was taking place. To see for myself and to talk to the people who were experiencing it," he explained.
But Vogel knew he could not do anything alone. Despite his extensive maritime experience, humanitarian work was not his domain. "I didn't have any contacts in the humanitarian field, just my friends and family. Since January, my main goal was to find partners," he said. "I approached a friend who was part of a humanitarian network, and we discussed how we could come up with a plan. Very quickly, it seemed obvious that we couldn't act exclusively from Germany. We knew that we would need help from representatives in France, Italy, Greece, Spain, etc."
His sister-in-law introduced him to Beau, and together they founded SOS Méditerranée. Beau gave the project the humanitarian expertise it was missing. Together, they were able to set up the structure and organize volunteers into teams. Vogel said that volunteers were essential to bring the idea to life. They also set up a partnership with Médecins du Monde [Doctors of the World], who will provide medical attention to those rescued.

Vogel and Beau have already picked out a suitable boat. It can cross the Mediterranean, in summer and in winter, and it can travel at top speed to reach other boats in distress. The only thing left to do is find the money to buy it: at least 1.5 million euros. This is a massive amount that would likely discourage many, but not Vogel, who is convinced that "nothing is impossible."
"When I went to Lampedusa, I met with Mayor Guisi Nicolini. He told me, 'You're crazy!' but then added, 'But I'm with you.' That was very important for us," the captain recounted, smiling.
"We're convinced that we have to see this project through, because civil society has to act," he declared with conviction. "It's society that is crazy to not have acted accordingly," he added.
His determination is unwavering. We asked Vogel if he feels like Sisyphus, the character in Greek mythology who is condemned to repeatedly push a boulder up a hill, only to watch it roll down again, just before reaching the summit. He brushed away the comparison with a laugh: "No, I'm not Sisyphus. This time it's another story, one of patience. And I don't doubt that today the boulder will cross over the mountain's summit."
This post first appeared on HuffPost France and was translated into English.
REAL LIFE. REAL NEWS. REAL VOICES.
Help us tell more of the stories that matter from voices that too often remain unheard.