WASHINGTON -- In another example of the network funded by David and Charles Koch jumping to defend the billionaire brothers, a conservative nonprofit group released a new Web ad Sunday that counters Democratic attacks on the Kochs' election-year spending.
The Koch-backed group American Commitment spent $50,000 on the ad, which will run online only. It draws from a speech Senate Majority Leader Harry Reid (D-Nev.) gave on the Senate floor in February, in which he attacked the Koch brothers as "un-American." The group is pushing the Web ad in Arkansas, Louisiana, Michigan and North Carolina to counter recent ads by the Democratic super PAC Senate Majority PAC, according to National Review.
The American Commitment ad juxtaposes Reid's comments about the Koch bothers with criticism of brothers Tom and Jim Steyer, Democratic donors who the ad suggests are more deserving of Reid's condemnation.
Tom Steyer, a retired billionaire financier, has emerged as a leading financial backer of Democratic political campaigns and plans to spend as much as $100 million this election cycle pressuring officials to enact climate change legislation through the group he co-founded, NextGen Climate Action. His brother Jim, a children's advocate, announced in February that he is launching a national political advocacy group. Jim Steyer also dangled the prospect of starting a super PAC.
American Commitment's ad suggests that the Steyers oppose construction of the Keystone XL pipeline and contribute to Democratic candidates for their own personal gain. The Web ad mentions an investment in an Indonesian coal company made by the hedge fund founded by Tom Steyer, Farrallon Capital. Steyer stepped down from his hedge fund on Jan. 1, 2013, as he began cultivating a public image as an environmental activist.
"He thought that he couldn't be at a place that, by definition, is involved in every area of the global economy, including fossil fuels," Steyer political advisor Chris Lehane told The Washington Post.
Lehane said Monday that American Commitment's connection to the Koch brothers' network means that it has little credibility attacking the Steyer brothers' political endeavors.
"Those behind this video have about as much credibility when it comes to discussing our democracy as Vlad Putin has on lecturing on democracy," Lehane wrote HuffPost in an email. "What is interesting it that whereas Tom is open, public, transparent and engaged to promote the public interest and not his self interest that you would think with the money the Kochs have they would have the guts to man up and make clear that this is all about their own economic self-interest rather than hide behind third party groups pushing out youtube videos with a garage quality production level."
American Commitment joins other Koch-funded groups defending the brothers against recent attacks from Senate Democrats. On March 28, the Koch-funded Public Notice, a social welfare nonprofit that advocates reducing the national debt and government spending, sent opposition research to reporters on Democratic senators and the Senate Majority PAC.
Founded in 2011 by the Koch-linked consultant Sean Noble, American Commitment is almost entirely funded by the Koch network, which spent $400 million on politically active groups in the 2012 election cycle.
Two nonprofit groups acting as central banks for the Kochs and their network of wealthy donors have provided funding for American Commitment. In 2012, Freedom Partners Chamber of Commerce gave $6.24 million and the Center to Protect Patient Rights, run by Noble, gave $4,781,559, according to documents accessed on CitizenAudit.org. This accounted for 94 percent of American Commitment's total funds.
In 2012, Phil Kerpen, the former head of policy at the Koch-founded Americans for Prosperity, took control of the group.
In 2013, Steyer's political operation spent more than $1 million supporting Sen. Ed Markey (D-Mass.) in his special election win, and more than $8 million to help Terry McAuliffe's (D-Va.) successful gubernatorial campaign.
Before You Go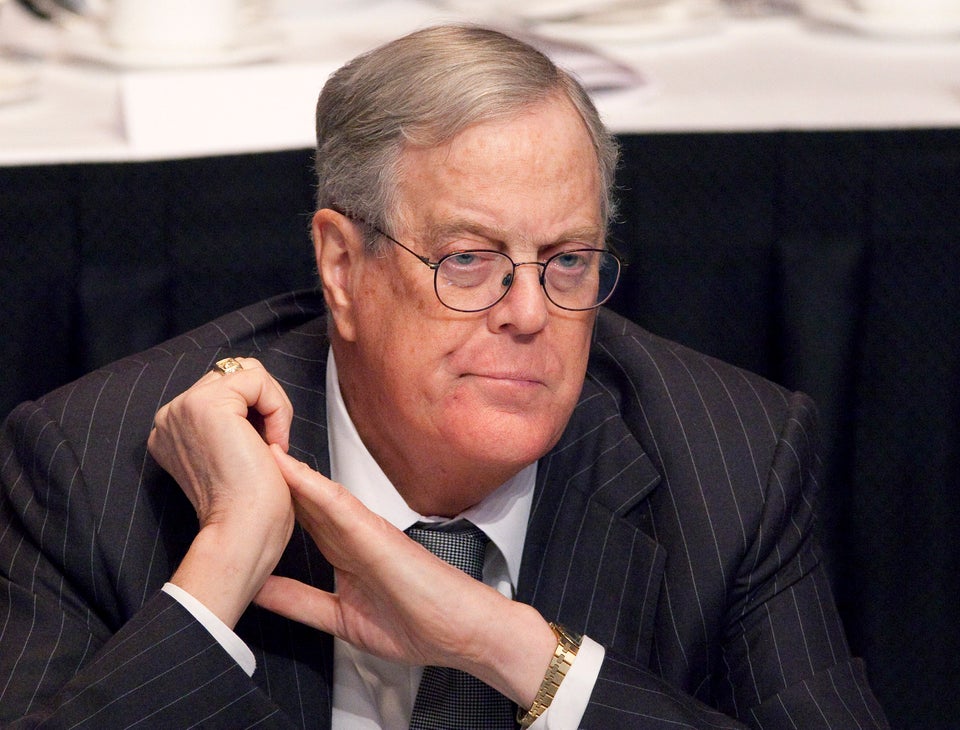 David Koch
Popular in the Community