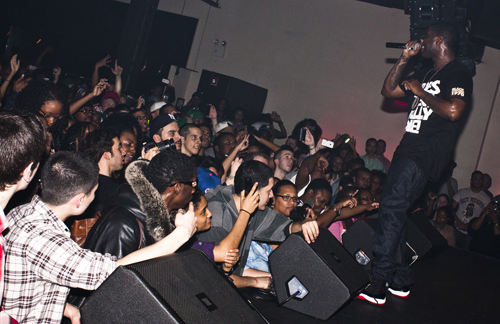 Thursday night, New York welcomed back their favorite county cousin to the Highline Ballroom in celebration of his recently emancipated 4EvaNaDay. From the diehard K.R.I.T.-heads to the newly converted, the room was packed wall to wall to hear the new sounds of project six months in the making.
After sample clearance issues delayed his Def Jam debut Live From the Underground from a fourth quarter release last year to this upcoming June, 4EvaNaDay is a concerted effort to reward the patience of those eagerly awaiting that raw (fo' free!). Fully rapped and produced exclusively by Meridian's own, the tape is a complete thought from beginning to end. The distillation of the country grind, broken relationships and the stories in between continue in spades with a whole new level of samples and jazzy horns, the lead single/opener "Boobie Miles" being a perfect example. The hook urging everyone to "play it to the end, the only dif'ren a winner and a loser is that a winner plays until he win."
The excitement and glee was self-evident the entire night on his face and during the show, wasting no time launching into the themes for Return of 4 Eva and 4EvaNaDay, throwing the throngs into a frenzy. The homie Big Sant was an extension of K.R.I.T. working the stage and finishing lines like a seasoned veteran. The two tore through "Just Touched Down" "Sookie Now" and "Rotate" after that, songs that would be a much lesser rapper's closers. It speaks volumes to the track record amassed by the 25-year-old in just a short amount of time.
Honestly, it was par for a K.R.I.T. show, brazenly honest raps and an arsenal of flows to go with that trademark bounce to get that pancake ass moving. Smoke DZA even got in on the fun, jumping out from the hatch backstage for the K.R.I.T.-produced "Gotta Get Paid." Polo magnifique from head to toe, DZA touched down and kicked verses furiously "chronic-log for hustlas," while K.R.I.T. took over hook duty, urging everyone to get their paper up.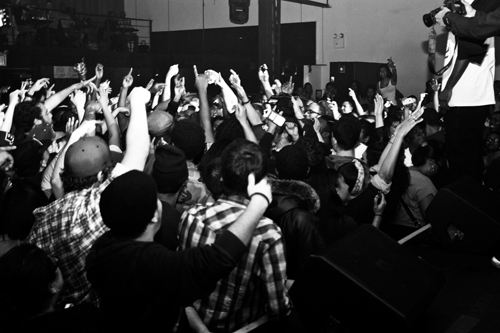 The set was immensely celebratory, sliding in the tracks like "1986" and "Me and My Old School" from 4EvaNaDay seamlessly with cuts from Return... and K.R.I.T. Wuz Here. He repeatedly kept pausing in between songs to personally thank everyone for sticking with him, telling stories of how much older songs like the introductory "Country Shit" and "Hometown Hero" meant that they were so well received.
I can't do justice quoting a line here and there; his songs are fully formed and complete thoughts that read closer to poetry than bars. Set closer "The Vent" touches on self-doubt, pent-up frustrations, lost connections and suicide advice from Kurt Cobain as the song wails along. That piercing honesty that drips in everything that he does is what makes him worthy of all the hype that's been bestowed upon him.
It's one thing to hear it in headphones, another rattling in a car, but Big K.R.I.T. has to be enjoyed jumping around in a sweaty mosh to get a full appreciation for what he does. What makes him a star is his ability to intimately connect with you time and time again across multiple mediums. Whether it be his steadily increasing microphone skills, the gorgeously layered production, or that wildly infectious grin he always flashes, Big K.R.I.T. showed in spades why he's got everyone waiting on his next move. 4eva is already here.
(And yes, he played the first single "I Got This" off the new album and its bangs out harder than anything else that night. It's going to be a hot summer.)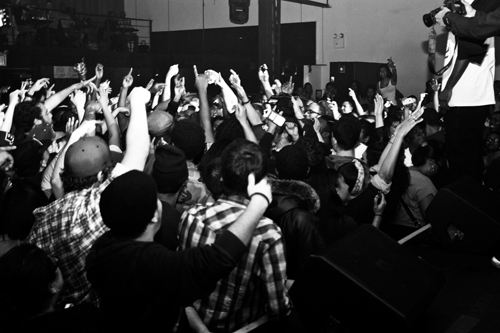 Calling all HuffPost superfans!
Sign up for membership to become a founding member and help shape HuffPost's next chapter