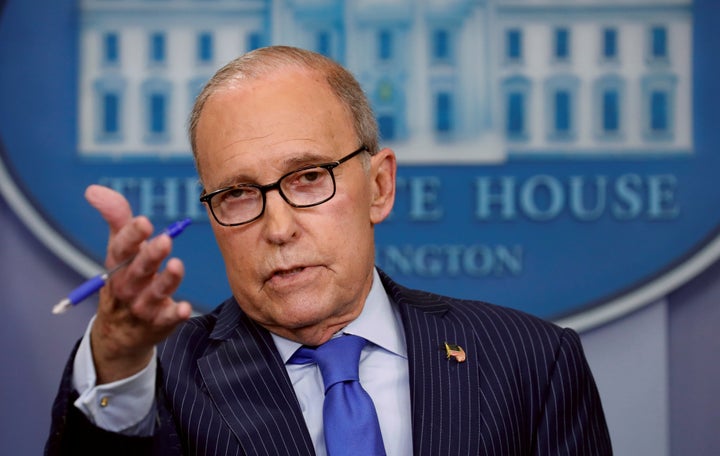 White House chief economic adviser Larry Kudlow barked at a journalist Friday not to "class warfare" him as he was grilled about the pain of a trade war for consumers and workers.
The snappish response occurred during a Marketplace interview at the White House with program host Kai Ryssdal on the economy.
Ryssdal pressed Kudlow about the pressure of a trade war on prices and jobs.
Kudlow shrugged: "So far the pain has been de minimis, really very little."
Ryssdal shot back: "Look, sir, really with all respect, that's easy for you to say sitting here on the second floor of the West Wing of the White House." 
Kudlow snapped: "Now don't class warfare me or anything like that."
He again insisted there is "very little impact, almost unmeasurable impact on real GDP. Okay?"
But he later added, "There are worries, I get that."
Kudlow also gushed about the economic statistics — "We're starting to see a takeoff" — and the increase in wages in the latest data.
Ryssdal pointed out that the economy is still on a trend that began in the Obama administration.
"We're starting to see a takeoff?" the reporter asked. "We're starting to see a real takeoff in the tenth year of an economic expansion? Is that what you're saying?"
As for pay, the 2.8 percent hike in average hourly wages is "barely keeping up with inflation," said Ryssdal.
"I mean, I think they should be stronger," said Kudlow.
Check out the rest of the interview above.
Calling all HuffPost superfans!
Sign up for membership to become a founding member and help shape HuffPost's next chapter
BEFORE YOU GO