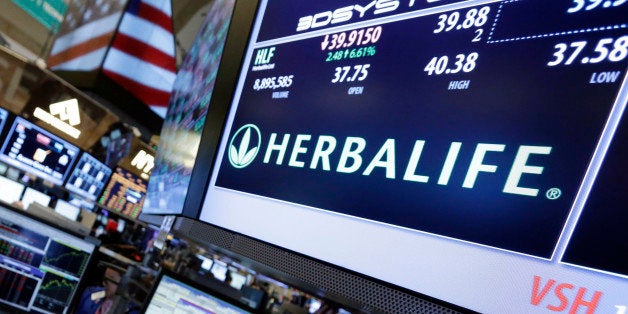 Recently, Senior Vice President and Managing Director for Herbalife, Ibi Fleming, penned a commentary about the important role of Latina entrepreneurs and the critical function they play as business leaders supporting and reshaping the U.S. marketplace. I couldn't agree more on the premise of Latina entrepreneurship, and am very proud to have the opportunity to work with a continually growing number of Latinas that are doing innovative things to support their families and communities by actively fueling our recovering economy. In recent decades, we've witnessed a dramatic increase in the number of Latina-owned businesses -- a testament to the driving force of our Hispanic community on the U.S. economy. It should come as no surprise that Latinas are emerging to empower and inspire future generations of CEOs, board members and visionary female business leaders.
Where Ibi and I disagree, however, is on the credibility of Herbalife's own business practices, advertised as economic opportunities to advance Latinas in business. Going as far as to cite statistics from the National Women's Business Council, the implication is that they are indicative of Herbalife's own business model. The numbers provided on Latina entrepreneurs are correct and, in a vacuum, might give the illusion that they reflect Herbalife's statistics. Reality, however, paints a different landscape: Herbalife intentionally targets and exploits low-income Hispanics with false promises of a "business opportunity" that enables them to work from home, yet the company's own data shows that 89% of those hard-working people will make nothing for their efforts. When one accounts for the fact that more than 60% of Herbalife distributors are Hispanic -- the tragic outcome is that a disproportionate number of Hispanics are being lured to invest large sums of money up front, only to make nothing in return. When questioned on these numbers, company representatives repeatedly claim that most people join Herbalife to gain access to discounted products. Is this a business opportunity or a discount club? The truth is that Herbalife is really a pyramid scheme packaged as a business opportunity.
In my role as the President and CEO of MANA, a national Latina membership organization that provides financial empowerment and economic literacy programs and resources to support the Hispanic community, I have an opportunity to assess the business landscape and examine firsthand what efforts, initiatives, and companies are helping to advance the efforts of Latinas. As such, I cannot stand by when a company like Herbalife has the audacity to publicly proclaim they provide opportunities for Latinas -- neglecting to mention that it is under investigation by the U.S. Securities and Exchange Commission, the Federal Trade Commission and multiple state Attorneys General for intentionally targeting and scamming Hispanic customers. This is all before one even questions whether the company's Nutrition Clubs, presenting themselves as wellness centers, are skirting state health code regulations and violating labor laws. There are simply too many contradictions and examples of financial exploitation to ignore.
It is deeply troubling to see that Herbalife is attempting to silence its critics, leading me to further question why the company cares more about silencing what victims are saying, than setting the record straight. I have met too many Latina entrepreneurs who share a similar story: They joined Herbalife to attain financial independence, because they believed Herbalife offered a legitimate business opportunity. All were seeking a better life for their families yet, despite valiant efforts and investments of family money that yielded no profits, all have been disillusioned by the business and have walked away not only empty-handed, but demoralized as well. We cannot continue to allow these slight-of-hand tactics, whether as a method to entrap entrepreneurs or wage a public campaign against its detractors, to take our eyes off of the victimization that is taking place.

Thankfully, hard-working Latinas are showing no signs of slowing their level of entrepreneurship and that is welcome news for the future growth and health of our country's economy. This situation is a reminder, however, that these up and coming Latina entrepreneurs deserve strong, supportive and credible advocates and mentors -- not false promises and deceptive business opportunities.
Calling all HuffPost superfans!
Sign up for membership to become a founding member and help shape HuffPost's next chapter