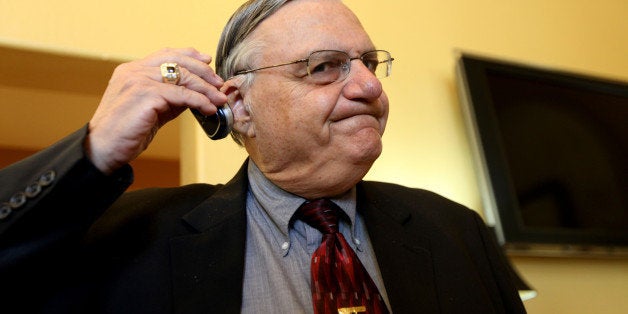 Latino groups are condemning ICE's Saturday raid targeting an Arizona car wash chain for hiring undocumented immigrants, likening the operation to raids conducted by Maricopa County Sheriff Joe Arpaio.
A 78-count indictment unsealed Monday morning charges 14 of the company's managers and supervisors with knowlingly hiring undocumented workers, identity theft, immigration document fraud and false statements. ICE officials say they took aim at the Danny's Family Car Wash management for criminal acts, rather than the company's undocumented workers.
But many immigrant rights groups don't think the distinction makes the federal operation much different from Arpaio's.
"In Arizona, it's hard to tell the difference between Arpaio and Obama," Carlos Garcia, an organizer with the immigrant advocacy group Puente, said in a statement. "By targeting an employer for rehiring undocumented workers, the gap between state and federal policy and practice has only narrowed. Work continues to be criminalized, and children will go to sleep without their parents tonight."
Sal Reza, an immigrant rights activist, echoed the sentiment in a comment to the Phoenix New Times, saying: "The Obama administration going after employers is just another facet of the same thing that is happening with Arpaio. The ones that are ultimately affected are the workers, because they're left without a job."
The scene on Saturday resembled the workplace raids by Sheriff Joe Arpaio of Maricopa County and operations by federal authorities here and elsewhere: heavily armed agents in bulletproof vests and ski masks surrounded the businesses, and then escorted workers outside single file with hands bound behind their backs.
Immigration officials discovered that Danny's Family Car Wash was employing undocumented workers after an audit completed in 2011. The company fired the workers at the request of government officials, but then rehired them, sometimes after helping them acquire false identification documents so they could pass E-Verify checks, according to the indictment.
ICE agents detained some 223 people, most of them undocumented, according to The New York Times. Authorities released 179 of them after questioning, placed 30 of them into deportation proceedings, and arrested 14 on criminal charges, according to the Phoenix New Times.
The 30 immigrants facing deportation had criminal histories, ICE says. Current deportation guidelines direct Homeland Security to focus its efforts on unauthorized immigrants with criminal records.
REAL LIFE. REAL NEWS. REAL VOICES.
Help us tell more of the stories that matter from voices that too often remain unheard.
BEFORE YOU GO
PHOTO GALLERY
6 Misconceptions About The Border