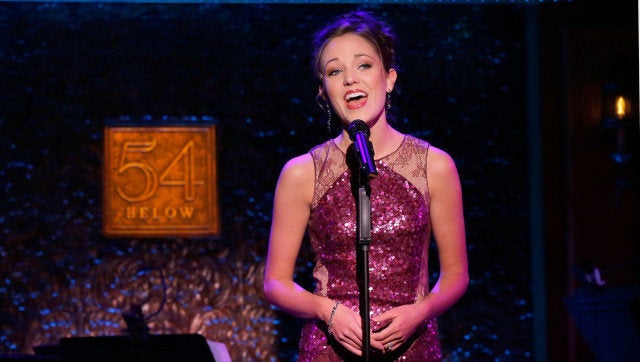 It's easy to see why Laura Osnes was plucked to star in Broadway's forthcoming "Cinderella," given that her own story seems to parallel that of a fairy tale heroine.
In the five years since she beat out six other contestants for the coveted role of Sandy in a "Grease" revival on the 2007 reality series "Grease: You're the One that I Want," Osnes has truly leapt to the top of Broadway's totem pole. The 27-year-old Minnesota native has managed to parlay that reality fame into acclaimed turns in recent productions of "South Pacific" and "Anything Goes," and was seen as a high point in 2011's otherwise underrated "Bonnie & Clyde," for which she received a Tony Award nomination.
But just before she steps into those iconic glass slippers in the first-ever Broadway production of Rodgers and Hammerstein's "Cinderella" in January, Osnes has a few more surprises in store. On Nov. 27, she'll kick off a six-performance stint at New York's 54 Below, where she'll focus on music penned by composer Maury Yeston (Broadway's "Nine," "Grand Hotel"). Osnes' set will be seasonably appropriate, too, with Yeston's acclaimed song cycle, "The December Songs," as its centerpiece.
Just ahead of her 54 Below debut, Osnes happily chatted with The Huffington Post about her love of Yeston and cabaret performance, and even revealed a few secrets about what it's like to become a princess onstage.
The Huffington Post: The past few years have been quite a ride for you. What's it like looking back on that now?
Laura Osnes: It's just incredible. This is what I've always wanted to do, and I'm so grateful that I get to do what I love obviously and be in the city that I love and that I've always wanted to live in and work in. So it's a thrill and I'm so delighted to play 54 Below and get to sing Maury Yeston songs.
What drew you to Maury Yeston's music?
He actually approached me about singing "December Songs," and doing a concert of his music. I've always been such a huge Maury fan, so I was like, "Absolutely -- I'm there! Tell me when!" We were going to try to do it in December, obviously, but I start rehearsals for "Cinderella"… so we're doing the last week in November and wrap Dec. 1.
Is there one song or segment of your 54 Below show you're most looking forward to?
In addition to "December Songs," I'm doing four or five other Yeston pieces. My opening number is going to be a mashup of "I Want To Go To Hollywood" and "Shimmy Like They Do In Paree," and I'm really excited for that because it's going to be different than anything else in the entire show. It's our chance to grab everybody and get to show off a bit before we get to the serious sections. Also, "I Had a Dream About You" is probably my favorite song in the "December Song" cycle to sing. I just think it's so beautiful and such a great representation of Maury and his work.
What's the most challenging aspect about rehearsing for a solo cabaret act versus a full-scale Broadway musical?
There's surprisingly a lot of work that goes into a [cabaret performance]. It's just you, and I'm kind of my own director and producer. This show is kind of a perfect balance between cabaret and theater, because "December Songs" is so theatrical -- it's a woman singing about a relationship. All you have is yourself and your band and there's no costumes or story or other characters to help you out. It's a vulnerable position to be in, but it's also very gratifying at the end. It's a good challenge.
You're about start rehearsals for the first Broadway production of Rodgers and Hammerstein's "Cinderella." Do you feel any pressure about stepping into a role so closely associated with great female stars like Julie Andrews, Lesley Ann Warren and Brandy?
Well, I think people see Cinderella differently than, say, Sandy in "Grease." Everybody has Olivia Newton-John in their head and I feel like living up to that was a bit more challenging than Cinderella is going to be. I think with the fairy tale character that she is, and with so many women having already done it, and even with the Walt Disney version…audiences might be more open to a different take, as well as any differences in her physical appearance. [The Broadway production is based on a 1957 television program starring Julie Andrews, which featured music written by Richard Rodgers and Oscar Hammerstein III and was subsequently remade in 1965 and 1997]
I've met so many people that have that Lesley Ann Warren version glued in them, but they're so excited to see the show because that story meant so much to them. It's definitely paying homage [to those earlier versions]…but the book has been completely re-written. I'm hoping people go in with an open mind because there's a couple of fun twists, but it's still obviously the classic, enchanting story everyone wants to see.
You mention a few fun twists in the new version -- without giving away too much, what do those twists entail?
It goes just a little deeper than "Oh, let's find the woman who left this shoe!" It's a bit of a deeper plot…our characters have to overcome more to get to the "happily ever after."
A self-determined Cinderella! That's impressive.
Yes! There's a little bit of spunk to her, but she's also not content where she is and she's sad where she is. She wants more and she desires love so much; she's smart and she also identifies that quality in the prince. It's more than just love at first sight -- there are other qualities about each other that they admire.
Given the show's history, it's so surprising it hasn't ever been done onstage before.
Exactly! Cinderella is making her Broadway debut. It's an honor to step into that position and, in that way, I am creating a role because it's never been done on Broadway. I feel so honored.
What's the most exciting aspect about becoming a princess?
I'm anticipating a lot of little girls at the stage door in Cinderella get-up! (laughs) But that's great…to get to inspire young people and to be that role model. Already I know families with little girls who've told me they can't wait to see it and they want to come backstage, too. The music is just amazing as well. Obviously I'm a huge Rodgers and Hammerstein fan and I've sung a lot of their music.
And the costumes -- oh my gosh! That's what I'm most looking forward to about being a princess…wearing that gown and getting to dance with the prince at the ball. It's every girl's dream.
Check out one of Osnes' 54 Below numbers as well as some of her other amazing performances below:
BEFORE YOU GO
PHOTO GALLERY
The Best Of Laura Osnes