One of my favorite photos from Row New York was taken during an adaptive practice last fall. In the background you can see a rowing barge going by. It isn't clear if they are men or women, young, not so young. It's only clear that they're moving, oars are in the water, a coach trails them in a motorboat.
In the foreground, close to where the photographer must have been standing, are two empty wheelchairs, their backs to the lake; one with a bag on an armrest, another with a handmade pillow lining the seat.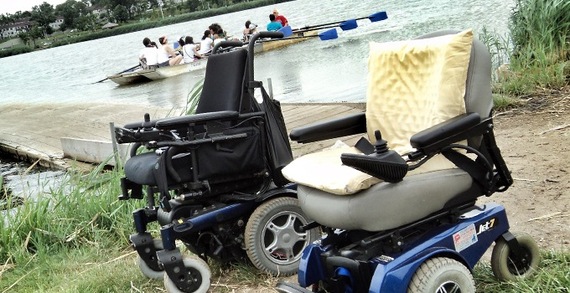 The wheelchairs have been left on the dock by our rowers with disabilities. One of those rowers later told me how much it meant to him to row away from the dock and watch his wheelchair disappear in the distance. He found freedom on the lake, even for that hour, rowing until his arms hurt and his back grew tired.
The more I thought about the wheelchairs being left on the dock, the more I realized that so many rowers I have known from Row New York leave things on the dock all the time. They are, perhaps, not always tangible, but they are real.
We have blind rowers who leave their canes on the dock.
Seventh graders who leave the stress and confusion of middle school on the dock.
We have rowers who leave their prosthetic legs on the dock.
Tenth graders who leave their worry about home and family on the dock.
For the time that they are rowing, the focus is on getting the boat to balance, following the back in front of them, feeling the sun on their faces, or seeing the clouds rolling in, hearing a coach guide them through getting better as a rower. More precise. Stronger. Faster.
These "things," tangible or not, that have been left on the proverbial dock, they're all there when we land the boat. Waiting for us as we left them. Wheelchairs. Stress. Realities we cannot alter or fix. But, there is something to be said for getting a respite from these things. Rowing away from them with teammates and a coach by our sides. We return to the dock re-charged and better able to face what it is we left behind.
REAL LIFE. REAL NEWS. REAL VOICES.
Help us tell more of the stories that matter from voices that too often remain unheard.