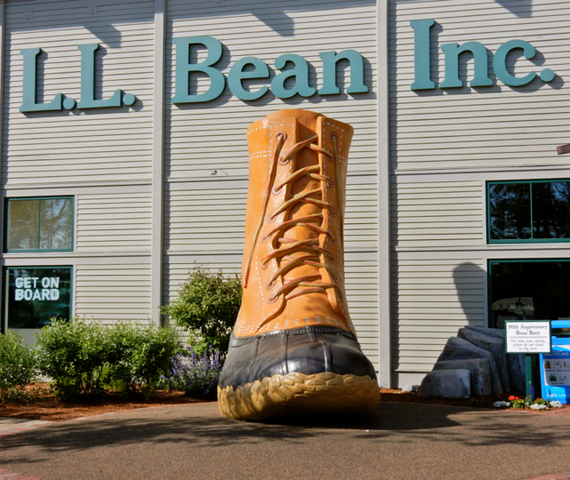 Travelers who seek a stereotypic Maine experience - lobsters, lighthouses, whale watching, craggy coastline, panoramic ocean vistas - but are allergic to remote locales, usually plan a trip to the following Maine Coast communities. As a travel writer with a focus on the "offbeat," I've discovered some little known, or misunderstood attractions in even these tourist-jammed spots. Read on for the best of Southern Maine, Freeport, Rockland and Boothbay. (If you are crowd-adverse, check out this Huff Po piece about off-the-beaten-track Coast of Maine.)
The following roundup provides a small glimpse of each destination. But for more in depth coverage - and other Offbeat Escapes in the Northeast - go to GetawayMavens.com.
YORK AND OGUNQUIT: MORE THAN THE BEACHES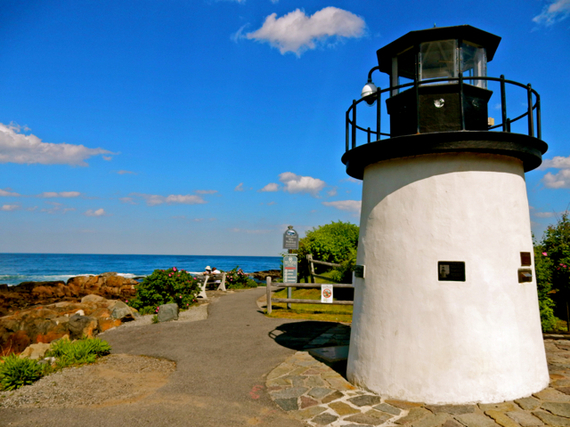 Undoubtedly, the southernmost towns of Coastal Maine - Kittery, York, and Ogunquit - are the most commercial. As you drive from the border town of Kittery (outlets) to the crowded York Beach to the popular Ogunquit on US Route 1, you'll experience an onslaught of run-of-the-mill clam and lobster shacks, Mom and Pop motels, and tacky tourist shops. But some of these "touristy" spots are well worth your time, and there are other worthwhile but lesser known attractions you may miss unless you know where to look.
Most Touristy/York: Get ready to jockey among the hundreds of other vacationers for a coveted parking spot at the Cape Neddick, aka Nubble, Light, in York. You can't get to the 1879 lighthouse itself, which sits on Nubble Island across from a rocky, swiftly flowing channel, but it is certainly a splendid sight. York Beach, framed by kitschy Fun O Rama arcade and a Bowling alley, is also packed with sun and sand lovers.
Most Touristy/Ogunquit: The 1.3 mile Marginal Way is Newport's Cliff Walk without the mansions - and a bit curvier than its Rhode Island counterpart. Beautifully landscaped, with private homes on one side and waves of the frothy Atlantic smashing onto rust-red boulders on the other, it's a popular leg-stretcher - and Instagram favorite.
Least Touristy/York: Museums of Old York, York Village. While York Beach is all honky-tonk, Old York Village is that dyed in the wool, quiet and staid New England town. These preserved homes, school, jail, wharf, art gallery, and burial grounds are collectively under the auspices of the Museums of Old York, and, far from stodgy, they provide an invigorating look at the origins of this region.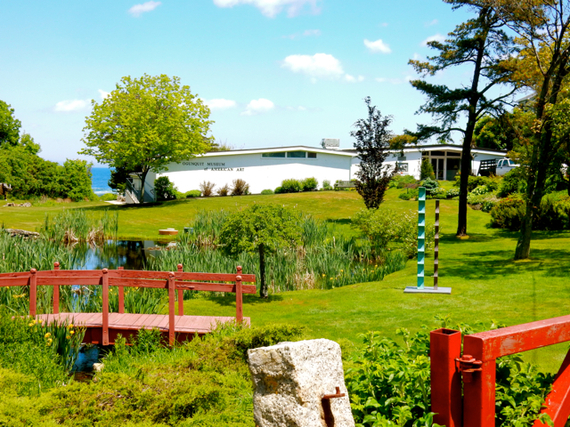 Least Touristy/Ogunquit: Ogunquit Museum of American Art. This Mid-Century Modern gem overlooking the sea is filled with important work created during the genre's heyday (between WWI and WWII), with a concentration on artists from important Maine art colonies. A couple of miles from downtown and the beaches, many tourists don't even know that this fantastic, exquisitely set museum exists.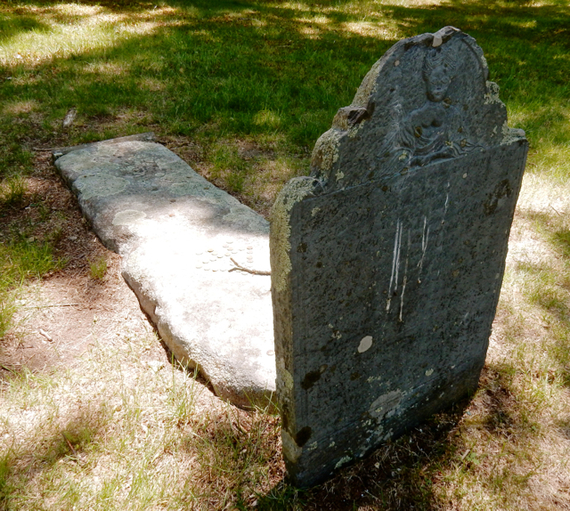 Quirky Fact: Perhaps the most famous gravesite in the York Village Burial Ground belongs to Mary Nasson, who died in 1774. Somehow, a legend tinged with menace arose around the slab of stone covering the grave; that it was purposely put there to block Mary, believed to be a witch, from rising to wreak havoc on the living. Historians stress that these rumors are false in all respects. The Witch Trials took place a century before Nasson's time, and these horizontal "Wolf Stones" were often employed in 1700's cemeteries to prevent animals from digging up dead bodies. Mary was a well-loved figure in 18th century York and the only rare thing about the grave is her lovely visage carved into headstone.
STAY: Meadowmere, Ogunquit. Though there are oodles to choose from, lodging in this area tends to be family-oriented, with basic motel room décor. Meadowmere, though not right on the waterfront, is several levels above basic, with updated bedding, new granite bathroom counters, both an indoor and outdoor pool, free movie nights, free wi-fi, and other amenities. The property encompasses buildings in a colorfully landscaped 4-acre wedge of land fronting Route 1 and is just a five-minute walk to the entrance of Marginal Way or into town. Those who are looking for upscale rooms right on the ocean will want to make reservations way in advance at Beachmere or The Riverside Motel.
FREEPORT: LL Bean STARTED IT ALL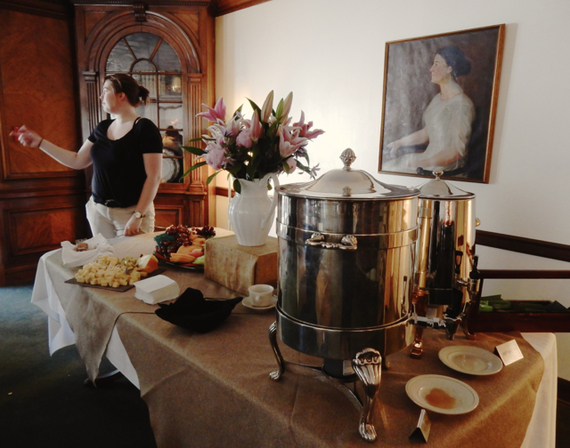 For off-price shoppers, or shoppers of any kind, Freeport ME is a glorious place. Of course, Big Daddy, L.L. Bean, led the charge here, making way for Brooks Bros, Cole Haan, Banana Republic, Coach and a slew of luxury name brands. Come for the goods, stay for a "Traditional New England" hotel experience.
Most Touristy: LL Bean and all the little beans (outlet center darlings) where you can shop 24/7. Yes, LL Bean is open all hours year round.
Least Touristy: Desert of Maine. Sand dunes on the coast of Maine? Yep, they are here, and you can pretend to be Lawrence of Arabia while walking the hills of sand: strangely fun.
Quirky Fact: What seems like a 100-plus year old New England Inn, The Harraseeket, is actually just 27 years old. Nancy Dyer Gray, daughter of Maine resort owners, foresaw a hospitality niche in a town anchored by major retailer LL Bean, and filled it. These days, Nancy's son, "Chip" Gray, runs the Harraseeket and is all about keeping the inn environmentally green, and food organic and local.
Stay: Harraseeket Inn. Sprawling and whitewashed, the Harraseeket Inn sits on a busy street just a few blocks from the center of town, and bustles with activity every day. Though oozing New England charm, the Harraseeket is not a fancy place, but relaxed and comfortable, with upholstered wingback chairs in floral print and a fire glowing in the fireplace. It's the kind of spot people return to every year, and then tell their friends about. Employees tend to stick around a long time, too. The Harraseeket draws slews of multigenerational visitors from the U.S.A in summer, lots of Europeans and Mid-Atlantic empty nesters in the fall, and Holiday shoppers through January. They stop over on the way to Bar Harbor or Canada, or for those an hour or two away, just to "get out of town."
ROCKLAND: THE HEART OF ART ON MAINE'S MID COAST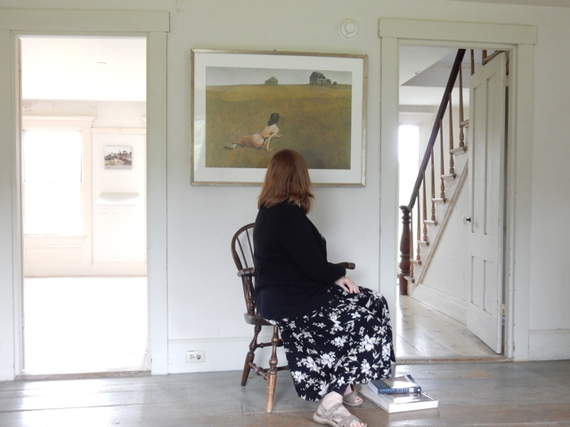 The Farnsworth, the brand new (June '16) Center for Maine Contemporary Art, 24 independent art galleries - Rockland ME is a bona fide Mid-Coast Maine art haven, and a draw for explorers looking for the next Andrew Wyeth or Alex Katz. Walking down Main St., you'll almost forget that you're in a waterfront town save for the screeching of gulls and clanking of sailboat rigging in the marinas a block over. To remind you, there's a quirky Lighthouse Museum nowhere near a lighthouse and the Audubon Puffin Project education center - right on Main St. -open to the public. And the hottest thing to come to Rockland lately (along with the art museum)? A phenomenal boutique hotel, 250 Main, created from the remnants of old ships.
Most Touristy: The Farnsworth Art Museum, a multi-building complex filled with Maine art old and new with a large percentage of Wyeth's (all three generations: N.C., Andrew and Jamie). And, 5 miles from Rockland, the Owl's Head Transportation Museum: a wealth of racecars, motorcycles, aero planes, and autos in a 70,000 sq ft space. Kids go nuts for it.
Least Touristy: Olson House. Owned by brother and sister, Christina and Alvaro Olson, this ramshackle farmhouse about 20 minutes from Rockland is where Andrew Wyeth set up his summer studio. One day, he looked outside to see Christina Olson, stricken with polio, pulling herself across the grass. This was the prompt for Wyeth's most famous painting, Christina's World, and the reason art-lovers will want to take the 30-minute $20 tour of the home.
Brand New: Center for Maine Contemporary Art. Adding to the artsy allure of Rockland, the stunning glass CMCA, designed by Maine summer resident, Starchitect Toshiko Mori (who also designed the Darwin Martin House Visitor's Center in Buffalo NY, and dozens of other private and public structures around the globe), features cutting edge, experimental, and "out there" works in three sunlit galleries.
Quirky Fact: Puffins, those adorable black and white yellow-billed birds, were once prevalent in the Gulf of Maine until the late 1880's when women's desires turned toward hats with large feathers. Over five million birds a year were killed for the fashion trade. But in 1981, scientists hatched a plan to bring Puffins back to the Maine Coast after 100 years, using decoys and audio recordings; and they have by and large been successful. Come in to the Puffin Project Visitor Center on Main Street to learn all about this repopulation initiative.
STAY: 250 Main, A Boutique Hotel. Ever since it opened in May 2016, 250 Main has won raves from guests, and it's no wonder. Like any great boutique hotel, design elements are not only pleasing to the eye, but to the body and heart as well. The hotel's owners, Cabot and Heidi Lyman, who also own Lyman Morse Boatbuilding, employed workers from their boatyard to construct the hotel. Evidence of yacht design, building and structural elements can be seen throughout each of five floors, which also serve as mini-art galleries. 250 Main is, in all respects, a fabulous place.
BOOTHBAY HARBOR: HOLLYWOOD PERFECT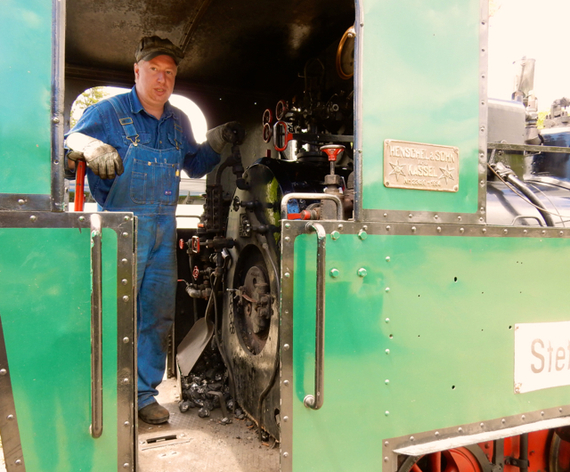 Boothbay Harbor ME was the first "off-Route-1 town" that became popular with tourists on the Maine Coast, and, centered in "Mid Coast Maine" is quicker to get to than Bar Harbor/Acadia National Park to the northeast. You might recognize the waterfront (if you Photoshop out the crowds) from the 1956 movie Carousel, which was filmed in Boothbay Harbor, and no doubt had some influence over its rising popularity in the '50's and 60's.
Most Touristy: Downtown Boothbay Harbor. It's got the t-shirt shops and family-style harbor-front restaurants and hotels. And though tourists have discovered the outstandingly gorgeous 270-acre Coastal Maine Botanical Gardens, it's become de rigueur to spend a few Boothbay hours there, especially in the Lerner Garden of the Five Senses - a collection of flora you'll be enticed to smell, nibble, and of course, gaze upon, and the sunken Rhododendron Garden - a spectacular enclave with rock ledges and waterfalls.
Least Touristy: It would seem to be a tourist-classic, but lots of people pass Boothbay Railway Village on Rt. 27 believing it to be a cheesy little train ride around a made up town. Oh contraire. Each of 2 dozen historic buildings (one, the still-operating 1847 Boothbay Town Hall) holds weird treasures, such as 1920 "Mechanical Parables" - tiny sanctimonious automated tin dioramas that traveled with carnival sideshows, or the Salt Shaker Collection that includes a few naughty-nudie souvenir shakers. Founded in 1965 by the still very much alive George McEvoy, Boothbay Railway Village operated as a private enterprise until 1981 when it became a non-profit. McEvoy actually laid down the narrow gauge railroad track himself, and you can ride in the coal-fired train that makes its way around it before discovering some hidden Village artifact that resonates with you.
Brand New: Boothbay has been missing a year-round element, but that is changing with the infusion of some new restaurateurs (e.g. Fiona Dunlap, who took over what was known as Andrew's Harborside last year and made it her own Harborside Tavern), shop-owners (e.g. Alison Evans, whose ceramic oyster and shellfish tableware can be seen in the best Portland restaurants) and Inns (e.g. Topside Inn, stylishly contemporary, renovated in 2014). All establishments cited will be open all year, and are sure to attract more year-round residents to Boothbay.
Local Characters: Novelty - Ferry to Squirrel Island. Why take a tour boat when you can ride with a boatload of locals? The ferry trip also features narrated tours of Boothbay Harbor, but you could be riding with workers carrying ladders and lunchboxes, or seasonal residents with homes on Squirrel Island - a better deal for people watchers.
Local Flavor: Bet's Fish Fry. From her well-known bright blue shack on a busy street, Bet sells one thing and one thing only - Fried Haddock. But it's the biggest, freshest piece of fried haddock you'll ever gobble up. The "half portion," which comes with a side of fries, seems as big as an eagle's wingspan, and is large enough for two.
Quirky Fact: There's nothing so mesmerizing as watching lobsters up close, stuffing raw fish into their strange mouths using several smaller, un-banded claws, or getting to pet small sharks who rise to the surface of an open pool for some attention. You can do both of these things and more at the small but fantastic Maine State Aquarium - the brainchild of educator and biologist, Elaine Jones, who serves as its Director. First opened on the fishing docks in 1915, the Aquarium was moved to this bright new building in 1995 after Jones and her husband came up with the design for optimal guest interaction.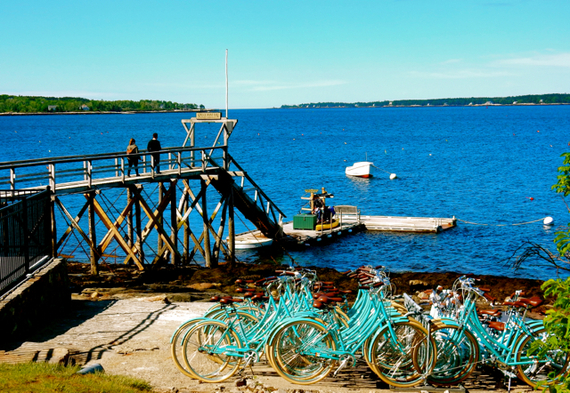 STAY: Spruce Point Inn. A favorite of Bold Face Names in the mid-1900's, Spruce Point was perennially spruced up for transients searching for a certain kind of rustic comfort. Though rooms differ, most sport traditional Maine-Shore-from-a-bygone-era décor, updated for today's travelers. There are many nods to the past in the redone reception area lobby, like the black and white photos of the Kennedy Family smiling on sailboats, and Hemmingway, drink in hand, relaxing in an Adirondack chair on the veranda. There is no question that this place held much allure for the glitterati of the 40's and 50's and still does.
Related