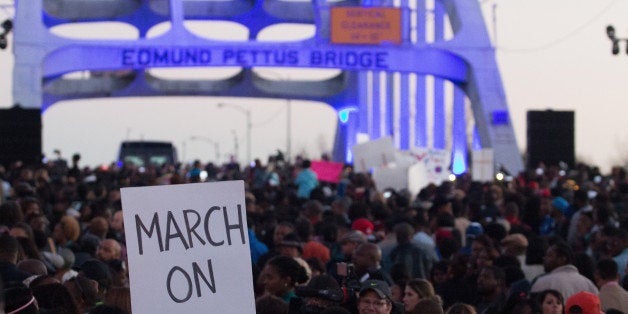 Selma is an outstanding film that vividly portrays the frightening experiences and personal sacrifices made by civil rights activists in their quest to defend voting rights for Blacks in the South. The film reminds us that the movement was complicated and, at times, very ugly. Black and white people were beaten and killed to defend the right to vote. After seeing Selma, it is even harder for me to conceive how voting rights could be successfully limited in some states and how there are Black people who still refuse to vote.
This year marks the 50th anniversary of passage of the Voting Rights Act of 1965. While this anniversary is something to be proud of, recent events make it very sobering. In last week's State of the Union address, President Obama told Congress, "We may go at it in campaign season, but surely we can agree that the right to vote is sacred and that it's being denied to too many."
The president is right. Nearly half the country -- 22 states to be exact -- have passed laws in the last few years that make it harder to vote. These critical setbacks have been met with grassroots pushback and legal challenges in the courts. While the contemporary assaults on voting rights may not be as overt as they were in 1965, we must fight them with the same unwavering resistance as the generations before us.
We owe it to those who paved the way, to ourselves and to the generations that will follow to get registered, get engaged and get out the vote in every election. There is power in the vote. We saw that power played out in Selma when it was revealed that, after passage of the Voting Rights Act, Blacks, who made up the majority of Selma and Dallas County, voted out the racist sheriff Jim Clark who played a key role in the Bloody Sunday violence. Change can happen when you vote.
The 2014 unrest in Ferguson, Missouri will forever be an example of what can happen when we don't have our voices heard at the polls. In the predominately Black suburb, low voter turnout resulted in a predominately white city government and police force that was disconnected and insensitive to the needs of the community. In the aftermath of the Michael Brown tragedy, voter groups flooded Ferguson to get people registered. Will Ferguson residents unhappy with city government, law enforcement and the prosecutor's handling of the Brown case vote for change on their next Election Day? Let's hope so.
Despite our challenges in other areas, Illinois has one of the strongest set of voter protections in the nation. It is easy to get registered and cast your vote in every election. Yet we still have a tendency to disengage when it comes to actually demonstrating our power at the polls. We have a mayoral election on February 24 that must not be missed. My equest to anyone who is thinking of sitting this important election out is to see Selma and be reminded that the right to vote was paid for in blood, sweat and tears. We must vote and we must advocate for voting rights in communities where they have been limited.
Selma has been nominated for a Best Picture Academy Award, and I hope it wins. While the film was snubbed in the Best Director and Best Actor categories, it will forever remain a powerful example of how the art form of film can educate, inspire and engage us. Because we believe in the importance of presenting films that stir one's conscious and motivates conversation, we will for the fourth year in a row, present a Black History Month film festival that will feature documentaries that address issues including the use of the "N-word," Black male disenfranchisement, gun violence, mental illness and youth homelessness. All films will be shown at the Chicago Urban League for free followed by panel discussions. More information can be found on at www.TheChicagoUrbanLeague.org. We hope you will join us and bring friends.
If you have not seen Selma yet please make sure you do. It is an important film that serves up a powerful tribute to our past and gives us many lessons that can empower us today and inspire the future. Let's not allow these lessons to go unheard and the contemporary calls to protect the right to vote go unanswered. The path to progress begins with you and me.
REAL LIFE. REAL NEWS. REAL VOICES.
Help us tell more of the stories that matter from voices that too often remain unheard.