These days, it appears Hollywood is attempting to spread its wings and divulge new stories about the world we live in and the people we are. 
Attempting being the key word here. 
Although we've seen incredibly diverse work on our big and small screens this year, the industry still has a long way to go when it comes to representation and inclusivity ― and, truthfully, the talent creators are hiring could inspire them to test the limits a bit more. 
Take Gwendoline Christie, for instance. The "Game of Thrones" star, who is typically cast in roles that touch on her 6-foot-3 stature, is set to appear in Jane Campion's newest installment of "Top of the Lake," out Sunday on SundanceTV. She recently spoke to HuffPost about starring on the miniseries and what it meant for her to play someone different than, say, a Brienne of Tarth or a Captain Phasma. Campion, Christie says, isn't afraid to show human beings as they are, versus who they'd like to be, and that's "vital" to her.
It's only, in my opinion, through seeing the differences that we can see the similarities in each other."

Gwendoline Christie
"Being a film fan since I can remember, I remember thinking, probably around the age of 7 or 8, 'This is boring. I want to be an actress but these parts are so often boring. Why is the woman just the girlfriend? Why is she just the mother? Why does she have minimal dialogue? Why is the emphasis on her body? Why does she have to have so few clothes on?' And, I think it's no secret, of course, that the world has been formed from a patriarchal society. Whilst that is how it's existed, I would like to see something else," Christie told HuffPost on Build Series Thursday. "And I think that it isn't just about women. This is about men — this is about human beings. We want to see new stories. And it's only, in my opinion, through seeing the differences that we can see the similarities in each other." 
Christie's "Top of the Lake: China Girl" co-star Elisabeth Moss agreed, saying that it seems executives are now keen to fund stories audiences are craving.
"The people who hold the purse strings are finally waking up to the fact that these are the stories we want to see," Moss, who had an extremely successful run with "The Handmaid's Tale" earlier this year, said. "We want to see stories about women. We want to see stories about diversity. We want to see ourselves. And writers are finally able to tell their stories."
"It doesn't have to be appealing," Christie added of storytelling, "and that's for men and women. It's a human issue, and that, to me, is an exciting place for art to exist."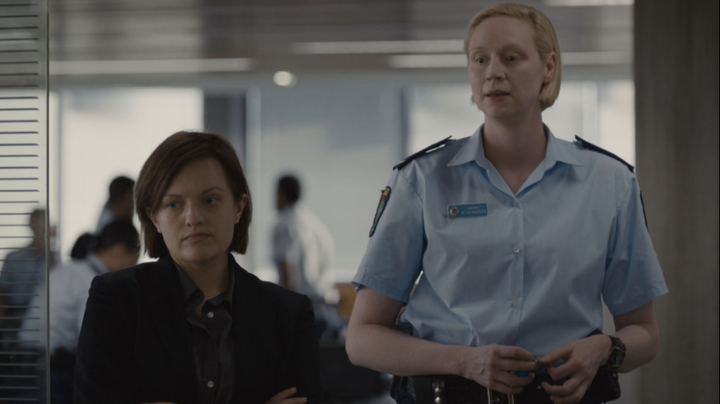 Christie and Moss are proud of the fact that they get to play out such a true dynamic between women on screen. In "China Girl," Moss revives her role as the complicated detective Robin Griffin, who teams up with Christie's rookie cop Miranda Hilmarsson after a suitcase carrying a woman's decaying body washes up on the shores of Sydney. Throughout the series, Robin and Miranda's partnership is a tricky one to dissect. 
"I think we both really embraced the opportunity to play a female relationship that is not shown that often on screen," Moss told HuffPost. "They're not best friends and they're not enemies — it's much more complicated than that. They have a really beautiful arc that's very much based in reality."
The show also stars Ms. Powerhouse herself, Nicole Kidman, and Campion's daughter Alice Englert, who give stellar performances as a mother-daughter duo whose relationship is tested amid familial struggles.  
"In the first ['Top of the Lake'], I was so surrounded by men — it was all men, everywhere. And woods! And this time I had all these women to play with," Moss said. "So for me, the opportunity ... was just really such a gift."
The three-night "Top of the Lake: China Girl" event debuts on Sunday at 9 p.m. ET on SundanceTV. Watch the full Build Series interview with Elisabeth Moss, Gwendoline Christie and Alice Englert below. 
REAL LIFE. REAL NEWS. REAL VOICES.
Help us tell more of the stories that matter from voices that too often remain unheard.
BEFORE YOU GO
PHOTO GALLERY
Celebrity Photos 2017