By Nicole Espy, Alexandra Montoya, Manasi Sharma, and Liliana Taramuel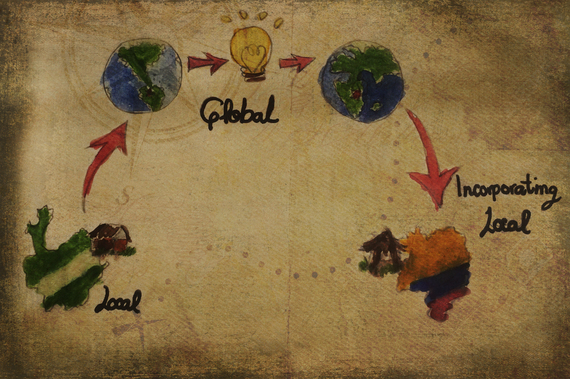 Graphic depicting the cycle of incorporating local ideas into other local settings around the world. Local innovations from Medellin can be used to create systematic change at the national level in Colombia and, with culturally relevant modifications, in other countries and continents. Art by Alexandra Montoya, edited by Kelly Fitzsimmons Photography.
In Granizal, an informal settlement atop the mountains overlooking Medellin, Colombia, a tale of two different places begins to emerge as the sun begins to rise.
During the early 1990's, Medellin had the world's highest homicide rate of 400 for every 100,000 people. Additionally, by 2011 more than 200,000 of the 5 million people affected by the conflict were displaced to the outskirts of Medellin. The history of violence and the influx of people into this urban area demanded a change in the way people understood and lived in their city - it's called for social transformation. Today's panorama shows us a safer city that continues to build itself despite the aftermath of the conflict and is grounded on the concept of "social urbanism." Internationally renowned, Medellin now embodies themes of innovation, renovation, and vitality, transforming static spaces into kinetic and dynamic areas reflecting a resilient community. These social development interventions that were applied to the poorest and most vulnerable populations in Medellin can also be understood in a global context but have yet to reach the top of the mountain.
The unpaved road to Medellin from Granizal is cemented with many physical, social and economic obstacles. While the vastness of Medellin and its immense resources can be easily seen from the perch of Granizal's dense unplanned maze of precariously constructed housing, the access to those resources seems out of reach for the 22,000 persons that it harbors. However, this dissociation presents the opportunity to innovate and transform, not unlike the big city below.
We arrived after a steep climb and settled in to meet the community and their leaders. Thanks to the partnership between the Open Hands Initiative, the Harvard Humanitarian Initiative, and the Universidad de Antioquia School of Medicine, we were brought to learn how a community identifies and prioritizes its problems and creates solutions - a real lesson in global health that can be applied to many other local settings.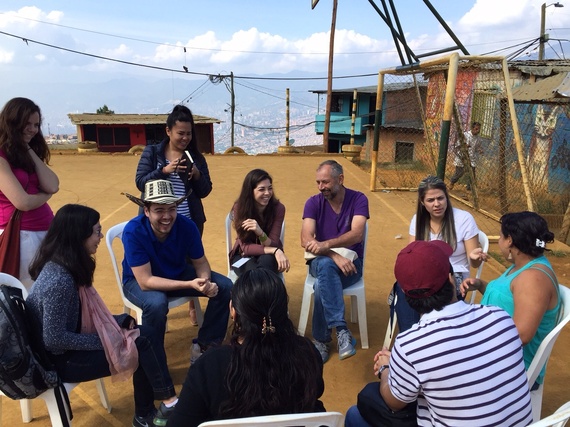 Professor Jaime Gomez (4th from right) participating in discussion with students and community leaders in Granizal.
In the shade of the Salón Comunal in Granizal, Keyla Lopera sets up three laptops and connects them to the Internet. The residents of the settlement, most of who were displaced from their homes due to conflict and poverty, began arriving to the community center. They were there to learn basic computer functionality, the uses of Microsoft Word, and how to find health information and educational resources on the Internet. Keyla, a public health student from Granizal, leads programs like these each week, connecting her community to the vital healthcare resources found in the city below, as well as to the online world. Since 2004, Dr. Jaime Gomez, a professor of the School of Medicine at Universidad de Antioquia, has cultivated working relationships with the Granizal community leaders, mentored the next generation of leaders such as Keyla, and instilled a culturally sensitive understanding of local needs. He has done this by collaborating with the community leaders and by using a Community Based Participatory Research (CBPR) method. More and more, the global public health community is recognizing the importance of CBPR as it encourages a collaborative and bidirectional relationship between the local communities and researchers. This bottom-up approach to systems change ensures that the community sets its own research priorities and agendas.
The Granizal community identified education, health and access to services, women and children's health, and census and mapping as their main needs. Our focus in the comuna was not only to get to know the community members, hear their needs, and forge relationships, but also to leave something behind. We spent the day in Granizal conducting a small census mapping activity, creating an Internet café, handing out medications in a deworming clinic, and training in first aid. We hope our gestures helped to demonstrate the power of mapping when advocating for public services, aided in computer literacy, addressed local health needs, and built medical capacity. Realizing that this was an initial attempt at generating innovative solutions to the community-identified needs, we look forward to this endeavor gaining momentum and facilitating the self-sustaining growth of Granizal. We learned that the CBPR process builds trust, creates local capacity, and increases the probability of sustainable change through community empowerment, meaningful partnerships, and network development. These guiding principles are critical in shaping our ongoing work with the Granizal community.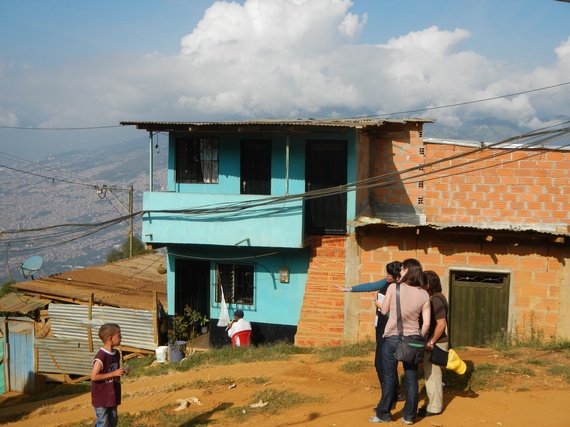 Students and community leaders walking around Granizal. We were humbled by the experience and the people of Granizal. We were awed by the passion and dedication of leaders like Keyla and Professor Jaime. We learned that such local experiences in human development with vulnerable populations can be understood in a global context and applied again to a local level in other regions. Our challenge now is to be the voice of this community as we engage with local and national policymakers. We aim to be public health servants who will use research methodology and create evidence-based tools that can be applied to local communities in a sustainable and innovative way.
As the sun sets in Granizal, the community returns to their realities and we drive down the winding road back to Medellin. We realize that despite their significant differences these two places have one thing in common - a people full of hope, passion, and resilience with a clear vision for a better future.
This post is part of a series entitled "Post-Conflict Colombia and Public Health" a project of the Open Hands Initiative and the Harvard Humanitarian Initiative, in collaboration with the School of Medicine - Universidad de Antioquia. For more information about the project, read here.
REAL LIFE. REAL NEWS. REAL VOICES.
Help us tell more of the stories that matter from voices that too often remain unheard.