This evening I attended a reception in honor of Jim Obergefell, the lead plaintiff in the Supreme Court's case on Marriage Equality. As I sat listening to Jim speak, I was overcome with emotion.
Recently I was asked to contribute an article to The Word (an LGBT newspaper published and distributed in the midwest) about the You Have A Purpose Project.
This is a project that was started by Marie Siroky​, Jean Capler​ and myself a few years ago in response to a statement made by a Sullivan County, Indiana teacher -- when asked if gay people have a purpose in life, she said "no." I'm not going to talk about her right now. But as I was listening to Jim recount how he and his now-deceased husband could not get married in Ohio, and how Jim had a lot of trouble getting his husband listed as "married" on the death certificate, I felt tears running down my face. Jim spoke about the State of Ohio believing that he and his husband were "less than." It seemed that the State of Ohio also felt that Jim and his husband had no purpose.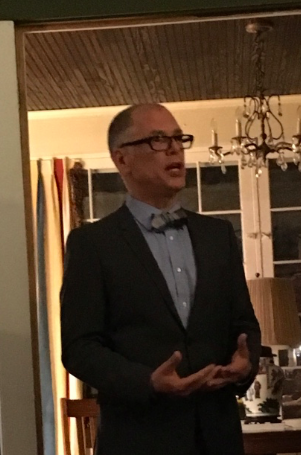 Pictured above -- Jim Obergefell
I looked at the LGBT people who were in the room also listening to Jim -- Zach Adamson, the first out-gay politician in Indiana -- is he "less than?" What about Dana Black​ -- running against House Speaker Brian Bosma for his seat in the Indiana Statehouse -- is she "less than?" And Keith Keith Potts​ -- running for Senator Scott Schneider's seat in District 30? Is he "less than?" And more -- Richard Sutton​ -- who led Freedom Indiana to victory in defeating HJR-3 (proposed bill to ban same-sex marriage in Indiana). Other LGBT friends who were not there -- Marie Siroky -- former president of ICON (Indiana Coalition on Non-Discrimination), hospital chaplain and co-founder of the You Have A Purpose Project; JD Ford​, who ran against Senator Mike Delph in District 29; Mark Alan Lee, an accomplished photographer who recently had an amazing photo exhibit at the Indiana Historical Society about LGBT history; Bil Browning​ and Jerame Davis​, who led us to victory in obtaining LGBT civil rights in Indianapolis, and who also fought for Marriage Equality in Indiana; and so many other LGBT friends and family -- are they "less than?" And how could I as a parent accept that my son is "less than?" Or my LGBT cousins? Or the LGBT children of my PFLAG friends -- are their children "less than?"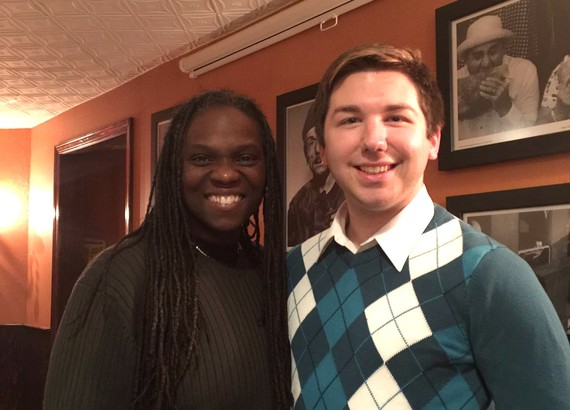 Pictured above -- Dana Black and Keith Potts
The people above go out every day and do their best to help their fellow citizens. They bring joy and beauty to those around them. They heal and they nurture. They work to make the lives of those around them better. They don't deserve to be treated as "less than."
I can't help but react with intense emotion when hearing stories such as Jim's. I don't understand why some people have this intense need to want to marginalize and deny other people what they themselves take for granted. If my gay son obtains the same rights as you have, will that mean that you won't have them anymore -- will they be taken away from you? Maybe some of these people are just mean. Maybe others are afraid. But whatever the reasons, they're wrong.
Jim stated that he never intended to get caught up in this fight. But he found himself in the middle of this issue and when he speaks, I'm sure he's speaking for not only himself, but for all the other LGBT people who don't have a voice. And I hope that the people who need to hear his story get the chance to hear him one day. Because they will see that Jim, and all LGBT people, are so much more than just four initials.
Calling all HuffPost superfans!
Sign up for membership to become a founding member and help shape HuffPost's next chapter