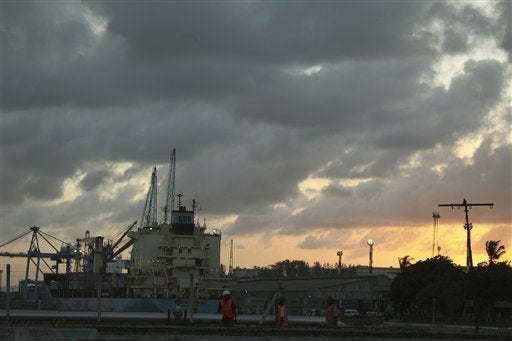 ***UPDATE 4/15 1:30AM*** The AP reports:
Defiant Somali pirates fired rocket-propelled grenades and automatic weapons at another U.S. cargo ship on Tuesday but failed to hijack it, officials said, just days after Navy SEALs rescued an American hostage after an earlier unsuccessful hijacking.

The brazen midday attack on the MV Liberty Sun in international waters off the African coast is further evidence that Somali pirates are back to business as usual. Pirates have seized four other ships with 60 hostages since sharpshooters killed three gunmen holding American freighter captain Richard Phillips. "No one can deter us," one bandit boasted.

The Liberty Sun's American crew was not injured but the vessel sustained unspecified damage in the attack, owner Liberty Maritime Corp. said in a statement Tuesday night.

"We are under attack by pirates, we are being hit by rockets. Also bullets," crewman Thomas Urbik, 26, wrote his mother in an e-mail Tuesday. "We are barricaded in the engine room and so far no one is hurt. (A) rocket penetrated the bulkhead but the hole is small. Small fire, too, but put out."

It was not immediately clear what happened next, but Urbik's sent a follow-up e-mail "that said he was safe and they had a naval escort taking them in," his mother, Katy Urbik said.

A U.S. Navy destroyer, the USS Bainbridge, responded to the attack but the pirates had departed by the time it arrived some six hours later, Navy Capt. Jack Hanzlik said.

The Bainbridge is the same destroyer from which snipers killed the three pirates holding Phillips captive aboard a drifting lifeboat for five days. The Bainbridge was carrying Phillips to Kenya when it was called to respond to the attack on the Liberty Sun.

The Liberty Sun, with its crew of about 20 Americans, was carrying humanitarian aid to Mombasa, Kenya, Hanzlik said. It continued on its way to Kenya after the attack under Navy escort, the company said.

"We commend the entire crew for its professionalism and poise under fire," Liberty Maritime, of Lake Success, N.Y., said in the statement. President Philip J. Shapiro and chief financial officer Dale B. Moses declined to comment further.

Katy Urbik, said she was "very relieved and grateful to God for protecting him and to our Navy, and that we come from a country that can respond like that and protect our citizens."

The brigands are grabbing more ships and hostages to show they would not be intimidated by President Barack Obama's pledge to confront the high-seas bandits, according to a pirate based in the Somali coastal town of Harardhere.

"Our latest hijackings are meant to show that no one can deter us from protecting our waters from the enemy because we believe in dying for our land," Omar Dahir Idle told The Associated Press by telephone. "Our guns do not fire water. I am sure we will avenge."

On Monday, Obama vowed to "halt the rise of piracy" without saying exactly how the U.S. and allies would do it.

The pirates have vowed vengeance for five colleagues slain by U.S. and French forces in two hostage rescues since Friday.

The top U.S. military officer, Adm. Michael Mullen, said he takes the pirates' threats seriously, but "we're very well prepared to deal with anything like that." Mullen, chairman of the Joint Chiefs of Staff, spoke on ABC's "Good Morning America."

Phillips, was to return home to the United States on Wednesday, after reuniting with the 19-man crew of the Maersk Alabama in the Kenyan port of Mombasa, according to the shipping company Maersk Line Ltd.

Phillips, 53, of Underhill, Vt. was steaming toward Kenya aboard the Bainbridge, where he was being debriefed by FBI officials and maritime experts, said a senior U.S. defense official in Washington. He said the investigators are gathering evidence of what each captor did for possible criminal investigations and to better prepare for future hostage situations. The official spoke on condition of anonymity because he was not authorized to speak on the record.

Phillips will take a chartered flight to meet his family at Andrews Air Force Base, Md., for a private reception, according to Maersk. He was rescued Sunday when U.S. Navy SEALs snipers killed three pirates holding him hostage on a lifeboat, and a fourth surrendered. Phillips had been held captive for five days after exchanging himself to safeguard his crew during a thwarted hijacking of the Alabama by the pirates last week.

After a lull at the beginning of the year because of rough seas, the pirates since the end of February have attacked 78 ships, hijacked 19 of them and hold 16 vessels with more than 300 hostages from a dozen or so countries.

The pirates say they are fighting illegal fishing and dumping of toxic waste in Somali waters but have come to operate hundreds of miles from there in a sprawling 1.1 million square-mile danger zone.

Pirates can extort $1 million and more for each ship and crew. Kenya estimates they raked in $150 million last year.

A flotilla of warships from nearly a dozen countries has patrolled the Gulf of Aden and nearby Indian Ocean waters for months. They have halted many attacks but say the area is so vast they can't stop all hijackings.

The Gulf of Aden, which links the Suez Canal and the Red Sea to the Indian Ocean, is the shortest route from Asia to Europe and one of the world's busiest shipping lanes, crossed by more than 20,000 ships each year. The alternative route around the continent's southern Cape of Good Hope takes up to two weeks longer at huge expense.

In an unusual nighttime raid, pirates seized the Greek-managed bulk carrier MV Irene E.M. before dawn Tuesday. Hours later, they commandeered the Lebanese-owned cargo ship MV Sea Horse.

On Sunday or Monday, they took two Egyptian fishing trawlers. Maritime officials said the Irene carried 21 to 23 Filipino crew and the fishing boats 36 fishermen, all believed to be Egyptian. A carrier the size of the Sea Horse would need at least a dozen crew, although the exact number was not immediately available.

NATO spokeswoman Shona Lowe said pirates in three or four speedboats captured the Sea Horse off Somalia's eastern coast.

The Yemeni Embassy in Washington said its coast guard exchanged gunfire Monday with 14 Somali pirates who had hijacked a 23-foot Yemeni fishing vessel. Its forces freed 13 Yemeni hostages and detained two pirates, while the rest fled on a boat, the embassy said.

The Egyptian boats were taken in the gulf off Somalia's northern coast. Said Mursi, Egypt's ambassador to Somalia who is based in Kenya, said the trawlers probably did not have licenses to fish Somali waters. "From my experience, I think that they were illegally fishing," he told The Associated Press.

Commercial fishing boats have been illegally harvesting Somalia's rich and varied sea life, including sought-after yellowfin tuna, since the country collapsed into lawlessness in the 1990s. The United Nations estimates the illegal fishing costs the Horn of Africa nation $300 million annually.

The pirates who attacked the Alabama were between 17 and 19, Defense Secretary Robert Gates said.

"Untrained teenagers with heavy weapons," Gates said in a speech at the Marine Corps War College. "Everybody in the room knows the consequences of that."

Most ships are hijacked without a shot fired. Freed hostages report being treated well.

The U.S. is considering new options to fight piracy, including adding Navy gunships along the Somali coast and launching a campaign to disable pirate "mother ships," according to military officials who spoke on condition of anonymity because no decisions have been made yet.

U.S. officials are considering whether to bring the fourth pirate involved in the Alabama attack to the United States or turn him over to Kenya for prosecution. Both piracy and hostage-taking carry life prison sentences under U.S. law.
The Liberty Sun was attacked at 11:30am Eastern Daylight Time, and the pirates had fled by the time the USS Bainbridge arrived to escort the ship to Kenya.
The Liberty Sun is owned by the Liberty Maritime Corporation of Lake Success, N.Y., and they released this statement confirming that pirates had attacked and damaged the ship:
"We are grateful and pleased that no one was injured and the crew and the ship are safe," the statement continued. "We have communicated with the families of the crew to inform them of these developments. We commend the entire crew for its professionalism and poise under fire."
NBC News reports that there are approximately 20 American sailors on the Liberty Sun and they were attacked roughly 300 miles off the coast of Mogadishu, Somalia:
According to U.S. officials, the pirates opened fire on the ship as it attempted to take evasive action, NBC reported.

"The pirates pretty much shot up the bridge, but no one was hurt," one source told NBC.
Reuters reports that another U.S.-flagged ship and U.S.-owned ship, the Liberty Sun, has been attacked by Somali pirates. The pirates attacked with rockets and automatic weapons, but failed to board the ship. The vessel was damaged, however, and the crew called the U.S. Navy for help. The ship is now under escort by the USS Bainbridge.
The crew is unharmed. Captain Richard Phillips, who was previously held hostage by pirates before being freed in a daring rescue operation by US special forces, is still on the Bainbridge and will have his return to his family delayed a little longer.
Rachel Maddow turned to this breaking news during her show.
Compiled by Nicholas Graham
Popular in the Community