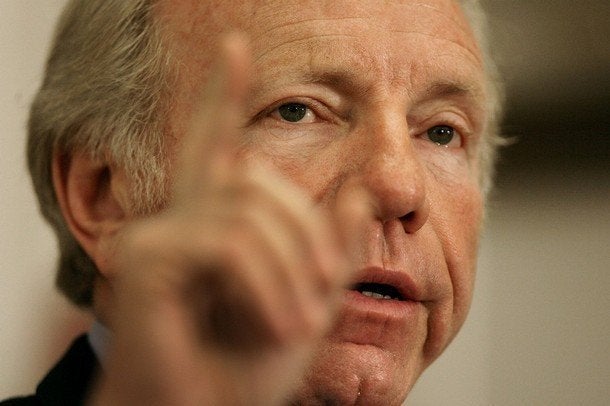 Barack Obama received heavy praise for his policy on Afghanistan and approach to the Middle East from a somewhat unlikely source: the Senator who once wondered whether his presidency would be danger to America.
In a speech at the Brookings Institute on Thursday, Sen. Joseph Lieberman praised the new commander-in-chief for his commitment to deploying more armed forces to Afghanistan, saying he was confident in Obama's position and the team charged with its execution.
"He has made it very clear that this is a war he intends to win and he has moved swiftly to take command of it. He has not wavered in his pledge to deploy more troops to the region. In fact, the first new brigade combat team is deploying there right now," said the Connecticut independent. "The combination of Dick Holbrooke and David Petraeus working under Bob Gates and Hillary Clinton is not something I would bet against."
"This is a remarkably talented team," he concluded.
Lieberman continued to gush about the president's actions later, suggesting that the interview Obama gave to al-Arabiya -- the first of his presidency -- sent fear down the spines of terrorist leaders.
"I thought the president was superb in that interview, it was very important that he did this as his first interview after he took office, that he spoke to the Muslim world," said Lieberman. "I think now he has people hiding out in the caves... worrying that he might be their worst nightmare. I certainly hope so."
The plaudits were a striking contrast to the tone that Lieberman often deployed during the presidential campaign. Back then, he frequently questioned Obama's capacity to handle foreign policy crises and criticized in particular his position on drawing down in Iraq. "Sen. Obama doesn't come to this debate with a lot of credibility," Lieberman declared at one point, in his advocacy for John McCain. I worry that Sen. Obama's world view is naïve," he said at another juncture. "We want a president who our enemies will fear. I don't believe that Sen. Obama will be that kind of president."
Lieberman glossed over that friction during Thursday's event, highlighting instead a shared approach towards what was known in the campaign as "the other war."
And yet, his advocacy for Obama's position on Afghanistan comes at an awkward time for the White House. The debate over U.S. priorities in that country has become far more heated in the months since the election ended, with some Democrats and a scattering of Republicans expressing concern that American forces would enter a situation much like the Soviet occupation efforts of the 1970s.
Lieberman addressed these opinions in his comments, using language reminiscent of the arguments put forth in defense of the surge of forces in Iraq.
"For me the most direct answer is that Afghanistan is the frontline today of the global ideological and military war we are waging with Islamic extremism," said Lieberman. "Afghanistan is where the attacks of 911 were plotted, where Al Qaeda made its sanctuary under the Taliban, and where they will again if we fail and give them that chance. Our failure there ... will make every problem in the region worse and harder to solve."
"It is clear," he added, "that President Obama understands this and is committed to succeeding in Afghanistan."
Lieberman also laid out a five prong, secondary surge strategy that he wanted to supplement the addition of U.S. forces in Afghanistan:
* A "surge in the strategic coherence of our effort," such as nationalizing the counter-terrorism effort
* Insisting that any military surge in Afghanistan is matched by a surge in civilian capacity, including more diplomatic and national structuring sources
* "Help the Afghanis surge with us" - using the Iraqi template of side-by-side operations, and making long term investments in the Afgan institutions other than the army.
* "Don't deal with Afghanistan "in a vacuum," solicit the help of other countries.
* Generate "a sustained realistic and public commitment to the mission here at home"
REAL LIFE. REAL NEWS. REAL VOICES.
Help us tell more of the stories that matter from voices that too often remain unheard.