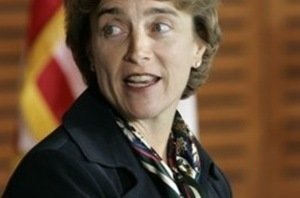 UPDATE, 4/14/10: Senate Democrats are "resisting a last-ditch lobbying push from big Wall Street firms, are moving toward a sweeping revamp of financial regulation that would squeeze banks' lucrative derivatives-trading business," the Wall Street Journal reported on Wednesday.
Wall Street giants Goldman Sachs Group Inc., J.P. Morgan Chase & Co. and Morgan Stanley had been pressing hard in recent days to dilute provisions of the bill that would change the rules for derivatives trading. But the Obama administration, which has made this one of its priorities for the financial-regulatory bill, has pushed back hard and appears to be succeeding. That's drawing Republican complaints that the pending rewrite of the rules of finance will put the economy at risk.

The battle is the latest clash between Wall Street and the White House as the administration pushes for the most sweeping revamp of financial regulation since the Great Depression, following the recent crisis. Wall Street firms, among other interests, are scurrying to protect their franchises and profits.
Sen. Blanche Lincoln (D-Ark.) said on Tuesday that her bipartisan Wall Street reform negotiations will continue, despite strong signals from the White House that exemptions in the bill for end users of derivatives are not up for discussion.
End users are farmers, airlines, dairy producers or other companies that use derivatives as an integral part of their business, rather than as tools to manipulate the market or profit from speculation. The administration wants derivatives contracts to be traded on exchanges or centrally cleared. Banks are seeking exemptions for end users, however, as a loophole to keep the derivatives market in the dark, as it is currently. Brokers and swaps dealers have been pressuring end users to lobby Congress for an exemption.
"The idea that all end-users of derivatives somehow be absolved from having to clear their trades is something that we do not agree with," Treasury Department Deputy Secretary Neal Wolin said during a briefing with reporters last week, "and we will fight hard to oppose."
On Tuesday, Treasury Secretary Tim Geithner joined in, calling for all derivatives to be cleared transparently on an exchange.
Bank lobbyists have been fighting hard against derivatives reform amid speculation that Wall Street will offer the proposed Consumer Financial Protection Agency to Democrats as a concession for loose rules on derivatives.
Wall Street has been targeting the Agriculture Committee. "I always get lobbied by anybody who has an interest in whatever the issue may be. And there's been no shortage of folks expressing their opinion about this issue," said Sen. Saxby Chambliss (R-Ga.), the committee's ranking Republican.
Lincoln has been unmoved by the White House pressure. On Tuesday afternoon, she plans to brief her Democratic colleagues on side negotiations she's been having, Chambliss told reporters. Chambliss has yet to brief his own party on the talks but plans to soon, he said. (Lincoln's negotiating partner won his seat in 2002 after putting out this infamous ad.)
"We've been continuing to work with Senator Chambliss and working to find that common ground and figure out where we can be," Lincoln told reporters on her way into a meeting with the Democratic caucus.
Lincoln's beef with the White House comes as the administration backs her in a contested primary against progressive challenger Bill Halter, who has the backing of organized labor.
The Agriculture Committee has some jurisdiction over derivatives because they began as simple financial products for farmers -- corn or pork belly futures, for instance -- but have evolved into a roughly $600 trillion market that runs largely unregulated.
The Banking Committee, chaired by Sen. Chris Dodd (D-Conn.), had taken the lead, however, on writing derivatives legislation, though Lincoln's entry into the debate complicates matters.
"We'll dovetail [the two bills] when it comes to the floor," said Lincoln, saying she wanted to move legislation through her committee "soon."
Dodd subtly dismissed Lincoln's entry into the debate by roping her in with all other members of the Senate who are not on the Banking Committee. "A lot of members have various ideas on all of this, who are not members of the committee, as well as those on the committee, and that's obviously a dynamic process," he said in response to a HuffPost question about Lincoln's derivatives negotiations.
Chambliss, meanwhile, said that the White House pushback on his negotiations with Lincoln indicate that that the administration is not serious about crafting a bipartisan deal and would rather score political points.
"It's almost too obvious that the White House may not want a bipartisan agreement," he told reporters on Tuesday.
"That's a step forward," suggested Sen. Bernie Sanders (I-Vt.).