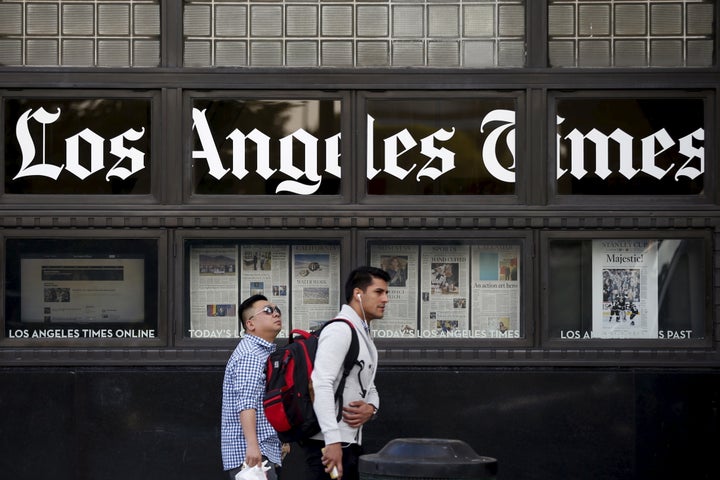 After 136 years without a union, staffers at the Los Angeles Times decided it was finally time to join one.
Their cause was inadvertently helped along by management, which ran a union-busting campaign that, in its oafishness and ineptitude, served as a fitting monument to the newspaper's publisher.
On Thursday, NPR detailed allegations of past misconduct by LA Times CEO and publisher Ross Levinsohn. The paper announced Friday afternoon that Levinsohn would be taking an unpaid leave of absence while an outside law firm investigates.
Most journalists had already cast their votes by the time the Levinsohn story was published. But it served as yet another reminder of why so many decided it was time to bargain collectively.
"I wasn't planning on going to the vote count, but after [the Levinsohn news] yesterday, I really do feel like I want to go," said Jaweed Kaleem, a former HuffPost reporter who now covers race and justice for the Times.
On Friday, federal officials released the lopsided ballot count of a historic election at the storied paper: The newsroom cast 248 votes in favor of joining the NewsGuild-Communications Workers of America, and just 44 votes in opposition.
What started out as a campaign over basic workplace grievances like gender pay inequities and a change in vacation policy had evolved to include much broader concerns about the paper and its direction, from the editorial independence of the newsroom to the competence of top management. While the paper's ownership mounted a counter-campaign that included frequent emails urging workers not to unionize, it could not overcome the staffers' concerns or their smart organizing effort.
In fact, Times staffers say that management's aggressive anti-union posture likely flipped more votes in favor of unionizing.
"The overwhelming majority voted to finally give this newsroom a voice," Times reporter Bettina Boxall told HuffPost. "Having a union won't stop layoffs, but we have a collective voice and the days of the newsroom passively standing by while corporate management did whatever they wanted are over."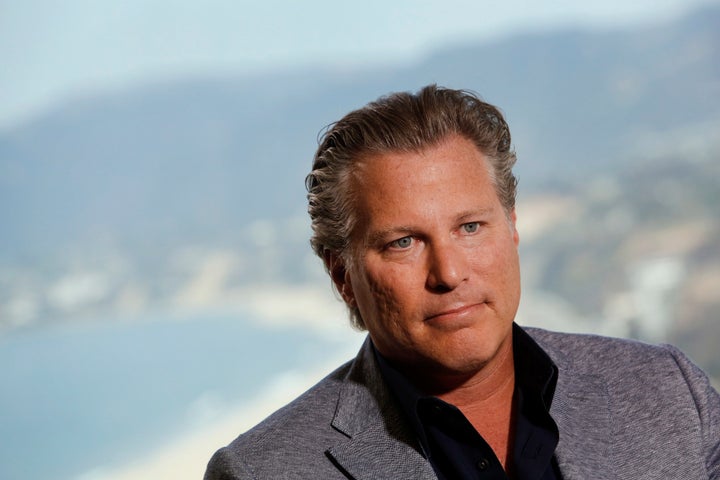 A spokeswoman for Tronc, the corporate parent of the Times, said the company would respect Friday's vote count and looks forward to working with the union. The two sides will soon begin the process of bargaining over a first contract as rumors of looming layoffs swirl among staff members.
Times Guild organizing committee members said the overall feeling in the newsroom as they awaited the vote results was "electric" because of its historic nature. But many had lingering apprehension about how Tronc will handle the situation with Levinsohn, who became CEO and publisher last August.
Organizers made their union drive public in October, but it began months before that. A 2016 change in the newspaper's vacation policy angered staffers and provided early inspiration for the union movement, multiple staffers said. "That really is what lit everybody up," said one reporter. "They did that unilaterally without telling us, and a lot of people who have been here for 30 years have banked an insane amount of days that they haven't used ― and that's extra compensation when they leave, and they were told that whole policy would end."
Support for the unionizing effort grew when Tronc fired top Times editorial leadership in August, prompting concerns over who would replace them. Conversations among small groups of employees expanded to the rest of the newsroom.
Times staffers were also troubled by Tronc executives' lavish compensation plans and private jet use ― while they were simultaneously told there wasn't money for raises. In November, it was reported that executive pay at Tronc shot up 80 percent in 2017 alone, and Tronc chairman Michael Ferro's private jet costs the company millions annually.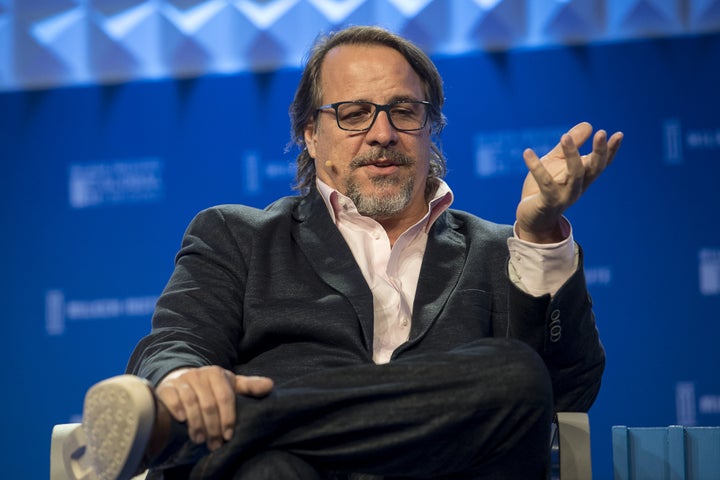 The idea of the Times newsroom unionizing once seemed unimaginable. The paper has a long history of virulently anti-union ownership stretching back more than a century, as the Columbia Journalism Review documented. Former publisher Harry Chandler once bragged that a labor strike would never succeed in Los Angeles. "The reason is because it has the Los Angeles Times."
Anti-union campaigns are common in American workplaces, and they often work. But journalists are an inherently skeptical bunch.
Times staffers said they found the emails and memos from the company in recent months to be condescending. In one case, management seemed to use an anti-union form letter that it may have forgotten to personalize. ("As we have tried to explain, you could be STUCK with the [Union] for a long time," the flyer read.)
At another point, a reporter said, an anti-union flyer in the newsroom appeared to include "MS Paint symbols from the '90s," he said. "We all kind of chuckled."
One Times staffer said that the company's aggressive tack only emboldened the union drive internally, turning fence-sitters into union supporters.
"They would have made the union drive much more difficult if they had simply said nothing at all," the staffer told HuffPost.
"[Management] would have made the union drive much more difficult if they had simply said nothing at all."
In a Dec. 29 email obtained by HuffPost, top Times editors Jim Kirk and Lewis D'Vorkin wrote to staff, "To be clear, unionization does not protect any company from making difficult decisions that sometimes need to be made to operate in a tough environment no matter what promises are made by union leaders."
"I think people got sick of it," explained Kaleem. "They got sick of being talked down to, as if they weren't journalists."
With tensions already high, allegations of Levinsohn's "frat-house" behavior, detailed by NPR this week, sent the newsroom into a state of revolt. Levinsohn is accused of comparing the relative "hotness" of his female colleagues, speculating whether a woman who worked with him was a stripper on the side, aggressively kissing a woman in view of subordinates and clients, and walking out of an entertainment industry event, reportedly telling an executive for The Hollywood Reporter, "Why would I hang out with a bunch of ladies and fags?"
"There are a lot of queer folks in our newsroom and a lot of women in our newsroom, reporting on these kinds of stories on their beats ― so they're rightfully very pissed off," a reporter told HuffPost. "I think we've taken five or six people down for this kind of stuff, so it's ridiculous that the person in charge of our whole fucking business is one of them, too."
Several Times employees voiced their disgust with the allegations on Twitter.
On Friday, about an hour before the National Labor Relations Board was to begin counting votes, more than 180 Times staffers signed a letter to Tronc's board of directors strongly condemning Levinsohn's alleged behavior. They also noted their concerns about a business plan from Levinsohn made public this week that suggests the company, over time, is planning to shift away from professional journalism and toward a contributor network.
"Levinsohn has lost credibility as the leader of one of the country's top newspapers," the letter reads. "He has to go ― without a cent more of company money."
The letter followed a statement Thursday by a dozen senior Times editors saying they were aware of "additional, credible reports" of misconduct by Levinsohn and that such behavior is "unacceptable and jeopardizes The Times' 136-year legacy of integrity."
The union organizing committee called on Levinson to resign or be fired immediately.
Nearly every Times staffer who spoke to HuffPost questioned how Levinsohn could have possibly been hired in the first place, given the seriousness of the misconduct described in the lawsuits from his past. They were critical of Ferro's leadership as well as the board itself for having brought Levinsohn on in the first place.
"It just seems insane that the Tronc board knew [about allegations against Levinsohn] and didn't care. Or didn't know," the reporter said. "I don't know which one's worse. But they're both pretty bad."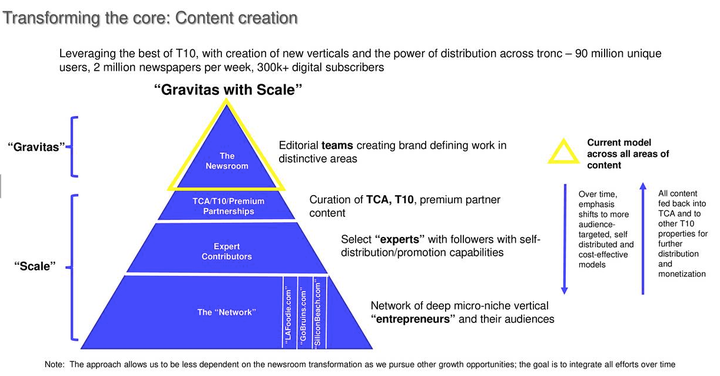 Tronc has seemingly done little to inspire confidence in LA Times editorial staff. In fact, one day before the union vote was to be counted, Tronc CFO Terry Jimenez was at a conference in New York City where the company announced plans to create a massive contributor network that panicked the newsroom once more.
"There really is zero faith in Tronc, and we have to do this," a Times reporter said Friday. "It's not like a 'It'd be nice' thing. It's like we have to ― to preserve the newsroom."
Louise Roug contributed reporting.
Support HuffPost
The Stakes Have Never Been Higher
Popular in the Community