Kansas Gov. Jeff Colyer (R) on Saturday urged one of the state's county commissioners to resign after he described himself as "part of the master race" while addressing a black woman at a public meeting last week.
Leavenworth County Commissioner Louis Klemp, who is white, appeared to have expressed disapproval over a presentation given by the woman, a city planner, moments before making the off-the-cuff comment.
"I don't want to think I'm picking on you, because we're part of the master race," Klemp told the woman as he motioned to his teeth. "You know you've got a gap in your teeth. You're the master race. Don't ever forget that."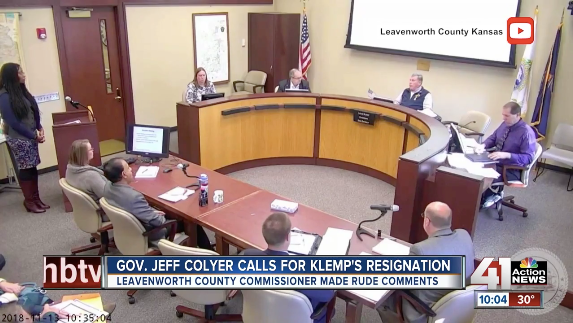 Colyer joined several state officials, including Leavenworth Mayor Mark Preisinger, in calling for Klemp's resignation.
"Racial and discriminative language have no place in our society, and most especially when spoken by someone holding a public office," Colyer said in the statement. "The inappropriate remarks made by Leavenworth County Commissioner Louis Klemp are unacceptable and do not reflect the values of the county which he represents. As such, I call on him to step down as County Commissioner."
Klemp, in an off-camera exchange with KSHB, implied his comment was meant to be a joke. He did not immediately respond to HuffPost's request for comment. The city planner told KCTV that she did not wish to be part of the story.
Though several of his fellow county commissioners have called on Klemp to step down, Leavenworth County Administrator Mark Loughry said Klemp's comments have been "misconstrued." He said Klemp had been referring to his own gap teeth.
"The use of the term 'Master Race,' as ill-advised as it may be, was not a reference to Nazis or used in a racist manner in this instance," Loughry said in a statement.
"Leavenworth County has a zero tolerance for racism or discrimination in any form from any staff members," he continued. "I am deeply sorry that one misconstrued comment by a member of our elected governing body has caused so much grief, sorrow and hatred."
Klemp has drawn backlash in the past for making racially insensitive comments, including calling Confederate Gen. Robert E. Lee a "wonderful part of history" and asserting that some black people don't support former President Abraham Lincoln.
REAL LIFE. REAL NEWS. REAL VOICES.
Help us tell more of the stories that matter from voices that too often remain unheard.